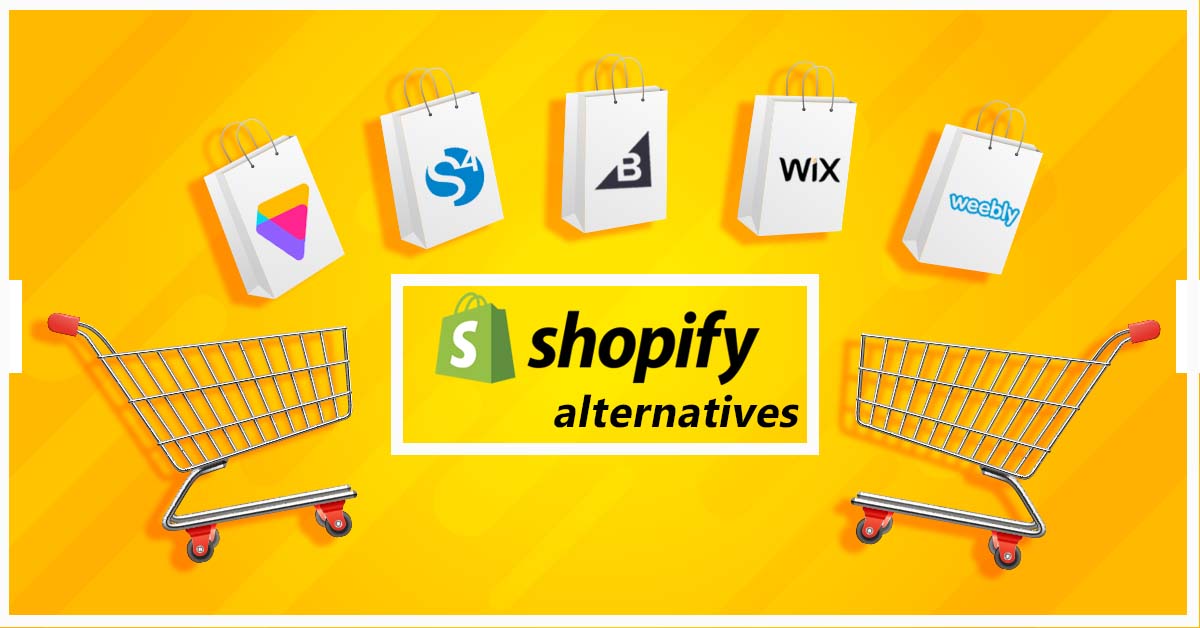 Published October 27,2021 by
Tvisha Technologies
What are the Best Alternatives for Shopify in 2023?
Shopify is the most popular platform among business start-ups and drop-shipping experts. It is popular because of its easy operation and innovative plugins for social media marketing.
This platform is based on cloud technology and a content management platform. Still, people are looking for Shopify alternatives because of many flaws and over-expensive features. Shopify offers monthly subscription-based solutions, and it starts from 30 dollars per month to 299 $ per month, which is huge for mid-segment businesses.
Shopify competitors have taken advantage of this issue and launched platforms with more features and lower costs.
Shopify offers a complete commerce platform where small businesses can efficiently operate and get all in one features required. On Shopify, one can easily set up an online store or a physical store via POS (point of sale) app and required hardware.
Shopify is designed to offer all essential features like payment gateway, shipping services, and marketing tools. If a store owner looks for outstanding design or complex features, then Shopify is the best platform.
Shopify offers three segments for developing storefronts; one is specially designed for small businesses with custom themes at low monthly fees. The second package is designed for mid-segment companies, and the last one is for Enterprises.
Shopify charges a flat amount as a percentage of revenue from the business, and it requires a monthly investment of $2000 per month.
Because these high charges and revenue percentage sharing made businesses to select other platforms, the best part is many free Shopify alternatives are available in the market.
Though Shopify is among the top five e-commerce platforms, Shopify competitors WooCommerce and Squarespace are ready to replace it. These competitors are offering similar features with one-time investments.
Sites Like Shopify are popular because of their no-code platform, and setting up an e-commerce store with such a platform is relatively easy. Still, these platforms generate issues, and people seek help for finding alternative platforms like Shopify.
Here are the Reasons you should think twice before opting for Shopify as your e-commerce platform
1. Overcharges
Shopify starts its package with 29$ per month, a fundamental package that doesn't provide advanced features. Other than these charges, it also charged a transaction fee ranging from 0.5% to 2.0 % on every transaction.
The pain doesn't end here; if you use a third-party app, be ready to pay extra money.
2. Third-Party Apps
If you are planning to modify your e-commerce store, you need third-party apps, and Shopify stores require these apps to get improved functionality and user experience.
These third-party apps charge monthly and one-time fees to give you desired functionality.
Shopify Competitors take advantage here as many of them don't charge for third-party plugins.
The majority of them don't even need these third-party plugins to improve the functionality of your e-commerce platform.
3. Not So Friendly
Websites like Shopify are not so friendly when it comes to using it. Being a shop owner, you need to integrate many other apps like inventory management and CRM platforms.
Shopify lacks in providing free templates and add-on apps which creates complexity for the Shopify beginners.
4. SEO is Missing
SEO friendliness is an essential feature for every online store, but Shopify disappoints us for this. You must agree that Shopify has smooth product upload and store functionality, but it lacks SEO functionality.
On Shopify, you might face URL flexibility and page tagging issues, which creates a mess later. Even you will have no control over robot.txt files. To run an online store, you need to do SEO, and Shopify restricts you with this. Shopify alternatives have that ease with SEO friendliness.
5. Complex Catalogue
Because of SKU limitations, Shopify makes your task complex if you have a large number of products. This issue retaliates for many online clothing stores as they have a wide range of sizes and colors of one single cloth.
This complexity is not present with the Alternatives to Shopify, and these alternatives have the flexibility to manage complex catalogs.
Shopify is not the one-fits for all kinds of platforms, and its limitations make the job tough for you when you have to manage the online store and other things.
Check for the different Shopify alternatives e-commerce platforms like free Shopify alternatives websites or open-source solutions, and many others.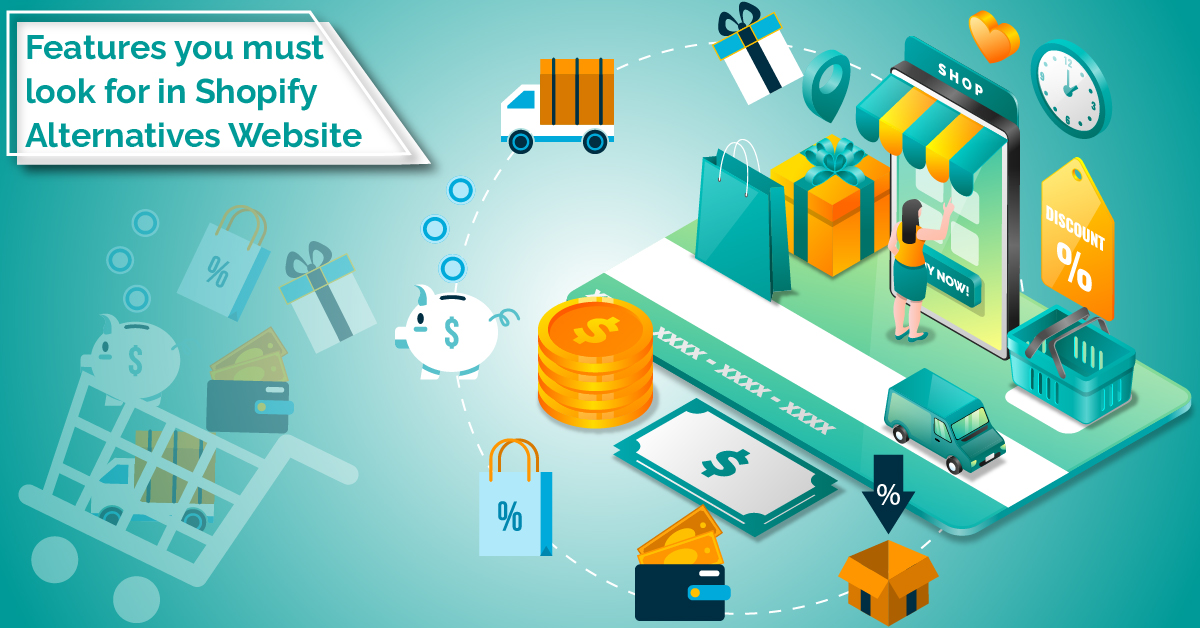 If you are an enterprise looking for a stable platform, you can go for a custom-made platform. Still here are some of the features you must consider when you are selecting a Shopify Alternative Website.
1. Customized Design
Every e-commerce store needs an outstanding and unique design; look for an alternative with flexible designing options and free templates. WooCommerce has that flexibility as it comes with many free templates.
In addition to this, WooCommerce helps you to customize the store as per your needs. At the same time, if you are selecting Shopify alternative, check for this feature.
2. Don't Forget the Cost
If you are a start-up with a tight development budget, you must look for the affordability of the development platform. As mentioned, Shopify thins your budget by exhausting the cost of template purchase and transaction fees, and many other third-party app purchases.
Shopify Competitors have that affordability, and here you have to make payment for development and license costing rest is free. Don't forget to pay attention to this feature to complete your project within the minimum budget.
3. If You Know to Code
It is an advantage if you know how to code because Web Store Builders Like "Open Cart" are highly customizable and offer you complete flexibility.
4. Mobile Optimized
Maximum traffic is coming from mobile devices these days. Hence it is essential to make your store mobile optimized. Look for a Shopify alternative platform that provides you mobile-friendly website.
Top 6 Shopify Alternatives you must Consider in 2023
Here are some alternatives to Shopify you can consider in 2022. You can adapt the technology as per your needs. These top 7 platforms are selected based on the overall satisfaction and ease of operation.
One thing is sure these platforms cure the pain points given by Shopify. Some of the platforms are free Shopify alternatives.
1. Wix E-Commerce
Wix ecommerce solutions have easy to use interface and come with many free templates. This platform also provides a wide range of apps and customizable themes. It has a sleek editor, which is a perfect place for a pro or a newbie.
Wiz comes with a pro editor, which gives you full user control and complete customization. This has a drag and drop platform that allows you to play with the functionality and designs without any hassle.
Wix has 280+ apps in its app store, add on and many different plugins to embed the social media, chat, or payment gateways on your dream website. With a cost of 5 $ per month, Wix wins the race over Shopify.
You can get the bandwidth of 20 GB storage and a free domain name in the VIP plan, which is still cheaper than Shopify. Consider this Shopify alternative if you want to get everything at a low cost.
2. BigCommerce
If you are looking for the Best Online Store Website Builder, then BigCommerce is perfect. Big Commerce is a no-sweat, drag-and-drop website builder which gives you a smooth experience. It is a Shopify similar platform but offers more features as compared to Shopify.
Get full-cycle solutions for any e-commerce store with this fantastic website builder platform. The best part is stunning themes and advanced content-making features that help you get more conversions from your marketing campaigns.
Functionality like multichannel selling software is pre-enabled in big commerce so that you can manage your inventory on any sales channel like Amazon, eBay, or Facebook store.
Though the monthly plan of this alternative to Shopify platform is very much equal to Shopify but still compared, features are way more than Shopify. BigCommerce works for almost all business models.
3. Shift4 Shop
If you are looking for a cloud-based solution, then Shift4 Shop is a good option for your e-commerce platform. Shift4 Shop comes with robust features and low prices. Get unlimited product storage and security.
This platform provides tailor-made solutions for UI and UX designs. Shift4 Shop comes with a $19 /month plan, and for enterprise solutions, it charges $ 229/month.
Features like abandoned cart, SEO tools, dropshipping, and Facebook Sync plugin are enabled in the basic version of the plan.
4. Volusion
Volusion is the best online store website builder, and it is one of the most reliable Shopify alternatives as it serves more than 200k+ businesses across the globe.
It is a perfect platform for small businesses and requires less technical skills. This platform is a no-worry platform as it provides you the hosting and other integrating solutions on the go.
The best part of this Shopify alternative is customized costing based on the plugins and other apps. It swipes out Shopify as it charges nothing as a transaction fee.
Get a library of stunning designer templates to build an excellent website. The best part is, these templates are available in the basic packages too.
Volusion comes in the price range of $15 to $135 per month. In addition to it get the many cool features in the basic plans.
5. Square Line
Square has acquired Weebly a few years back and made a mark in online payment processing. Square Online is a website builder and provides exclusive features to e-commerce stores.
Square Online is a codeless platform and guides the customers in a perfect prompted way. You can easily understand the full store setup process in few hours. This is the best Shopify alternative, and it offers a completely free online store.
No other platform can beat this online website builder as it has a completely free version with complete functionality to run an e-commerce store.
6. Big Cartel
This is the most affordable Shopify alternative, as it comes with unlimited bandwidth and inventory tracking. HTML and CSS code customization is also available as an essential feature.
Get the integrated Google Analytics and Facebook for managing your online shop with ease. The range of plans starts from 9.99$ per month to 29.99 $ per month.
The only problem is no inventory search function which is a problem for big e-commerce stores. It also offers an integrated PayPal.
7. PrestaShop
In the race of best online store builders, PrestaShop is a strong contender. PrestaShop requires web hosting and domain close to Magento.
Though PrestaShop is a little less comprehensive than Shopify when it comes to theme, the usability is better than Shopify.
Based on the features, we can say it is a Shopify similar platform and can be counted as Shopify Alternatives.
This platform also gives you free transactions and supports many languages and currencies.
Since many e-commerce platforms are available to manage your online store, selecting the best Shopify Alternative among them is a little complicated. You need to look for the features like inventory management and marketing.
Check for the platforms that have all the features and less coding knowledge required. Open-source platforms can be turnkey for businesses and will provide no-code hosting to store owners.
Platforms like WooCommerce and Squarespace are the best among the others, and they have more options to expand or customize the store appearance.
Be realistic while selecting the platform for your store. Replacing Shopify with any of the best Shopify alternatives depends on your needs.
Check for the features and solutions to finalize the best one for your business. Last but not least is budget; while searching for a Shopify alternative, keep your overall budget in mind.
Are you still looking for the best Shopify alternative? Get the complete custom solutions for your e-commerce related needs with Tvisha.
Tvisha provides customer-centric development based on any of the platforms like Magento or Woocommerce. Team Tvisha has the expertise to build custom ecommerce applications cost-effectively.
Connect with us for more information about custom ecommerce solutions and find the best Shopify alternative.
Also Read: Woocommerce vs Magento: Which is the best in 2022?