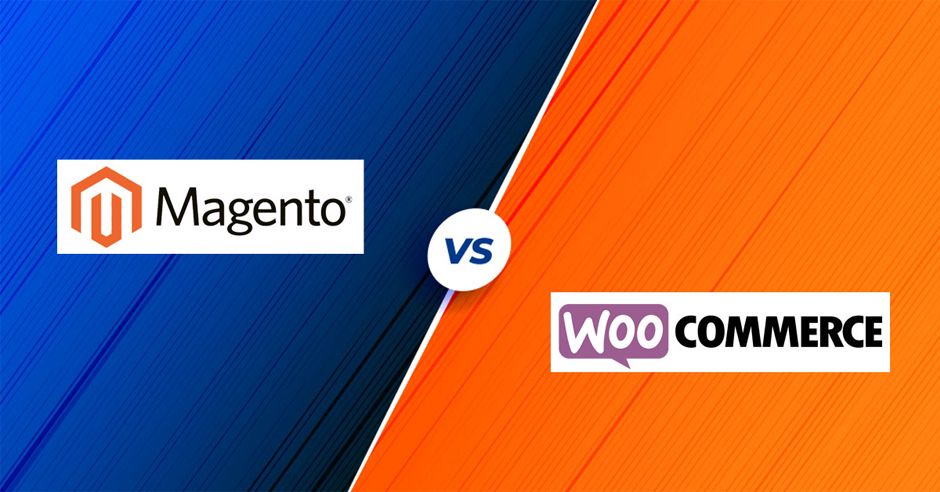 Published October 14,2021 by
Tvisha Technologies
Woocommerce vs Magento: Which is the Best in 2023?
Which platform to choose for your e-commerce app development?
Woocommerce or Magento?
It is a million-dollar question. And picking one between them as the best e-commerce platform will be really tough and confusing because
· both are leading e-commerce platforms
· both platforms have their own set of pros and cons.
To reap profits in the huge e-commerce marketplace, it is equally paramount to know in-depth about each platform and its features so that you can choose the best fit for your e-commerce store.
Let's dive deep!.
Woocommerce vs Magento
Deciding on one platform between two is never an easy task as it is interwoven with e-commerce platform comparison with various factors.
In a nutshell...
Woocommerce: Woocommerce is a plugin that is incorporated in WordPress, an open-source software system used to build attention-grabbing websites.
Magento: Developed by Varien Inc., Magento is an open-source e-commerce software that is used for online business. Magento provides you with the flexibility to customize and scale your platform to create unique brand experiences.
A Quick Glance at their Features:
Woocommerce: Built for WordPress, Sell anything, anywhere, Mobile friendly, Scalability, Own your data, Secure code, Worldwide community, Open source, Customer support, Documentation, and Free and paid extension marketplace.
Magento
General features: Marketing, Promotions and Conversion Tools, Search Engine Optimization, Site Management, Catalog Management, Catalog Browsing, Product Browsing, Checkout, Payment and Shipping, Order Management, Customer Accounts, Customer Service, International Support, Analytics and Reporting, and Mobile Commerce.
Enterprise Exclusive features: Customer Segmentation, Targeted Promotions & Merchandising, Dynamic Rule-Based Product Relations, Persistent Shopping, Automated Email Marketing Reminder, Private Sales, Gift Registry, Gifting Options, Rewards Points, Store Credits, Multiple Wish Lists, Add to Cart by SKU, Return Management Authorization (RMA), Content Management System, Scheduled Import/Export Functionality, Backup and Rollback, Staging, Merging and Rollback of Content, Customer Attribute Management, Administrator Permission Roles on Website and Store Levels, Price and Promotion Permission, Logging of Administrator Actions, Category View and Purchase Permissions per Customer Group (Limited Catalog Access), Order Archiving, Solr Search, Full Page Caching, Configurable Order Tracking Widget,
Support for Alternate Media Storage – CDN and Database, PA-DSS Certification/Payment Bridge, and Strong Data Encryption, Hashing and Key Management.
Comparison Between Woocommerce vs Magento
Which is better?
The debate of e-commerce platform comparison starts here. Let's compare both on some factors such as
Features
Speed & Performance
Ease of use
Extensions and plugins
Security
Payment options
Price
Marketing and SEO
1. Features
We have already had look at the features of both the platforms above. Let's feature compare both e-commerce platforms in tabular form as shown below.
| | |
| --- | --- |
| Woocommerce | Magento |
| Completely Free with some premium features | Freemium(Both free and paid) |
| Easy to use | Requires coding professionals |
| Multiple product support | Multiple product support |
| Moderate UI/UX | Good UI/UX |
| Need to buy WPML (WordPress Multilingual) plugin and install | In-built multi-language support |
| All-around Support | All-around Support |
| Discounts and coupons at the basic level | Availability to create outstanding discounts and coupons |
| Availability of free and paid themes and layouts | Availability of free and paid themes and layouts |
What do we recommend?
Both platforms allow merchants to add as many products as they want. After considering all the features, it is suggested that Woocommerce is the best fit for beginner level e-commerce stores and Magento for Medium and Large size stores.
2. Speed & Performance
Many factors such as web hosting provider, number of modules and extensions, and image optimization, etc. will affect the speed and performance of the online store.
Woocommerce: The average page load time of Woocommerce is 776 milliseconds with high availability.
Magento: The average page load time of Magento is 665 milliseconds with high availability.
What do we recommend?
Loading time has a huge impact on a website's success. It can make or break a business. Because people leave sites so easily if you make them wait for too long though you have quality products to offer. In this, Magento wins over Woocommerce.
3. Ease of Use
Ease of use and convenience are what makes online shopping win over brick-and-mortar methods of shopping.
Woocommerce: Entrepreneurs can install, set up, and run an online store without hassles. It doesn't require coding skills. Moreover, it consists setup wizard which helps in seamless installation through a step by step guide.
Magento: Magento is somewhat complicated as it requires technical skills to manage and update the online store. It requires experienced professionals to make required configurations to the site.
What do we recommend?
In this e-commerce platform comparison, Woocommerce will have the upper hand.
4. Extensions and Plugins
Extensions and plugins are used to enhance and expand the operation of your e-commerce website.
Woocommerce: On the other hand, Woocommerce allows you to access more than 55,000 free WordPress plugins and themes. Business owners can easily integrate them into their Woocommerce stores. Also, they customize their e-commerce store in terms of product type, marketing, store management, payments, enhancement, shipping, and subscription.
Magento: Magento comes with around 6000 extensions for site optimization, marketing, accounting & finances, sales, content & customization, reporting & analytics, payment & security, and customer support.
What do we recommend?
Install the one that suits and meets your requirement between Magento and Woocommerce. However, make sure those add-ons do not affect your stores capacity and performance.
5. Security
Having robust e-commerce security is prominent to protect the site from data breaches, protect sensitive data and privacy of customers, protect transactions, and safeguarding reputation as well.
Woocommerce: Woocommerce is the best e-commerce platform for small size stores as it it has limited security capabilities.
Magento: Magento has advanced built-in security features that help in minimizing data leaks, unlawful transactions, information theft, and other malware attacks. Magento security patches or fixes help to safeguard software applications against hackers by managing security vulnerabilities.
What do we recommend?
Coming to security, Magento wins over Woocommerce as it has advanced security features, Magento 2 security extensions, and dedicated security patches. However, if you go for Magento, make sure to install the security patch files that roll out from time to time.
6. Payment Methods
Both Magento and Woocommerce support multiple payment options by default and through extensions.
Woocommerce: PayPal and Strife are default payment options in Woocommerce. Merchants can add payment extensions like Amazon, Ali pay, Braintree, 2Checkout, etc.
Magento: Magento e-commerce platform supports Check/money orders, Bank Transfer, Cash on delivery, Purchase Order, Zero Subtotal Checkout, Authorize.net, Braintree, PayPal payment methods by default. It also supports third-party payment extensions such as 2Checkout, Dwolla, Stripe, and Square.
What do we recommend?
It is a win-win situation as both offer seamless transactions for their customers.
7. Price
The price must be taken into consideration when it comes to choosing the best e-commerce platform.
Woocommerce: It is a fully open-source platform. Anyone without knowledge of coding can install and set up it on their preferred server. However, business owners or merchants need to pay for its premium features. Some of its premium features require annual subscriptions and they might be expensive. Besides, for hosting, merchants need to pay. Hosting solutions like InMotion and SiteGround will go well with the Woocommerce platform.
Magento: If you use free and open-sourced Magento's community edition, then you only need to pay for the hosting provider. On the other hand, if you use the Enterprise edition, it will be a little expensive as the Enterprise edition offers various advanced enterprise features for e-commerce stores.
What do we recommend?
It all depends on the features you want for your e-commerce business and e-commerce hosting provider (the cost of hosting will again depend on the size of your business and the packages the hosting provider offers). Think clearly and take proper decisions.
8. Marketing and SEO
To stand out from the rest, every e-commerce business needs to establish a sound and decent brand presence to gain potential customers across the globe.
Woocommerce: Woocommerce is SEO-friendly and comes with in-built blog functionalities. So creating content and writing blogs is so easy. For ongoing website traffic, business owners must optimize the whole content of tier online store regularly.
Magento: Being a self-hosted e-commerce platform, Magento is SEO-compatible. It provides easy access to canonical tags, redirects; allows you to edit meta tags and permalinks; and allows you to modify URLs. The only drawback is merchants need to use blog extensions for creating blog posts.
What do we recommend?
Both are SEO-compatible and facilitates SEO. However, Magento wins here as it offers more marketing tools and extensions when compared to Woocommerce.
A Quick Comparison: Woocommerce vs Magento
Let's have a glance at the brief e-commerce platform comparison between two leading giants i.e. Woocommerce vs Magento in tabular form as mentioned below.
S.No.
Woocommerce
Magento
1
Free and open-source plugin

Free and paid e-commerce platform

Magento Open Source (free)
Magento Commerce (paid)
Commerce Cloud (paid)

2
Offers only Self-hosting

Offers two types:

Self-hosting
Cloud-hosting

3
Beginner-friendly and Easy to use
Complex when compared to Woocommerce.
4
No coding skills are required
Coding skills and technical know-how are required
5
It has general features
It has both general and enterprise exclusive features
6
Supports unlimited products
Allows you to add as many products as you want (unlimited)
7
It offers basic security features
It offers advanced security features along with some dedicated patches.
8
It requires more plugins and extensions
It has built-in features
9
Best applicable for beginner level e-commerce stores
Best applicable for medium and large size e-commerce stores.
Common Advantages in Both:
These are some common pros in both e-commerce platforms.
· Unlimited product support
· Community support
· Advanced SEO settings
· Payment options
· E-commerce mobile application
· Availability of free and paid themes and layouts
To sum up, no single platform meets EVERY need of a customer. Both have some crowd-pulling features and some flip sides that draws customer out of your business. One platform disappoints you on features and the other on security and maintenance.
Final Verdict
We have provided everything you need to know about Woocommerce vs Magento in this article.
Now, creating a successful store is in your hands!.
Still, Need Assistance?
Let us help you. Being one the best e-commerce development company, we have been providing superior and highly customizable e-commerce solutions for both SMEs and large enterprises. Our strategies will be designed to fit your needs and will set your business apart from the rest of the competitors.
Besides, our e-commerce web and mobile developers have expertise and experience in integrating Woocommerce and Magento. We take the size of your store, audience reach, budget, and aforementioned factors into consideration and then decide the best e-commerce platform.
Wait not!. Associate with us to meet the ever-changing customer buying patterns and stay ahead of the curve.