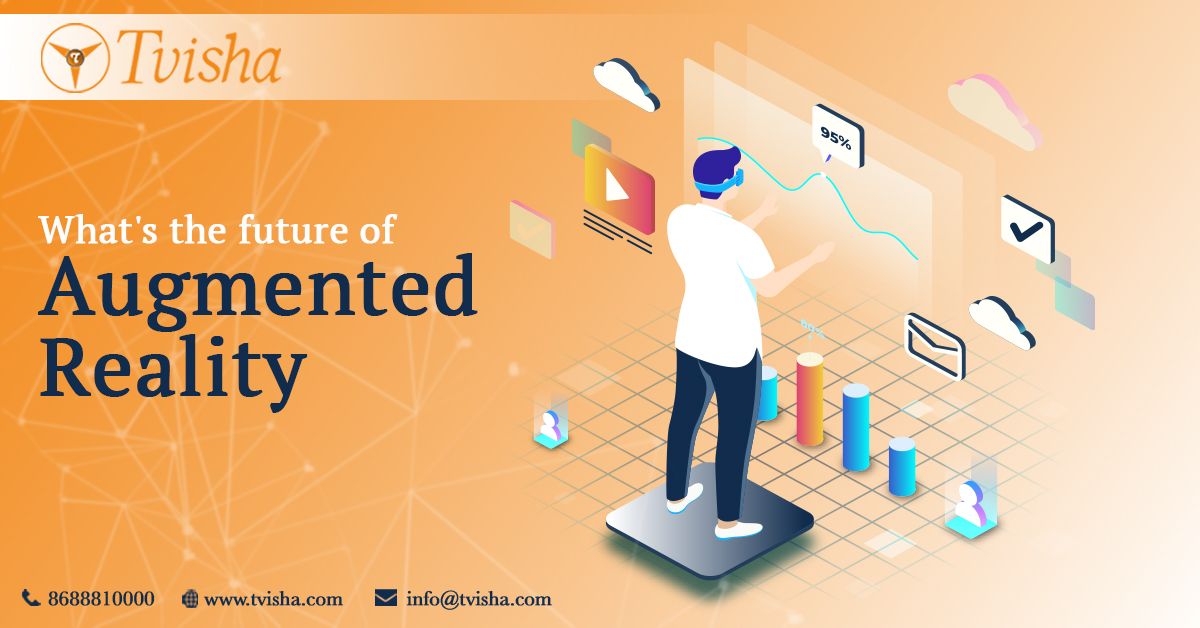 Published July 12,2022 by
Tvisha Technologies
What is the Future of Augmented Reality
The tech industry has been shaping and altering ways to enhance consumers' user experience & interaction with a product or a service. Augmented Reality has emerged as a torch-bearer for the marketing landscape in the 21st century.
Businesses are embracing Augmented Reality to create brands that impact their customer engagement and conversion rate to overthrow the uprising competition in the market. In pursuit of capturing consumers' attention, Augmented Reality mobile apps are compelling mobile app development concepts to come with better design-thinking processes and objectives.
Future Prospects for Augmented Reality
The Augmented Reality market is envisioned to become a whopping $165 Billion industry in 2025, accelerating at a CAGR of 46%. The idea of Augmented Reality was coined by two Boeing researchers- Tom Caudell and David Mizzell, back in 1990 for industrial uses. This would indeed become a fabulous resource in the assembly of aircraft parts.
Cutting down the chase from 1990 to 2022—AR has envisaged its significance in creating new experiences in the transition of content that overlaps digital 3D products into the physical world.
The game-changer has been through the launch of AR SDKs(Software Development Kits) by tech giants such as Apple, Google, Facebook, Amazon, and many more. Enabling developers to build digital products that merge into the real world by creating a limitless user experience.
1. Driving Growth and Adaptation via Augmented Reality
AR provides industry-leading marketers to enhance the ability to transform a static 2D object into an immersive 3D experience. Humans are photo genetic creatures altering our vision through our conscious and subconscious minds. The Social Media platforms such as Instagram, Snapchat, Facebook, etc., provide filter options to make visuals more pleasing and engaging.
Lenskart, a leading eyewear e-commerce company leveraged the AR experience of consumers. This gave consumers a flawless buying experience with multiple
choices at the tap of their fingers, making them ? 900 crore rupees in turnover for 2021.
AR offers multi-dimensional solutions to diverse issues users face irrespective of the industry. Brands have discovered and acquired insights on how to provide end-users an immersive experience through this cutting-edge technology.
By making the utmost use of AR, brands can drive business prospects to another dimension- increased user engagement, increased sales, and establishing brand loyalty and audience reach.
2. Enhanced User Journey
Markerless AR experiences can tender virtual images over real-world objects by understanding the physical world by feature points. This allows virtual images to fit exactly into the physical world. The IKEA Place AR App allows users to true-to-scale 3D rendered illustrations of furniture in their home. This offers them one of the biggest opportunities to experience something without even going to the store and before buying it.
AR has crafted user experience with its ability to storytelling which navigates users in a picture-perfect mode. Google has been working separately on a range of Augmented Reality Mobile Apps such as Google Lens and Google Translate that help users learn and interact with real-world objects.
3. Revolutionizing Learning Approaches
Augmented Reality would pave the way to a better learning perspective for a student to inspect 3D Holograms from various angles. This would ensure curiosity as well as a better understanding of complicated concepts.
The global EdTech Market size was valued at $85.8 billion in 2020 and evaluated to surpass $181.3 billion by 2025, at a Compound Annual Growth Rate of 16.1%. Embodying Augmented Reality in Edtech would definitely lead to more experiential learning. This enables teachers to show Virtual models of concepts from the past, present, and future.
4. Virtual Assistance Wearables
The expansion of the 5G network will facilitate advancement toward a cloud-based AR experience. As we have seen how Jarvis provides information as well as 3D
Holograms for Tony Stark to build an Ironman Suit overnight in the same way it may assist us in solving various issues that we face in our Health Tech.
A company called Mojo Vision has successfully developed contact lenses with an in-built display that offers real-time data without interrupting your focus. The lens is pivotal to addressing multiple issues such as people struggling with poor vision, health tracking statistics, weather reports, and much more information with heads-up and handsfree.
Many Tech giants are developing AR-based Glasses to make processes more handsfree and have better-contextualized information just with a quick glance.
5. The Creation of Future Metaverse
Augmented Reality, Virtual Reality, Artificial Intelligence, Blockchain, and 5G all rolling out together will lead to a trajectory of many more metaverses to come. Innovators all around the globe want to create spaces with rich user interaction possible in a diverse world.
This might impact industries such as gaming, media, and entertainment, e-commerce and retail, manufacturing, architecture, and engineering in multiple ways. Metaverse has served as a new gateway to a digital experience.
6. Fuelling Indoor and Outdoor Navigation
In the wake of the pandemic, many businesses were closing down due to their traditional marketing techniques. Innovators came forward to reshape many industries such as real estate, automobile, e-commerce, health care, and many more. By bringing digital products to the real world it has the potential to enrich consumer behaviour in every factor.
The rise of Ultra WideBand(UWB) and Bluetooth Low Energy (BLE) antennas would help consumers navigate to product isles in large shopping malls and airports. The significance of AR lies in both the aspects of the consumer as well as business users.
7. Creative Virtual User Manuals
Every electronic product/appliance comes with a user manual about its functions, and guides to proper use and care. But it feels so boring and time-consuming that most of us never even open it.
AR Guides can offer a whole new perspective with an interactive and engaging experience that would make users actually feel excited about the product. This would encourage the product-based businesses to even move a step forward in creating a rich experience.
8. Enhancing Mobile AR Hardware & LiDAR
Apple introduced its first LiDAR scanner and sensor back in 2020, people weren't sure what the feature would serve. But as we move forward, it has indulged users with an innovative engagement and acing Mobile manufacturing to develop industry-leading AR Hardware.
By using the infrared scanner, smartphones can determine the depth of objects with better precision. Most LiDAR features are only available on the high-end smartphone, making this only accessible to limited users. For boosting an AR user base, augmented reality app development and Hardware which is accessible and affordable is the need of the hour.
Conclusion
As Augmented Reality is still in its infant phases in various sectors, it should not be overlooked as it possesses limitless power to aspire technology. Crafting the end user's experience is a vital role and a common factor in business perspective. Switching to AR-enabled services or products has proved efficient for an organization to revamp traditional methods into robust platforms to host apps and services.
Augmented reality would serve as a pinnacle of the digital customer experience in the upcoming years. Augmented Reality Apps could incorporate the new trend of getting accommodated to the latest marketing campaigns to drive better sales.
As the Augmented Reality market value is on a vertical rise, offer such an experience to your end-users irrespective of their industry. Prior, there was a stigma that AR could only be beneficial in the gaming industry. The influence of AR in our day-to-day life would change our perspective on how we utilize technology in the coming years.