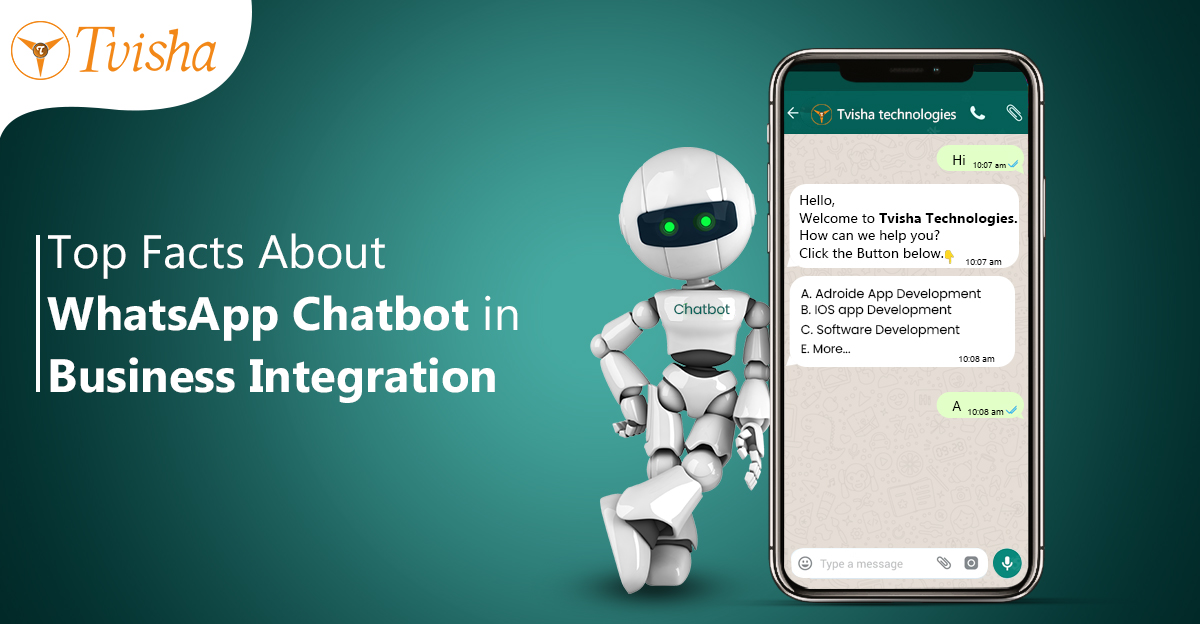 Published December 30,2022 by
SRIDHAR
Top Facts About WhatsApp Chatbot in Business Integration
A WhatsApp chatbot is an automated software program that utilizes artificial intelligence (AI) or rules. It's a series of automatic WhatsApp responses that simulate human conversation; in other words, it can automatically respond to messages on WhatsApp. WhatsApp chatbots can hold several conversations with different people at once and are available around the clock. Additionally, many business owners began utilizing it to their advantage as a WhatsApp chatbot for business. They are frequently used to offer information about a company, its goods and services, and to respond to inquiries automatically. Moreover, entrepreneurs found this chatbot an effective way to hold existing customers or consumers.
What is a WhatsApp Chatbot
WhatsApp Chatbot is mainly used by business houses to communicate with their customer. It is an automated conversation software created by Meta, the owner of WhatsApp. The difference it has over ordinary WhatsApp messenger is that it uses Artificial Intelligence in understanding the requirements of the communicator and responds most logically by using pre-written replies.
WhatsApp Chatbot is a business application to engage well with the customer more effectively. Increased use of AI helps WhatsApp Chatbot to understand and interact intelligently with the customer over a wide range of topics like the details of your products and services, sharing the information/notifications, accepting purchase requests, sending payment alerts, or constantly updating the status of the shipping. It performs almost everything a business house requires daily without any kind of human intervention.
What is WhatsApp Business?
Today is the era of going digital, whether it's purchasing or selling. Today's customer prefers conversational marketing rather than conventional. WhatsApp Chatbot is a real-time chat solution that caters to their increased quest for convenience and enhanced digital experience. The popularity and coverage of the brand called WhatsApp helps here. It is spread all over the world, and both the producers and consumers use this application making it the best WhatsApp bot application.
Today, millions of brands worldwide use the unending possibility of WhatsApp Chatbot to create a personal rapport with consumers. Let's find out how a business can make use of the growing importance of WhatsApp to suit its marketing requirements.
WhatsApp Chatbot Examples
Amazon, an e-commerce portal, is using the WhatsApp chatbot for business use. It is designed to handle customer queries, track the orders.
BMW uses the chat app of WhatsApp to connect with customers across the world and send information regarding service and maintenance.
Dominos, the famous Pizza outlet, is using a WhatsApp chatbot to help customers order their pizzas online and keep track of their orders.
Why Does Your Business Need a WhatsApp Chatbot?
WhatsApp is now the most popular and extensively used messaging application.
It has a global reach, covering almost all countries.
The WhatsApp bot app is the most suitable application for automated and quick replies.
WhatsApp Chatbot helps in finding new prospects.
WhatsApp Chatbot helps better Customer Support Services.
It improves the overall customer experience.
Over the years, there is a sharp increase in the use of WhatsApp applications all over the world, so it has become the best platform for a business house to concentrate. With over two billion users around the world, it is now the biggest messaging platform in the world. It is available in 60 different languages, with an estimated 65 billion messages sent every day. This shows how much influence WhatsApp has on social media. Business houses understand this. It gives them a vast opportunity to increase their market share and an easy way to engage with their clients.
Studies state that customers like to converse with the seller before buying. Any delay in reply makes the customer unhappy and rejects the product. WhatsApp chatbot means speed and no waiting for the customer.
Now there arises a question, why use WhatsApp chatbot rather than normal WhatsApp?
The answer is, if you have a very small clientele, you can use the traditional way of answering them person to person. When your business is growing, it will become harder to communicate this way. From a customer's perspective, their queries will be unique and important. But from the perspective of a business house, most of the queries are monotonous and basic. With the advancement of technology and AI, business houses now have the leverage to reply to them using a WhatsApp chatbot.
The studies suggest around 60% of customers prefer to speak to a WhatsApp message app rather than wait for a human face to answer them. This may be the reason WhatsApp chatbot is today the most sought-after communication channel every business prefers.
How Does the WhatsApp Chatbot Work?
The working of the WhatsApp chatbot is very simple and is like Siri. This can be illustrated through an example. Suppose someone sends a query "which Samsung mobile I should buy below, Rs20000?"
The chatbot analyses the request using the keywords stored in the memory and understands the requirements. Then it starts searching for various options recorded in the system, groups them and presents them before the person. It all happens within a fraction of a second which a human brain cannot give.
It may look very simple procedure, but the kind of happiness and satisfaction your customer is getting is beyond comparison.
Advantages of WhatsApp Chatbot
Today's WhatsApp has grown to more than a platform to answer one-off queries of customers. It has become the best WhatsApp chatbot for business, providing a lifeline for small, big, or medium-sized business houses and even many sellers plan their business strategy in accordance with the features of WhatsApp. It is fast developing; new features are added periodically to make it more user-friendly.
Uses of WhatsApp Chatbot Application
The listed below are the major facilities of the WhatsApp chatbot.
1. Account update.
Using this, a business house can easily send automated alerts of account creation when the customer account has been updated or changed. For example, you can inform the customer that they have successfully created an account on your website portal.
2. General Updates
The business house can send an intimation alert to a customer when his purchase order is received by you.
3. Appointment Update
Can send the status of the appointment request of the customer. For example, a travel agency can regularly update the status of the booking ticket of their customer.
4. Auto-Reply
Through this, your business will remain visible and responsive to your customers 24/7 and can respond to their concerns right away, within a fraction of a second.
5. Payment Update
This facility helps the business house to update the receipt of payment, within a few seconds, the payment from the customer is reaching your bank account. This will make your customer feel relaxed and happy.
6. Shipping Update
The logistical industry is fast developing, with an average growth rate of 10%. The trust factor is very important here. Only big logistics companies that have established goodwill, trust, and transparency dominate the market while small players were left out unnoticed. With WhatsApp chatbot in logistics, even small players are becoming noticed as this platform brings transparency in dealing. Shipments can be tracked online by the customer.
How WhatsApp Chatbot Help the Shipment Company?
Lead generation

Safety payment follow-ups, links, and OTPs

Order tracking

Reminders and notifications

Two-way communications

Addressing queries, complaints, and refunds
7. Ticket update
When a query or complaint is registered, the complainant receives a ticket regarding this. Tracking this ticket will help the complainant to understand the progress it has made. This ticket can be closed only by the complainant. This helps the management to make sure the grievances of their customers are resolved promptly.
8. Travel Update
These alerts are sent by travel agencies. Separate alerts can be sent to travellers the moment they book travel in the system. Automation helps to regularly update travellers with the travel date, useful tips, and any change in the travel due to technical issues. Suppose the flight is delayed due to a technical snag, they will immediately be notified to the customer.
Understanding the Difference Between WhatsApp App and WhatsApp Business API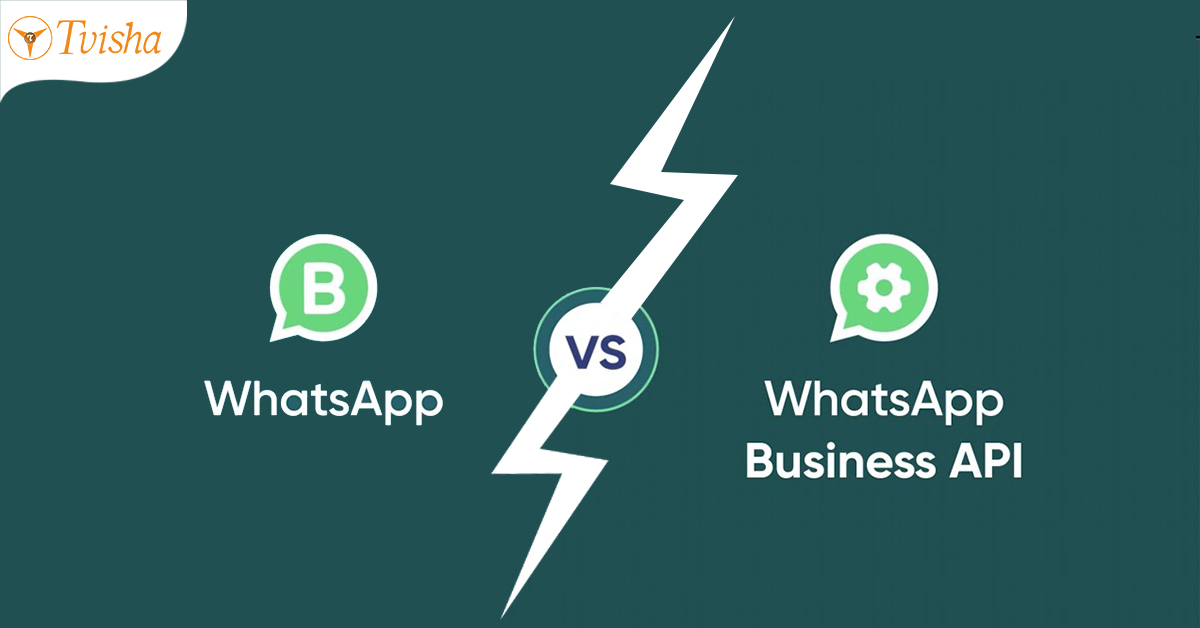 What is WhatsApp App
WhatsApp Business application is created for small business owners like bakeries or retail shops. The purpose of this application is to reach a maximum number of customers, highlight your products/services take orders, answer queries, and give the customer an enhanced shopping experience. This is a free application and can download to use.
Features
Helps create a digital profile for your business

Helps you to create a catalogue and display your products and services

Quick reply to customers

Organizing the contacts using different labels to identify them
What is WhatsApp Business API?
WhatsApp Business API is launched in the year 2018 primarily to use by medium and large-scale businesses for their daily interaction with their customers. Unlike WhatsApp business applications, it does not have a front-end interface and can be easily integrated into your business software. It makes your communication easy, secure, and reliable.
Features
Can include all your business profiles here like your email address, business description, and website address.

Designed to handle large quantities of messages

It allows the business to connect with WhatsApp CRM.
Difference Between the WhatsApp App and WhatsApp Business API
| | |
| --- | --- |
| WhatsApp Business App | WhatsApp API |
| Meant for small scale business | Meant for medium and large-scale business |
| Manual replies required | Automated conversations and chat replies |
| No integration is possible with WhatsApp CRM | Can streamline your platform |
| It has a front-end interface | It has a back-end interface |
| Doesn't allow multiple logins | Allows multiple logins |
| User can apply for a green tick | User cannot apply for a green tick |
| Free of cost, do not require approval from WhatsApp | Requires approval from WhatsApp. |
How Can I Get WhatsApp Business API Approved?
Unlike WhatsApp business applications, not everyone can create a WhatsApp business API. Meta, who owns WhatsApp has laid out strict guidelines to become eligible. According to the criteria, a business should be well established, medium scale or large-scale enterprise that has good customer backup to qualify. Otherwise, they can use the WhatsApp business application which is free of cost.
WhatsApp Business API exempts a few industries from using these services. They include
Political parties

Gaming and gambling industries

Adults content and entertainment

Arms

healthcare

Alcohol Tobacco etc
It is most suited to industries such as
Financial services

Retail

Real estate

Education

Telecommunications

Ecommerce

Travel and tourism

Hospitality
Meta does not manage the accounts you created directly but it is outsourced to approved business partners.
If you require WhatsApp Business API, you can approach this service provider who will assist you in creating an account with WhatsApp.
What is the Cost of WhatsApp Chatbot?
The cost of WhatsApp Business API differs from country to country and is based on the conversation charges for business and user-initiated conversations.
Key Factors That Affect the WhatsApp Chatbot Pricing Are As Follows.
1. What Type of Chatbot Do You Require
The chatbot is the most important feature here with so many advanced features. More the features you are adding, the more will be the price tag. For example, you can use a virtual sales agent, a talkative type of chat that makes the customer feel like they are speaking to a real person. You can even entertain the user through various games and fun activities.
2. Your Business Goals
Business goals will vary from industry to industry. Some businesses will use this platform for lead generation while some use WhatsApp support for customer service. Some will use it for e-commerce while some will for campaigns and promotions. So, the price tag will depend on your business goals.
3. Number of Integrations
Pricing will be related to the number of integrations. The more integrations, the more will be the price.
4. Languages for WhatsApp chatbot
Languages play an important role in localizing your business interests. However, it is not a very simple action of integrating various local languages as it requires the support of professionals to translate and localize your bot.
5. Number of common messaging channels connected to
You can add several widely used platforms to your business with a wide range of audiences. The most common platforms that give you more customer visibility is Gmail, Facebook Messenger, Twitter, Viber Telegram, Skype, etc.
How To Create WhatsApp Chatbot?
WhatsApp business chatbot can be created in two ways.
Choose a WhatsApp business chatbot free builder that has direct integration with Meta such as Landbot
Choose the service of WhatsApp chatbot for business providers. It will be the best option though the service providers may bill you for their services.
How Do I Integrate Chatbot with WhatsApp?
The first step towards chatbot integration with WhatsApp would be to create a WhatsApp chatbot. for this, you need to apply to WhatsApp business API directly or through a service provider. Your service provider will apply on your behalf of you containing all your business information such as business name location, website address, business WhatsApp number, etc. once you get the approval from WhatsApp, chatbot app integration is complete.
Point To Remember
Take extreme care in choosing the best service provider. It is very essential for WhatsApp app integration.
Though there are many WhatsApp business app providers available in your area, pick the one which could provide you with the following services
24 x 7 customer support
Conversation analysis using analytics
Multilingual chatbot
Finally, it should be tested thoroughly and periodically to make sure it is working properly. The testing should be done on how WhatsApp chatbot code responds to heavy traffic. So, before going live, engage your chatbot with a flurry of questions your customer can ask. It helps you to fix any issues before going live.
Conclusion
Business today enjoy a list of benefits by incorporating WhatsApp business API in their way of doing business. It is undoubtedly, the best solution for an all-inclusive and integrated marketing strategy. Enjoy better conversions by developing a thriving WhatsApp chatbot for your business today itself, because every second counts. If any concerns, please feel free to contact us. We, at Tvisha Technologies have helped different organizations for years in fulfilling their business goals with the power of AI and chatbots.
Engage your audience with WhatsApp chatbot. Contact us for more details.