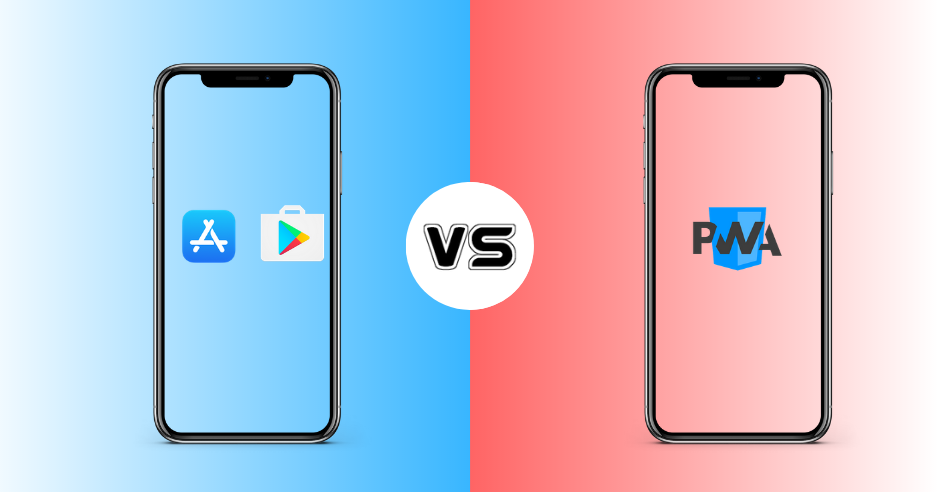 Published October 21,2019 by
Vamsi Bandi
Where Progressive Web Apps are Better than Native Mobile Apps?
The idea behind the usage of apps (either web apps or mobile apps) is to provide good UX and profitable returns. However, the advancements in the app development in different firms go changing. Today's technology may not remain relevant tomorrow since another new technology emerges. That is the reason the progressive web apps (PWA) prevail over native mobile apps these days. The introduction of service workers is the main reason behind its popularity.
As both apps have their advantages and drawbacks, it is difficult to conclude which one is better. In some cases, PWA wins and other times native apps have upper hand depending on the business' requirements.
Let's go in detail.
What are Progressive Web Apps?
Progressive web apps are applications that have a combination of web capabilities and native app-like features. PWAs are perfect for dynamic sites (e-commerce business) and if your app doesn't depend on native functions such as Contacts, sensors, then progressive web apps are better.
e.g. Orkut, Gmail
| | | |
| --- | --- | --- |
| WEB | Native App | PWAs |
| 1. Easily crawled and indexed by search engines | 1. Offline access | 1. Easily crawled and indexed by search engines |
| 2. Works across all devices | 2. Push notification | 2. Works across all devices |
| 3. No need for downloading | | 3. No need for downloading |
| 4. No need for updating | | 4. No need for updating |
| 5. One platform for all content | | 5. One platform for all content |
| | | 6. Offline access |
| | | 7. Push notification |
| | | 8. Home screen |
Web Capabilities
Easily crawled and indexed by search engines
Works across all devices
No need for downloading
No need for updating
One platform for all content
Native app-like features
Offline access
Push notification
Home screen
Enhanced UX
Features of PWA:
Progressive: As the name implies, it is always progressing and work for every user regardless of browser type either Firefox, Internet explorer.
Responsive: It can be accessed on any device mobile phone, tablet, desktop.
Connectivity independent: These apps can work both online and offline. It works well for low internet speed.
App-like interactions: It gives UX like an app.
Fresh: It automatically updated itself, we don't need to update it.
Safe: These can be served over https, so it is safe to use this web app.
Discoverable: These apps can be discovered easily on search engines.
Engageable: The features such as push notifications will be helpful in user engagement by notifying them about the latest updates.
Linkable: It is easily shareable. This app's URL can be shared via any medium and it need not be downloaded as native apps needed.
Disadvantages:
It can't utilize native APIs and has limited access to their functionalities
Cross-browser support not possible
What are Native Mobile Apps?
A native mobile app is built for specific platforms either iOS or Android. These apps use the phone's features and have access to API. It will be useful in animation and graphical applications and 3D games.
Ex: Instagram
Features:
Easy and fast navigation
Secure and reliable
Excellent Performance
Improved UI/UX
Where both will meet?
An icon on the home screen
Push notification
Enhanced UX
Online and offline access
Analytics support
Where Progressive Web Apps are Better than Native Mobile Apps?
The problem with the native apps are
Development: The native apps are needed to be developed separately for each OS platform. And it takes more time and developers for each platform and hence more costly.
Download: The apps are needed to download from the Play Store or App Store using several steps.
Storage: The mobile apps need the disk space for an app to install.
Updating: Every mobile app is needed to be updated regularly which requires additional disk space.
More battery consumption
These make people welcome PWAs. Here PWAs come with an advantage as these don't require downloading of applications from app market places, additional disk space, updating as it automatically updated with the help of its service workers and APIs. Though the native apps are fast, reliable, and secure, PWAs will provide impressive benefits over native mobile apps.
Additionally, these are the areas where PWAs excels over native apps
66% of purchases on mobile are through the web.
Connectivity and device-independent
Discoverable and Shareable
cost-effective
Platform Independent
Instant engagement and Fast conversations
can be found easily on search engines without any marketing efforts
Less data usage
All modern web browsers support PWAs
PWAs can be added to existing e-commerce sites.
Note:
Don't think that native apps are dying since they are best useful for games, 3D applications, and the businesses where there is a need for sensors such as GPS, compass, etc where PWAs are untenable.
For making these two popular concepts easy for you to understand, here we have given a short comparison between two applications in tabular form.
| | | |
| --- | --- | --- |
| Features | PWA | NATIVE |
| Cost | Cost-effective | expensive |
| Access to the native functions | limited | Full access |
| Home screen, push notifications | Available | Available |
| Installation/Download | Not required | required |
| Updates | Not required | required |
| connectivity | Both online and offline | Both online and offline |
| Performance | moderate | fast |
| Maintenance needed | low | high |
| Discoverable and Shareable | Possible | Difficult |
Summing Up
To sum up, the intention behind the progressive web apps or native mobile apps is to provide rich UX and yield good returns. These days, many business giants like Flipkart, Twitter are making PWAs by understanding their capabilities.
Hurry up to reach out to a web application development company that builds progressive apps for your business and helps in making your business successful.
Also Know: https://www.tvisha.com/blog/progressive-web-apps-or-accelerated-mobile-pages