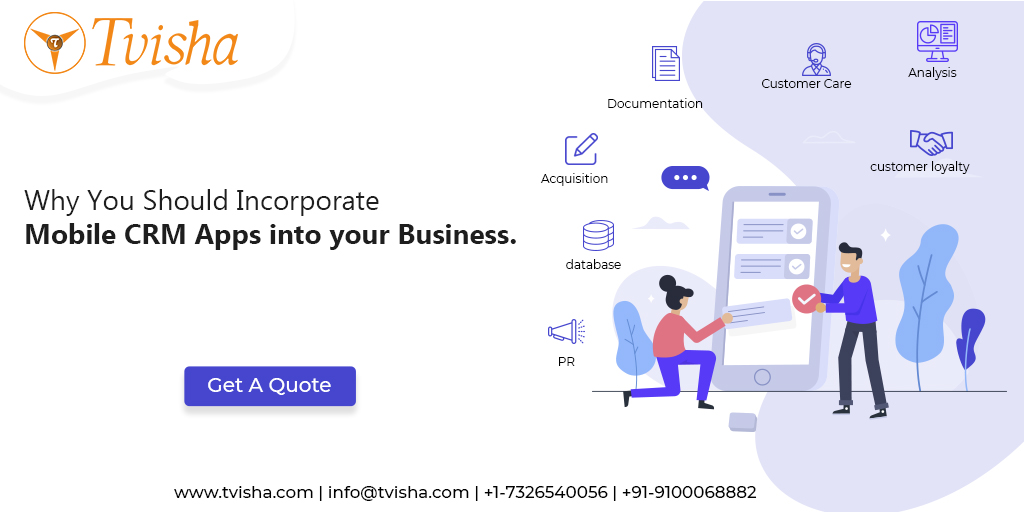 Published October 16,2018 by
Tvisha
Why You Should Incorporate Mobile CRM Apps into your Business
Mobile devices, like smartphones and tablets tablet, have become an integral part of both our personal and professional lives, particularly for those on the move. Businesses of all sizes have realized the importance of mobile devices in seeking a competitive advantage over their rivals. Recent years have witnessed a significant boost in the adoption of mobile devices as a means for increasing business productivity. To put it simply, their benefits are hard to ignore.
Check out these estimates about mobile use among both workers and consumers:
By 2018, mobile devices will account for 79 percent of global internet use.
By 2022, about 43 percent of the global workforce will be mobile.
If these figures are realized, you just cannot afford not to get on board. This means making sure that you have a stable system for managing your relationships with your customers through mobile devices.
A mobile CRM is a mobile-optimized CRM solution app that can be used by marketing, sales, and customer support teams while they are in the field. What they need is just a smartphone or a tablet and steady internet connection to connect to the CRM and use it like they would through their desktop computers or laptops.
The app versions of the software are simplified and streamlined to make it easier for employees to swiftly complete actions, such as data entry, on the field. Mobile CRM app development is focused on simplifying their usage and optimizing them for mobile devices, while at the same time allowing an effective use of all its features and functionalities.
A CRM development company can make the most out of its software solutions by following these steps. First, they must create platforms for customer relationship management that companies can use in their work settings, and second, make them available on many mobile platforms.
Features to Consider in a Mobile CRM Solution
While the mobile CRM solutions of today work on tablets and smartphones powered by iOS, BlackBerry, Android, and Windows, one can't presume that what works fine on computers will work on mobile devices as well. Also, mobile devices provide unique features that may not be present in a typical computer, like GPS data. What is crucial is that the user experience is enhanced for the specific devices.
How Mobile CRM Solutions Help Each Department of a Business
A CRM app helps you manage not just your customers but also the various aspects of your business. It supervises various fronts of your business and gives them guidance as well. Here's how it helps some of the major department operating throughout the organization:
Marketing: CRM Analytics functions as a roadmap for your marketing schemes. It allows you to strategize your marketing in accordance with social media and other online platforms.
Sales: Data sharing through CRM apps makes things apt and quick, allowing you to minimize the administrative load and maximize service productivity.
Service Strength: Real-time customer data provided by CRM apps helps you to know your service strength, the number of customers you are operating, and what they actually want.
Advantages of Using Mobile CRM
Quick access to important customer data: A mobile CRM app allows your sales staff to effortlessly access client data, such as recent and past interactions as well as contact history, from their mobile devices, no matter where they are.
Increase collaboration and productivity: Easy access to resources and important data related to leads and contacts ensures that sales reps don't waste time in coordinating and collecting data.
Shorter sales cycle and increased sales volume: Access to the right data at the right time allows your salespeople to anticipate and respond to the needs of the clients more quickly, ensuring quicker sales and deal closures.
Improved information insight: CRM apps allow sales managers to have real-time access to sales reports from the field staff and stay informed about the status of existing or new deals, resulting in improved efficiency and better collaboration.
Top Mobile CRM Apps: Revolutionizing Customer Relationships
CRM Application Development has been very productive in launching various CRM mobile apps. Some of them are listed below:
Troop CRM : A worth-mentioning CRM application that let you be the operator of your CRM strategies. It provides real-time analytics of customer data, employee attendance, project status, and a complete integration with all your day-to-day activities. Troop CRM can track and manage your customer information such as name, address, and phone numbers. As this software comes for all platforms and devices, you can access it anywhere, anytime.Troop CRM automates the repetitive tasks so that you can grab more leads and turn them into your potential customers. It helps in extending and customizing while your business scales keeps growing up.
Daylite : Daylite is a native iPad and iPhone app that syncs with your MacBook, so you can carry on working even without Internet. It allows you to go through your appointments, to-dos, and calls from the home screen, and lets you capture, tag, and filter your contacts to easily find them when need.
amoCRM : amoCRM offers a full-featured mobile CRM for Android and iOS. It allows access to lead and contact profiles—complete with an event feed and tasks and one-tap call, email, and chat. It also comes equipped with a caller ID and a business card scanner.
Capsule CRM : This app runs on iOS, Android and BlackBerry OS. It creates a local database when you login to your account on the mobile app for the first time and everything including activities, task list, contacts, and so on is synchronized. If you enter the name of a contact in Notes/Description, the app suggests a link to the contact. It also gives you the ability to manage your tasks and calendar from the app itself.
Teamgate : Teamgate is a CRM app designed to actively push sales forward in interactive, transparent, and analytically-defined stages. A full- mobile CRM, Teamgate greatly improves the experience and abilities of the sales and marketing department personnel, and with an ever-growing toolbox of additions, provides professionals with various functional capabilities aimed at optimizing deal closure.
Mobile apps are changing the way the world runs, and you should also change how you do business. Almost every major CRM software is now available on mobile devices. However, the degrees of optimization vary between products, and differences, sometimes, are present in apps from the same developer or vendor when they target different devices.
CRM apps on mobile devices can help you to maximize the efficiency of your business. It not only saves resources and time but also provides a happy customer experience. To organize your workforce and make your business processing effective, don't think twice about embracing CRM Mobile apps for business. If you want to shell more money, go for Custom CRM Development Services.