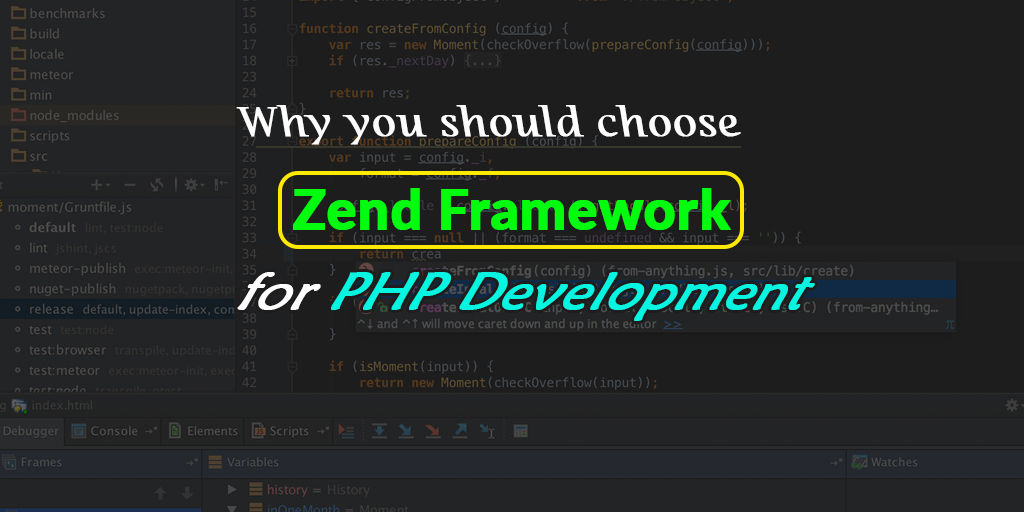 Published July 26,2016 by
Tony Lee
Why you should choose Zend framework for PHP Development
The preferred language for website development, PHP is responsible for powering almost 80% of the websites that exist on the World Wide Web. The popularity of this server-side, general purpose scripting language has given rise to innumerable PHP frameworks. By providing structure through a basic platform, a PHP framework is designed to facilitate the development of web applications effectively, efficiently and quickly. As ecosystems of web development, PHP frameworks are the secret weapons that allow developers to produce applications in a cost-friendly manner within a short period of time. Selection of the right framework for a PHP development project is one of the bigger decisions faced by PHP developers.
Are you beginning with a new custom PHP development project? Let's introduce you to the new and popular Zend Framework that has been creating waves in the PHP development world. With over 64 million installations, the Zend Framework provides object-oriented code for the development of websites and web applications. A feature rich framework, Zend takes PHP development to new levels by bestowing some never before benefits to your website development project.
Here's a list of the ways a PHP development company can gain by implementing the Zend Framework in its website development projects:
Less time required for application development
As Zend is based on Object Oriented Programming, this framework helps PHP Developers by providing full support for PHP 5 development. Developers can easily reuse the code. This in turn ensures that the developer is able to develop multiple interface applications through duplicate code swiftly.
With components like ZendTranslate, ZendCurrency, ZendDate, ZendLocale- the Zend framework helps in building websites and applications that are globally acceptable and user-friendly. A developer need not worry about whether the application will be suitable for users who are from a different country and follow different time, language or currency. It is easy for a developer to integrate different functionalities in the application through the use of this framework.
With countless components and still adding, the Zend Framework is a versatile package. The huge set of libraries enables efficient custom PHP development. Another advantage is that as the components are loosely coupled they can be used as per the unique needs of the project.
Being a free-of-cost, open-source framework, Zend has a huge advantage of being a cost friendly option as compared to the other PHP frameworks available in the market. Since it requires no purchase or payment of any license fee, a PHP Development company can easily use this framework for its various projects.
Wide user and community base
The Zend framework has a large and thriving community of developers. Thanks to the wide-global community documentation related to this popular framework is vast. This ensures a steep learning curve for Zend.
Uncomplicated integration with libraries
Another benefit that sets the Zend framework apart from the others in its class is its trouble-free integration with other libraries.
The Zend framework is also popular for the certifications that are provided to the developers. By learning this framework you do not just receive certification for Zend but also for PHP language. This helps you gain expertise and at the same time lets you enhance your portfolio.