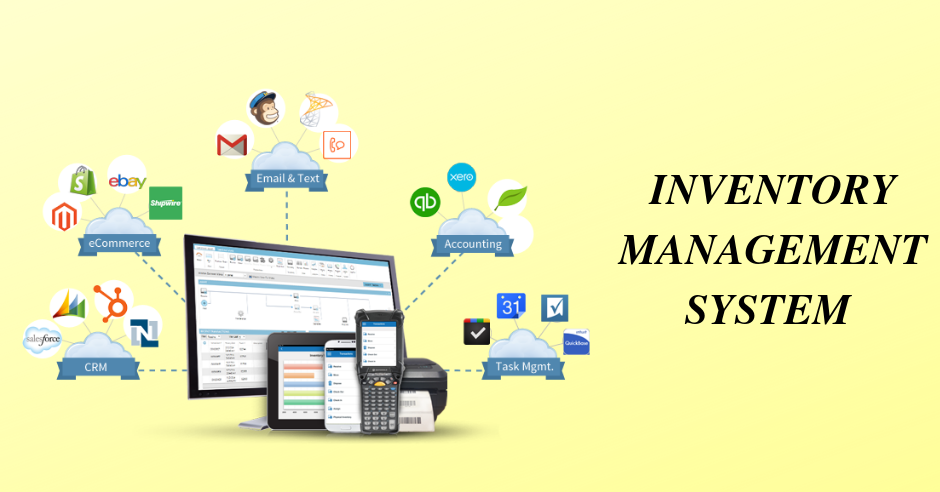 Published May 15,2019 by
Tvisha
Cost & Features Inventory Management Software Development
For both retail and manufacturing businesses, inventory management software development is essential. It helps them to plan, organize and manage their inventory with minimum effort. Now let's get into the details of it.
What Is Inventory Management Software?
To define it in simple terms an inventory management software is a system that is known to help business organizations plan. They do so by leveraging the power of the inventory management software. The monitoring and record-keeping capabilities of the software also enable the user to get ready for radical changes. Not just that, but it also helps in preventing the loss of products which is caused by theft and various environmental factors. This, as a result, reduces financial losses.
Benefits Of Using An Inventory Management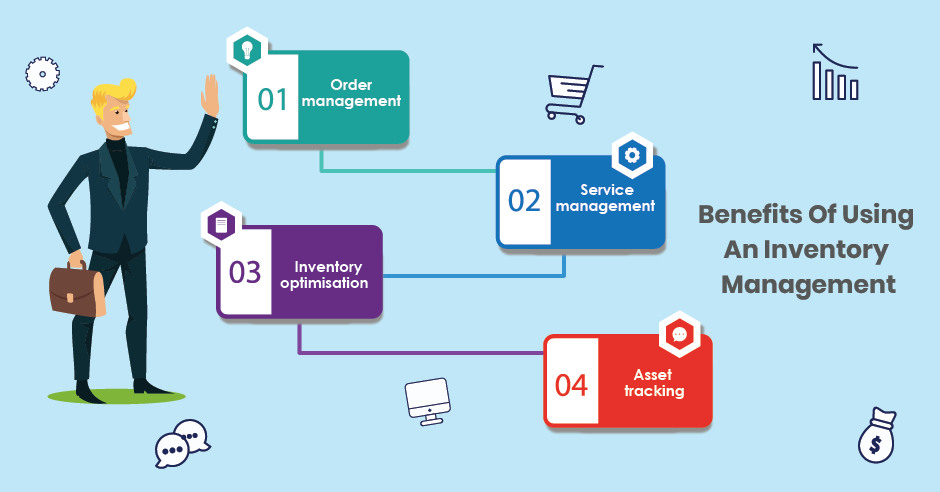 When it comes to managing your business, one of the main challenges that you face is managing your inventory. As your business starts growing, you involve yourself into more new markets and sales channels. Managing all of these operations manually seems like an impossible task. This is where you could make use of inventory management software. Using such software can bring you plenty of benefits. The main advantages of using inventory management software are as follows.
1. Easy Inventory Management
With the help of inventory management Software Development, you can manage your inventory in a much-simplified way. This helps you to save you more time and money. Not just that, but you can also avoid the risk of human errors. An inventory management system allows you to automate the critical processes of your business.
2. Cost-Effective
Using an inventory management software can prove to be profitable in several ways. For example, it can help you save money on human errors. You can also reduce obsolete and excess stocks. This in return will help you to cut down on the subsequent costs as well. Well, this is not all as you save the most from automating your business processes.
3. Lower Risk of Overselling
Overselling is one of the biggest challenges faced by online sellers. This often leads to disappointed customers, loss of control and suspension from marketplaces as well. However, you can prevent all of these by using an inventory management system. With the help of such software, you can easily synchronize your inventory and orders across each of your online platforms and marketplaces. This will ensure that your stocks levels are adjusted whenever you make a sale.
4. Better Business Decisions
A good inventory management software can fetch you with essential sales data. Using this you can take better decisions for your business.

These are only a few of the main benefits that you can derive. An inventory software management has more such benefits to offer including better product visibility, improved business negotiations and more.
Features Of Inventory Management System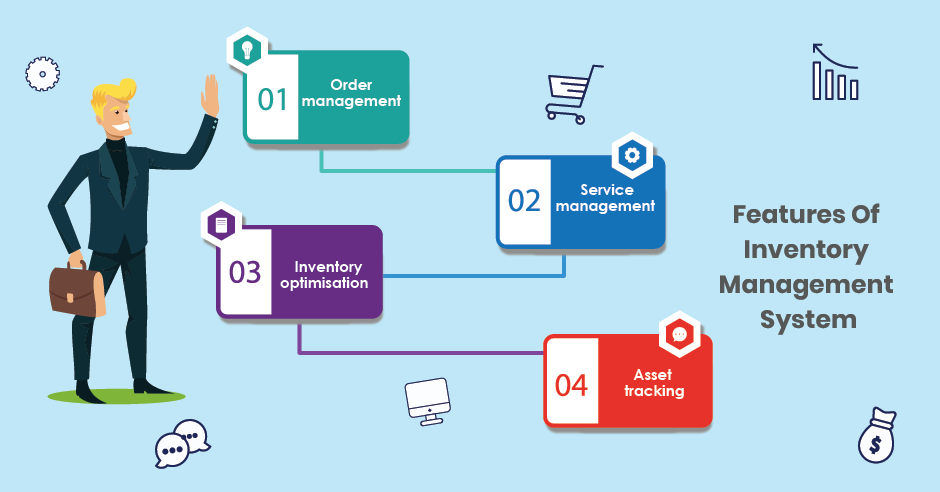 An inventory management system is packed with all the necessary features that you need to manage your inventory. Here you go with the details.
1. Order Management
Using an effective inventory management system, you can easily manage an adequate amount of inventory at all times.
2. Service Management
Businesses that mainly deals in the service industry can make good use of this software. That's because the software helps in tracking the price of the materials required for providing services. This includes the cost of supplies, cleaning, etc.
3. Inventory Optimization
With the help of an inventory management system, you can also optimize your inventory. Not just that, but it also helps in managing the stock in hand. Besides, it also helps in deciding the reorder point for manufacturing.
4. Asset Tracking
Using the software you can easily track a specific product or raw material stored in the warehouse. This is mainly useful in the case when the item is not visible with the naked eye.
Types Of Inventory Management Software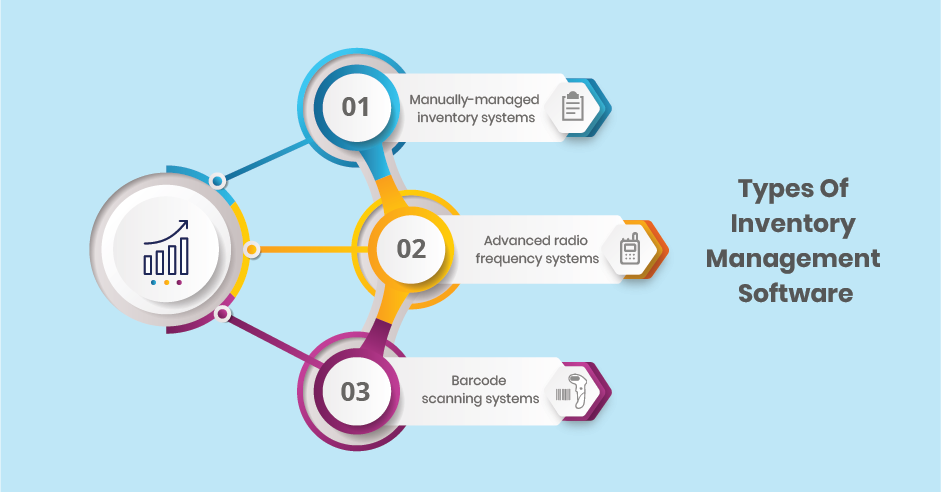 Before you implement the use of an inventory management system; you should first know the types. Here are the different kinds of inventory management software available:
1. Manually-Managed Inventory Systems
This type of inventory management systems is highly inspired by spreadsheet technology. For small companies and start-ups, this seems to be the ideal option. Manually-managed inventory systems are simple to use. It mainly focuses on tracking and ordering a limited number of products of the same type.
2. Advanced Radio Frequency Systems
This type of inventory systems is known to be highly efficient and productive in its performance. With the help of advanced radio frequency systems, you can automate the operations in your warehouse. This type is most suitable for bug companies.
3. Barcode Scanning Systems
This is perhaps the best type of inventory management system that you can put to use. This type of inventory system allows companies to process a large number of products in less time. Also, the incoming inventory gets updated automatically. This means you can have all the purchasing and ordering details ready at all times.
Developing An Inventory Management Software
A well-developed inventory management system can prove to be of great use for your retail and manufacturing business operations. This is why it is essential for you to design a reliable software that can efficiently manage and control your inventory. Other than that you also need to make sure that the listed development aspects are also fulfilled. An inventory system can be designed with the help of an inventory software development company.
Conceptualization
Analysis and requirement gathering
Designing and wire-framing
Development
Implementation
Testing
Deployment
Maintenance
Cost Of Developing An Inventory Management Software
The cost of inventory management software is mainly dependent on the type and number of features you want. For this, you need first to understand the requirement of your business. By apprehending your requirements, you will be able to decide on a final budget.
From the above discussion, it is clear that inventory management software development is essential for a business, especially the ones in the retail and manufacturing industry. It helps them to manage their inventory in a much convenient way.