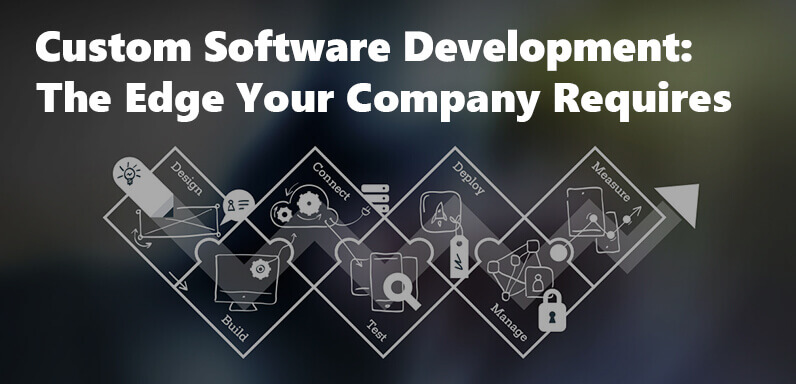 Published January 28,2021 by
Paul Friedlander
Custom Software Development: The Edge Your Company Requires
It's not easy to run a successful business campaign in a world driven by technology if the business itself is not fully optimized in its various different segments. From human resources to inventory management to finances and accounts, every part of an organization should be operational in the most optimal and streamlined way possible, and to do that businesses benefit a lot if they enroll for custom software applications to improve their organization's various functionalities. Applications which manage and provide a defined structure to the way your business operates are the cogs on which your company runs, and without them it would be difficult to effectively manage your various business processes.
Off The Shelf Software V/S Custom Software
A number of programs and processes can be carried out through stock programs and software that are available off the shelf in the market. However, they would not be able to fulfill your company's specific requirements as you will have to shape your needs according to the features these stock products offer.

With custom software development you get the advantage of designing the application according to your own needs and requirements, and that allows for greater personalization of your operations which can be easily distributed and applied throughout your entire organization.

Moreover, custom software and applications offer more flexibility with regards to its features and solutions, and serve a far greater purpose in organizing and managing your business than any other solution available in the market.
What to Look Out For When Choosing Your Software Vendor
As such, there are many custom software development companies which specialize in designing and developing such software applications that would become an invaluable asset for your company.

Software application development companies should proactively engage with their customers to fully understand their business model and what they expect and require from the applications which they seek to implement, and provide software solutions tailored to fit exactly those requirements.

There are many web application development programs and PHP developers who companies can hire to carry out their custom software development needs.
How You Benefit From Custom Software Development Solutions
Companies opting for their services get end-to-end solutions suite that are custom developed and having robust design with minimal scope for errors, and they benefit from the highly efficient software that hit the ground running from day one.

Custom software also provides companies with great prospects on positive Returns on Investments (ROIs).

Companies also benefit from other offerings, like systems integration and consolidation options which add further value to their existing software base, and also provide performance tuning and porting services to enhance their company's business operations.
Experience feature-rich and flexible solutions suite which are tailor made to fit into your business' framework and resolve all your business problems with the advanced software packages which are custom built and developed. Now don't adjust the way you run your company according to the solutions available in the market, but develop software that accommodates your business processes to get the most out of your company's operations with custom software application development programs.