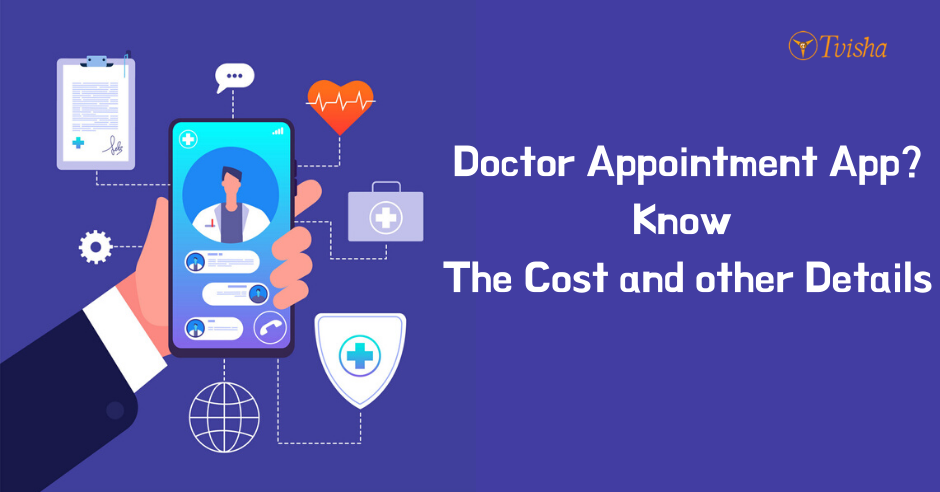 Published December 23,2019 by
Vamsi bandi
Want to develop a doctor appointment app? Know the cost and other details
We all hate standing in the long queues or waiting for our turn, whether it be for railway tickets or for an appointment with the doctors.
The people today want everything faster, quicker, and in a smarter way. It is this habit- the norm to get everything done fast- that creates the demand base for the doctor's appointment app.
I am sure you know about Practo (a doctor appointment application), and if you don't, allow me do give a quick review:
About Practo App:
Practo is one of the most popular healthcare appointments booking application in India. Using this application, millions of patients book their appointment and avoid wasting time sitting in the waiting area for hours. The reason why Practo gained popularity is how this platform seamlessly connects people with the right doctors, in a short time, based on the experience, location, and other important factors.
With Practo, people can book an appointment with 200,000+ verified doctors across the USA, India, Singapore, and Malaysia as well. Since Practo has been such a huge success, they now also have service from distinguished fields like fitness centers, diagnostic labs, salons, and spas. As a promising and leading healthcare appointment application, Practo sure has reached the smartphones of millions of users.
Should you Develop a doctor appointment app?
Given Practo's Success, a lot of entrepreneurs have expressed their wish to launch a similar application. Since Healthcare Industry has long started following the trend of mobile-based applications, apps like Practo will open door to better communication between doctors and their patients.
As a market analyst, I have always witnessed healthcare as one of the busiest and all-season fields. The demand for more personalized and effective interaction with doctors has tremendously increased. So, if you wish to invest in a healthcare application or mobile-based platform, an app like Practo can offer high returns.
Functions to include in a doctor appointment app
To design an application that works like Practo, it's important to understand the functionalities and features that you'd need to add for smooth interaction between doctor and their patients.
Easy Options to Find Spas, Doctors, and Diagnostic Application
Easy and Quick Login/Registration
Option for Checking the Previously Booked Appointments
Search for doctors on the basis of availability, area, specialty, and type of treatment
Exclusive health tips and articles by health experts
Order medicine online
Features to ask health-related questions directly from the doctors
To check the doctor's profile, their qualifications, feedback from the patients and their consultation fee
Option to cancel a booked appointment
Option to change the dates
Additional features like an Uber Ride Voucher and etc.
Doctor Appointment Application Features
Before you proceed with doctor appointment app development, it's important to assess the features that you'd need to add in the application.
a. Access Controls: Make sure the app developers include different signup options. Implementing a social media linking features for sign up is very beneficial these days since it saves user's time and allows quick profile set-up.
Using Email Id
Using Facebook
Using OTP
Using any other Social Media
b. Application Design: Make sure that the app displays a user-friendly design that makes them aware of all your doctor appointment features with ease.
c. Application Interaction: A user-friendly doctor appointment application must allow users to connect with doctors and experts with just one click.
Messaging or Chat features
Universal Linking
Social Media Sharing
d. Basic Features: The app should display a series app, so they navigate easily to find all the information about the doctors.
Common Search Feature
Doctor Profile
Rating or Review from patients
Image Manipulation
Activity Feed
QR code
Easy Consultation
e. Admin Panel Features: An admin panel should be dedicated to providing the admins with real-time data and analysis that can help the review usage analytics whenever required.
Usage Analytics
Intercom Support
Cash report
Add or block features
Reporting
f. Advanced Features: If you have a budget, you sure can opt for Health Care App Development with advanced features to stay ahead of competitors.
Data Synch
Geolocation
In-application Camera
Push Notifications
Calendar Booking
Third-party application integration
g. External Features: Some external features further enhance the interaction between doctors and patients. Here's how:
In-app calling
In-app texting
OTP reading
Secure Data Travel
Development Cost of Doctor Appointment Application
The cost of the doctor's appointment app depends on the features and functionalities you want to add in the application. Depending upon the platform chosen, design of the app, size, and addon technologies, the Cost to develop doctor appointment app may go around $15,000 to $30,000.
Application Platform or Operating System
Any estimation of app development cost begins with the platform you choose. There is a huge difference between the development costs in terms of the O.S.
Doctor appointment app development on android O.S is higher than iOS development since the android application requires testing against multiple devices.
If you want your healthcare application to run as smooth as Practo, you've to prioritize design over money. It's simple. The more the budget, the better will be application design, and the higher will be user retention.
It's not easy to keep a user engaged unless the design is interactive. There are developers who can create a good design at an affordable cost, but you'll have to do your research.
The overall cost depends on the application size as well. The app size depends largely on the total number of features added, for example, articles, patient database, doctor's database, and continuous queries post by the patients and the suggestions pointed by the doctors.
Again, more the features/addons, more will be the cost of development. Doctor appointment applications can have add-ons like Mobile Wallet or Uber Rides.
Third-Party Integrations allow add-ons. They bring tangible benefits, but the development cost will definitely bounce up.
There is no static price for doctor appointment app development. I can't say you've to have a fixed amount to get your dream application.
The amount also depends on the developer you choose, depending on their experience level, expertise, and geography, the cost will vary.
How much Tvisha Technologies Charges for doctor appointment app development?
Like I mentioned before, overall development cost depends on the cost. You'd need to get in touch with the developer, discuss your requirements to get the estimate.
As a leading Mobile application and Website Developer in India, we have proven our expertise by delivering quality-driven development services across the world.
To get a reasonable, cost-effective, and instant quote for doctor appointment app development, please reach us.
Also Know: https://www.tvisha.com/blog/doctor-on-demand-app-development-for-hospitals-and-clinics-its-cost