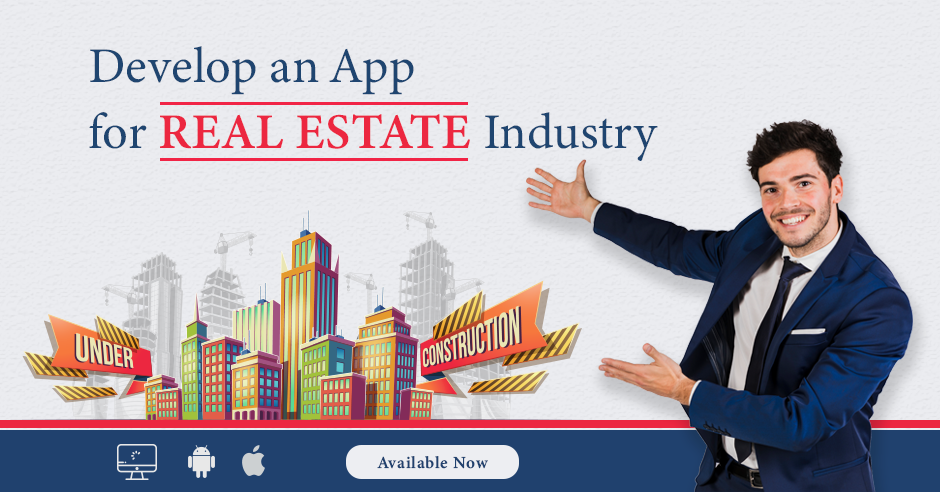 Published August 29,2019 by
Siva Davu
Develop An App For Real Estate Industry
The complete guide to Develop an app for real estate industry
The real-estate sector is on rough roads with huge speed breakers. The end-users of this industry might be individual candidates or any business where each one has assorted demands and necessities. Moreover, in this type of industry, a single type of solution cannot meet the requirements of every individual. The challenges and hurdles faced by this sector can be well answered and managed through the application. To develop an app for the real estate industry has become a need to easily solve all the tasks.
The data of the property is getting more complex with every passing day. This data not only renders information but also creates value for those customers with reference to actual market insights regarding a specific industry and business. As technology is constantly budding, the real-estate sector will also emerge. The principal benefit of having a real-estate application is the capability to supervise the finances of the real estate industry. With this type of Real Estate App Development, you can now concentrate on all the major activities like tenant administration, lease management, and operations relating to your business.
Now let us discuss the actual challenges faced by the real estate industry
Real estate business is sluggish in a few parts of the world and they are still endeavoring with some developing issues. Many of them are openly saying that Real Estate App Development will be one of the greatest solutions. It is a very traditional business and is usually promoted by word of mouth. Of course, it is difficult to object to the scorching issues that this industry has to face.
Reliability
One of the greatest challenges in this real estate sector is reliability. It is a known fact that every one of us will be enticed which are inexpensive yet elegant and there are chances of many people getting fooled with these type of scams. Now the buyer will lose trust in all the property dealers thinking that all of them are cheaters. They will either postpone their purchase process or they will look for other secondary sources. There are also possibilities where the buyer will invest in other sectors.
Cost Management
The constant rise in the price of lands is another dismaying issue for buyers and it is no less to say that it has become an obstacle for most of them. To say, many of the buyers are less aware of the way to arrange money to purchase the land or property they need. Of course, many banks have come up with various schemes and home loans but only a less percentage of buyers are aware of all these.
Approachability and Communication
There is a separate class of people who desire to purchase the property but they may be unaware or ignorant of the correct dealer. This is also of the reasons why they are postponing their purchasing decision. This is what has made the entrepreneurs develop an app for the real estate industry.
Knowledge
The other reason that makes the real estate sector sluggish is the dearth of knowledge among the dealers and buyers. Customers never know the several kinds of properties that are existing in the market. On the other hand, dealers are failing to communicate with the buyers. Not only this, there are many challenges that the real estate sector is striving for. Minute Interference of technology in this industry has made some miracles. However, everything will go in vain until it effectively reaches the customer. Real estate app development will help you meet the end-user efficiently to a large extent.
Features of a Real estate app
Register/Sign in:
This feature enables the customer to register into your application by using their email or their social media accounts.
Verification of the profile by the Admin:
The profile needs to be verified by the admin of the application. It is a very crucial step as it promotes the authenticity of the user as well as the application.
Search for various Properties:
When the verification of the profile is done, the customer can now begin searching for their desired property.
Filtering and Sorting Property based on several specifications:
This feature enables your customers to filter and sort out their options by taking the requirements and constraints into consideration.
List View and Map View for Property Listings:
Your customer is provided with an option where they can choose between the list and map view depending on their convenience and comfort.
Obtaining the Details of the chosen Property:
If your customer is interested in any of the listed properties, then they can inquire about the details regarding the same.
Adding of Properties for Selling OR for lease:
With this feature, your customers can add a property if they are wishing to sell or they can also put it for lease.
Cost to Develop an app for real estate industry
It is always difficult to mention the cost constraints as it completely depends on the size, technology stack used and the platforms on which it is going to be developed. Moreover, a great user interface also necessitates more money. So we advise you to consult a mobile app development company that can meet your requirements and understand your thoughts.
However, a real estate app with fundamental features may cost up to $10,000 to $25,000 per platform.
Final Words
Making your business online will not only simplify the tasks but also attracts the customers of various classes. So we always recommend you to Develop an app for the real estate industry.
accept chat
Overall client rating is 4.5 out of 5.0for

Tvisha Technologies

by

8,756

clients on over

12,800+

+ projects.