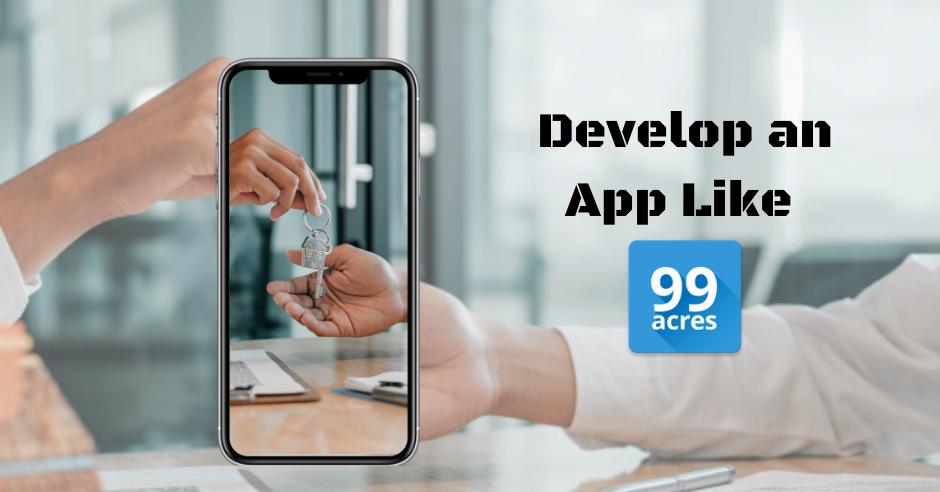 Published February 10,2020 by
Tvisha Technologies
How Much does it cost to develop a Real Estate App like 99acres
In 2019, 99acres won the award for the 'Proptech Mobile App of the year.'
Over the last few years, it has also been recognized as one of the most innovative applications of real estate and entitled to the most admired real estate website.
There's no denying the fact that 99acres, as an innovative real estate application, has inspired young entrepreneurs to Build a Real Estate Listing Website like 99acres
The ever-evolving online search behavior, and the increasing customer demand, has opened a lucrative door of opportunity for entrepreneurs who are interested in real estate app development.
Considering the rapid evolution of mobile-based applications, and the increasing demand for apps like 99acres, we've put together, in this article, all the details you need to know about Real Estate App Development like 99acres
Let's get started.
Overview of 99acres
Launched in the year 2005, 99acres has claimed its identity as one of the most popular real estate applications. This property portal prides itself on having over nine lakh listings of properties for rent and sale in India, spanning across 600 cities.
99acres deals with every aspect of a home buyer's needs and seller's requirements in the real estate industry. 99acres is an online forum where brokers/agents and sellers of house, flat, apartment, and construction plot can exchange information about real estate properties effectively, quickly, and with a cost-effective approach.
At 99acres, the sellers or builders can advertise a property, whereas interested buyers can search for a property, browse through the listings, and keep themselves updated with the price trends, new building projects, and about other significant headlines in the real-estate sector.
What made 99acres a successful startup in India:
Saves both Money and Time
Whether it be about property selling or buying, the process is usually lengthy and demands plenty of time and money. 99acres cuts this short and enables the advertises to post an ad for free.
Similarly, it enables the buyers to review the best-matched properties using filters of different types, and it saves them time.
Search for property made easy
With 99acres, finding your dream property and accessing all the required information is as easy as it could get. You don't have to lounge around to find the contact details of the builder or seller either.
Develop a real-estate brand easily, for free
99acres is indeed a great platform for builders to create their brand identity and get a good exposure, and that too for free. Also, there is an option to opt for paid advertisements, which boosts visibility among interested users.
Features that affect the Cost to develop a website like 99Acres:
Below are the main features or functionalities that affect the Cost to develop a website like 99Acres or Magic bricks:
For Property Buyers:
3D view properties: 3D viewing of properties enables the buyers to get a proper view of the property from different angles. 3D viewing is the latest feature that is being used by many real-estate and automobile app developers.
3D-view of constructed properties or under construction apartment is a great feature to offer to your users. It allows the users to see the entire property without having to visit the site.
Calendar: To give the users clear information about when the property was listed. To have an approximate idea about certain plantations, price trends, and to help users keep a tab of increases and decreases in prices.
Map: Having an integrated Map with the property details will help users to find property locations effectively.
Contact Details of real estate agents: The interface should allow buyers to see the details of the real estate agent, which makes it easy for users to contact them.
Ask via email/message: To get answers about their queries and doubts, a user must have an option to reach the seller via email or direct messaging.
Forums: Forums where interested buyers can participate in or initiate a discussion about their property with brokers and other customers.
Image: The image gallery of real and verified properties in the application must be there.
Recent Activity: For buyers, to refer to the recent activity and view all the previous property searched by a user.
Search: For buyers, to easily search among hundreds of listed properties in a chosen region.
Browse the latest Project: For buyers, to check newly launched as per their preferred city and locality
Filters: For buyers, to sort the search with different filters and can get exact property.
2. For Sellers:
Sell: For sellers, to advertise their property and manage the listings.
View leads: For sellers, to view the leads and check the messages or calls for the listing property.
Customer support: For sellers, representatives, and admins who can reach customers and answer their questions about anything.
Social Sharing: For sellers, an option to Share the property available, so that it can be viewed by others.
3. Advanced Features of a Real-estate app:
Loan calculator – To calculate monthly installments and EMI loans.
Search, Filter & Sort – The home application allows users to search by adding or eliminating different factors
Trending Properties – To sort on the basis of popularity, trending is the ones that are preferred and sought by most users.
Collection – To show the collection of properties that are categorically different: independent cities, ready to move, luxury, affordable homes.
Favorite – For users to add, delete favorites & share them, on various platforms.

Cost to develop a website like 99Acres
Deciding factors that influence the cost to develop aa Real-estate Website like 99acres are as follows:
Business Model
Developer
Functionality& features
App Size
App Development Platform
Design (UI/UX)
Here's an average estimation for you to set your budget app:
Real-estate Website like 99acres.com with basic features: $10,000
Real-estate Website like 99acres.com with advanced features: $30,000
Real-estate Website like 99acres.com with extra functionality: $50,000
Over to You Now:
Development cost depends on the features and functionalities added to the interface. You'd need to get in touch with the developer, discuss your requirements to get the estimate.
There's a lot that goes into designing a real estate app like 99acres. The process is highly overwhelming and requires thorough engagement. The designers and developers make hard decisions and the final product is the result of an exhausting and long walk.
As a leading Mobile application and Real estate Website Development Company in India, we have proven our expertise by delivering quality-driven development services across the world.
To get a reasonable, cost-effective, and instant quote to Develop a website Like 99acres.