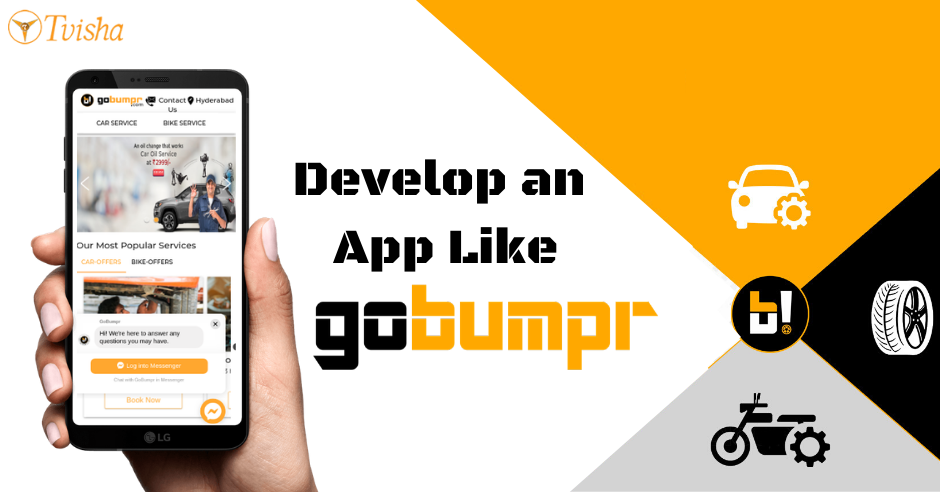 Published January 24,2020 by
Tvisha Technologies
Develop an App Like Gobumpr? Know the Cost and other Details
If you have questions about the cost of development of an app like GoBumpr, this page is where you need to be.
In this article, I am going to discuss in detail the GoBumpr application, it's features, functionalities, and the total cost of development.

For the unversed, GoBumpr is a Car and Bike Service Application. Functioning as a mobile application, the GoBumpr app helps vehicle owners to find, book, and also pay for any of their automobile services from service stations wherever they are.
What is GoBumpr all about?
GoBumpr covers a wide range of automobile services, including the scheduled paid services, OEM-authorized free services, 24/7 on-road assistance, ad-hoc repair jobs, finding the nearest petrol bunk, and vehicle insurance renewals as well.
Using GoBumpr, the service centers can sell, promote, and manage all of their automobile services online. The partner interface of GoBumpr facilitates real-time automation of customer engagement process and service booking, right from the start of service booking to timely service updates, and vehicle delivery.
The Service provider at GoBumpr also gets an on-demand insight into the market via its data-driven analytics module, which helps them serve their clients better in the internet era.
Why Apps like GoBumpr have a promising future?
Around 30 million new vehicles hit the roads in India every year, and in that process, they become a part of the after-sales service market.
Apps like GoBumpr cater to this ever-increasing customer base, which reflects the promising future the market holds.
GoBumpr and similar automobile servicing application are intended to cater to the 94% of the automobile market that includes both the passenger car segment and the two-wheeler car segment.
Important Features
Car Service from top-rated Service Centers: Look over OEM Authorized, Top-Rated Service Centers.
Car Wash & Cleaning Services: Best Deal for Car Wash, Interior Detailing, Exterior Cleaning, Exterior Polishing and Doorstep Service Available.
Car Denting Service Centers: Car Body Tinkering, and Painting Services.
Car A.C Services Repair: Car AC services for Leading Car Manufacturers.
Doorstep Car Wash and Cleaning Services: Doorstep Car Care, Ceramic Coating & Sun Film Coating.
Car Wheel Alignment Services: Car Balancing Services from Leading Car Manufacturers.
Bike Top-up and Engine Oil Change: Engine Oil Change and top-up services from Leading Motorcycle Manufacturers.
Best Bike Engine Repair Service Centers: Best engine repair service centers for different motorcycles.
Bike Service Centers: Find reliable Bike Service Centers, OEM Authorized Service Centers, and Top-Rated Local Mechanics.
Bike Cleaning Services: Bike Water Cleaned at best rates.
Total Cost of Automobile App Development Services
Development of the Automobile Service app depends largely on the features and functionalities added in the interface, the design of the interface, chosen application platform, application size, and a few more factors.
1. Application Design
An attractive, easy and simple interface is what attracts the users at first. The UI and UX, in any app, hold significant value, since it is the first thing they experience.
Creating an app that has a great UI and UX, hassle-free navigation will cost more than the one that is messy and clumsy or crowded.
Ask the developer to utilize propelled and tested design tools. But with the best of the design rehearses, the cost of development of an app like GoBumpr may decrease.
At Tvisha Technologies Pvt Ltd, we have proven our expertise in this area so that our customers at a great interface at the cheapest possible price.
2. Application Platform
App platform is another significant factor that determines developmental costs for all the stages since the steps of deployment differ from iOS to android to windows.
If you want to develop a mechanic services app like gobumpr in iOS, you'll have to spend a lesser amount because the app needs to be tested in only one device.
But, if you want to develop a mechanic services app like gobumpr in android, you'll have to spend more amount because the app needs to be tested in multiple devices.
3. Application Size
App size mainly refers to the number of features and functionalities added in the application. Hence, more the features, larger will be the app size, and higher would be the Cost to Develop App Like Gobumpr.
4. Application Developers and their Expertise
A lot of factors about your developer also decide the cost of the app development. It can vary according to the following things:
Developer's Geographic Area
Developer's Skill Level
Developer's Expertise
Developer Company's popularity
5. Additional Features like Mobile Wallet
Including additional features like a mobile wallet or multiple payment gateways will further increase the total cost of development.
6. Average Cost Estimation
U.S Developers Cost to Develop App Like Gobumpr = $100-$260/hour.
Eastern Europe Developers' Cost to Develop App Like Gobumpr = $70-$170 every hour.
Indian Developers' Cost to Develop App Like Gobumpr = $10-$40 every hour.
Cost to Develop App Like Gobumpr with Simple application design = $5k
Cost to Develop App Like Gobumpr with Moderate design = $8k
Cost to Develop App Like Gobumpr with Complex application design = $16k
Should you plan to develop an app like GoBumpr?
The GoBumpr claims to have registered over 700 bike and car owners on its platform, a new similar application can capture more customers.
GoBumpr claims to have on its board more than 260 service providers that include both OEM authorized service centers and also multi-brand workshops. There's still a huge number of untapped service providers that can be onboarded by new apps similar to GoBumpr
GoBumpr is currently bootstrapped and they are also looking for additional funding to increase the efficiency and reach of their services. At a time like this, a similar app can give them tough competition, which means it is a good time to develop an app like GoBumpr
GoBumpr mainly covers Hyderabad. Hence an app similar to GoBumpr can cover other untapped cities like Delhi, Kolkata, Chennai, and other parts of India.
If you are willing to launch an app like GoBumpr, you should also have Tier II and Tier III cities on your radar with Vehicle market place app development
How much Tvisha Technologies Charges to Develop App Like Gobumpr?
Like I mentioned before, overall development cost depends on the features and functionalities added to the interface. You'd need to get in touch with the developer, discuss your requirements to get the estimate.
There's a lot that goes into designing a car comparison application like Car Dekho. The process is highly overwhelming and requires thorough engagement. The designers and developers make hard decisions and the final product is the result of an exhausting and long walk.
As a leading Mobile App Development Company and Website Design and Development Company in India, we have proven our expertise by delivering quality-driven development services across the world.
To get a reasonable, cost-effective, and instant quote to Develop App Like Gobumpr, please reach us.