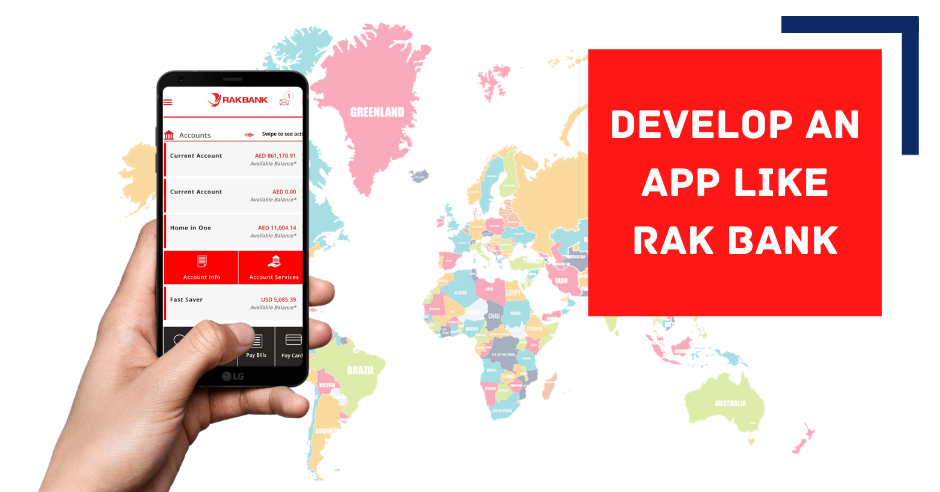 Published March 04,2020 by
Tvisha Technologies
How to Build a Digital Banking App Like RAKBANK?
Dozens of paperwork to fill, the unfriendly staff at the bank, long queues, and uncomfortable banking hours.
All of this stuff can be a total pain for the bank client since the people today are too busy to waste their precious time on slow banking operations at the bank.
With the introduction of mobile and internet banking, life has become so easy. And this has also opened lucrative doors of opportunities for entrepreneurs who want to cash more on providing better digital banking services to the customers.
This is the reason why so many entrepreneurs and industry leaders are investing in the development of mobile banking apps like RAKBANK.
What is RAKBANK all about?
RAKBANK, abbreviated for National Bank of Ras Al Khaimah (P.S.C) has established its identity as one of the oldest and most dynamic banks in the Middle East. RAKBANK was founded in 1976, but the company witnesses a major transformation in 2001 when they shifted from Corporate Banking to Business and Personal Banking.

As of now, this UAE based bank has an extensive range of personal and business mobile banking services, via its Islamic Banking unit, RAKislamic, that are offered across 36 branches. Their main portfolio includes Digital Banking.
Why Should you consider developing an app like RAKBANK?
36% of the customers these days consider mobile banking applications to be one of the most frequently used apps. This means that every 3rd user with a smartphone in their hand is either receiving funds or depositing.
33% of the mobile banking application users have reported that user experience and ease is one of the main reasons why they continue being a customer of their current bank.
As of 2019, the mobile traffic share is expanding rapidly, at an alarming rate of 63.4%, which marked a significantly higher shift from a personal computer or desktop users.
Millennials today prefer using smartphone apps more frequently than their previous generation. Since app like RAKBANK offers solutions and services geared towards the younger generation, it's wise to step into this industry.
Digital Banking Solutions
Internet Banking App: Internet banking apps work directly in an internet browser. It provides users an option to manage all their account details from the web.
Mobile Banking App: Such apps make banking so convenient that every detail is accessible from a swipe of fingers. Users can manage their bank accounts, check history, send payments, create RDs or FDs through their mobile phones. Such apps are available 24/7.
Client Banking App: It's chiefly a PC based banking service provided to corporate customers. The solution is first installed on the PC of a client and then it is provided with access to the database, banking system, which allows a user to make the payments.
Special Features of Mobile Banking Apps
Low-cost banking Services: One of the main reasons why mobile banking got so popular among millennials is cheap banking services. The mobile-first banks, comparatively much lower expenses than the client banking app and thus the service fees are lower as well.
Mobile bank service provides offer their customers a longer grace period, which helps them attract new customers.
Apart from a longer grace period, the mobile-based banks also offer a higher deposit rate to onboard a greater number of customers.
Discounts. Since mobile banks can partner with different third-party service providers like shops, bars, cinemas, it's easy for them to offer a greater discount to their loyal customers.
How to Develop an App like RakBank
Should you wish to develop an app like RAKBANK software or mobile application, start a consultation with a mobile banking application development company that is backed by technology experts.
But before you do that, you must get a better understanding of mobile app development to known the rough plan and be aware of how the whole process works.
Here, we have compiled for you a list of few tips in Banking Apps:
Clean UI and UX: Although the conventional and traditional internet banking users are familiar with technologies and modern tips, your app should still have an easy to use and easy to understand interface for everyone. UX design company can help you with this.
Security: This is one of the most important features of mobile banking applications since users rely on online banks only when security is top-notch. The app must comply with the necessary license and government guidelines. While talking about any of the technological aspects, you can also consider adding support and encryption features for different data codes and electronic signatures.
The app should be designed in a way that does not allow users to generate weak passwords. Furthermore, features like multi-factor authentication can further improve the security walls.
Banking APIs: Whether you are developing mobile banking for a new bank or an existing bank, APIs are important. You should be familiar with all the latest technologies related to mobile banking, and factors that can enable advanced bank account management.
Personalization: Opting for a customized interface, color scheme, custom money management, and personal notifications, can help you gain more customers.
Development Cost of Creating App Like RAKBANK
Generally, mobile banking applicationswith simple features can be developed at an average cost of $50,000 and a digital banking app with more enterprise-grade and complex banking can cost around $150,000.
On average, the time of digital banking app development takes about 120 hours of work in a week, with an approximate developmental time of 10 weeks.
In terms of OS, iOS mobile applications can be developed and deployed at a cheaper rate, whereas an Android mobile banking application is more expensive since such mobile apps require work with a wide variety of system versions.
The cost of development also varies on the basis of the company and the geographical location of the developer. Of course, a mobile app development company in the USA, UK, are more expensive than mobile app development companies operating in India
On a wider picture, the process of digital banking app development looks like a lot of work, and also a huge investment of money. If you wish to own an app like RAKBANK, you should start thinking about different processes that can be automated or about banking products that can be invented to get most of their advantages.