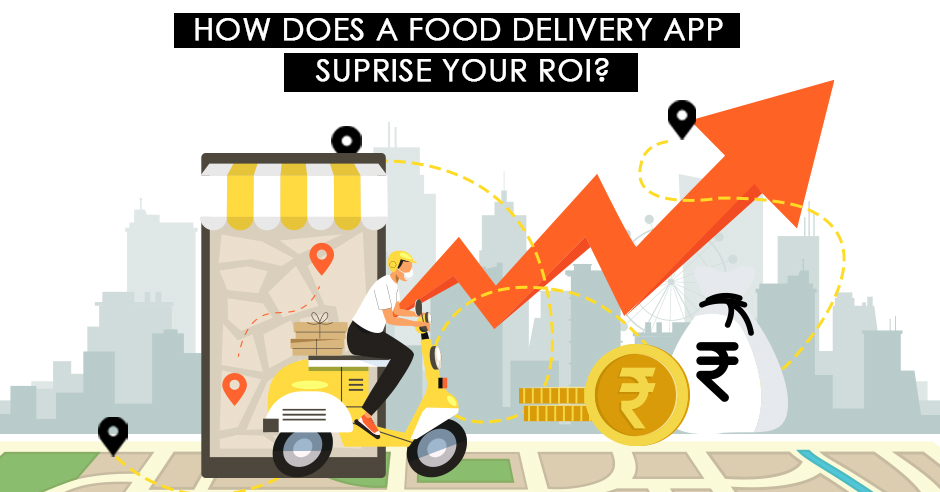 Published October 08,2021 by
Sri Kumar
How Does a Food Delivery App Supersize your ROI?
The food sector has had a consistent increase in demand from the past years. On the other hand, many millennia prefer online orders to dine-in. So, having a mobile application for your restaurant is a great idea as the demand for online ordering will never cease.
Food Delivery App brings automation in the tedious tasks related to restaurant management. It has become an effortless avenue for restaurant owners to earn both customers and income.
With the help of food delivery apps, restaurant owners can give customers the best experience in their comfort zones while expanding their reach globally. They can have everything in the palm of their hands.
There are numerous ways that a food delivery app can help you grow your business.
Let's dive into details.
How a Food Delivery App Helps Restaurant Owners?
Here are some of the core reasons for opting for developing a mobile application for your restaurant business.
1: Increased Demand for Online Orders
It is a tough, expensive, and time-consuming task to prepare a favorite food or try different foods on our own. So, people find getting their preferred or favorite food at their doorsteps more convenient.
Besides, the severity of the COVID-19 pandemic is increasing. So, it is good to maintain social distancing.
In either case, doorstep delivery is a safe solution. Thus, the demand for online orders never ceases!. So, investing in this business and developing a mobile application for it won't break your bank.
2: Seamless Payments and Transactions!
Businesses can provide multiple modes of payments such as cash on delivery (COD), Credit card, Net banking, and Debit card.
Besides, a wallet option in the mobile application will allow the users of your app to pay money for their purchase in your restaurant.
Along with providing seamless transactions for your customers, you can manage all the transactions of all your branches effectively without hassles.
3: Discounts & Offers offer the Best of Both Worlds!
Yes!. It offers the best of both worlds. Customers will be attracted to your restaurant business and you can engage users and promote your business at the same time.
4: You Can Build a Strong Customer Base!
People love a wide range of cuisines from Chinese, Italian, Thai, to other different varieties of dishes like a burger, pizzas, pasta, etc.
You can showcase all your cuisines in the food delivery app with attention-grabbing images. It lets the users of your app try various items from your menu.
Besides, unique features and functionalities improve returning visitors.
5: You Can Improve Customer Service!
People admire the quality and on-time services. order management software allows you to provide all-around customer service and attend to their needs on time.
6: It Provides Convenience and Transparency!
With the help of the mobile app, users can place orders at any time and from anywhere. They can even schedule timings and locations for delivery.
Also, both customers and business owners track and manage orders with a single tap on the food delivery app.
7: Businesses Can Target The Right Customers and Engage with Them!
Build a customized mobile app that helps in targeting the right audience for your business and service locations.
8: Great Brand Credibility!
The more quality services you provide, the more customers you will gain. The more customers you have, the more the brand presence will be.
Moreover, people will leave their valuable comments and feedback. It helps you a lot. It all leads to a high digital asset valuation for your business.
9: Restaurant Voice Ordering Powers Your Business Up!
voice ordering for restaurants will be the next frontier in food ordering. According to statistics, voice-based shopping is expected to raise $40 billion in 2022.
Like millennia, the older generation may not literate and know how to access the phone and its features and functionalities.
How can they order?.
Alexa and Google Home helps!
The most surprising thing is millennia are using this feature more than the older generation to skip typing. It is time-saving and more convenient for customers.
For business owners, this feature helps in gaining customer engagement, brand experience, customer loyalty, etc.
10: Improved Returns!
Food delivery app saves you time, money, and effort. You can manage all the branches in all your locations at your fingertips. You can generate and maximize revenue without hassles by simply sitting at your business.
Great benefits!.
Incredible, right?
So, it is high time to develop restaurant management software!
Let's have a glance at the list of its basic and advanced features.
Basic features:
Not every restaurant offers the same type of service. They differ in their menu and features. Your app idea may be unique. Ask the mobile app development company you hire to design and develop a customized app for you.
However, these are the must-have features for any Online Food Delivery App irrespective of size.
In every app, there will be 3 panels namely customer, Restaurant owner, and System Admin.
Customer Panel:
Registration/Login/Sign Up
Advanced Search and filters
Menu
Payment gateways
Restaurant owner:
Login/Sign Up
Content management
Catalogue/Menu/Order Management
Profile management
Staff management
Customer Reviews
System Admin:
Admin Login
Restaurant Management
Payment System Management
Tech Support
Additional Features That Make You Stand Tall!
Engage customers with advanced features in your custom food delivery that include Coupons/Offers Management, Dashboard Analytics, Add/ Block/ Remove Users, Cost Tracking and Management, Push Notification, advanced settings, Multiple Payment Modes, Track your Order, Ratings and Reviews, Social Media Sharing, Analytics, etc.
How much does it cost to build a food delivery app?
The cost of food delivery app in India depends on various factors such as the number of features you include, number of platforms (Android, iOS, etc.), number of integrations, tools & technologies used, iOS app developers you hire, the hourly rate of app developers, quality assurance, and app maintenance and support, etc. The average cost would be between $3500 to $9500. It may even stretch up to $20,000 based on the number of locations and aforementioned factors.
How can Tvisha help you?
Having the best food delivery app development company is an immense help. Your app should be unique and different from others to stand among the crowd.
We have expertise and experience in building various robust and on-demand food delivery apps. Hire our developers who shape and brings life to your business idea.
Wrapping Up
There will be exponential growth in the on-demand food delivery services. So, opportunities to grow your business are myriad.
Wait not!. Kickstart your business and supersize your ROI with Food Delivery App!.