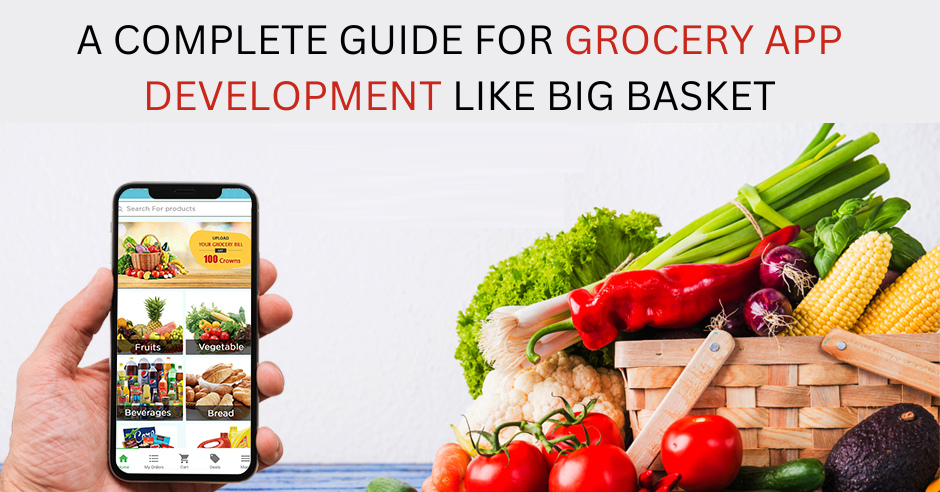 Published September 17,2022 by
Tvisha Technologies
A Complete Guide for Grocery App Development Like Big Basket
E-commerce has become an essential part of this modern business. And E-commerce also has considerable potential to stimulate the growth of any type of business. Many retail entities have perceived the benefits of having e-commerce websites and are continuously striving to establish their own benchmark. So it becomes necessary for the organizations to match with the advanced technology trends in order to direct more business.
Developing a mobile app that showcases your business will help you to reach a wide range of audience. Many entities are focussing on app development as it generates huge revenue by increasing their profits. Groceries is one among them. Grocery app development like big basket has gained huge applause these days and has proved to be successful.
For instance apps like Big Basket has been a huge revolution in this e-commerce industry. Its wide range of features and enticing UX/UI designs helped to attain the top position among the grocery apps.
Some Benefits of Having an App Like Big Basket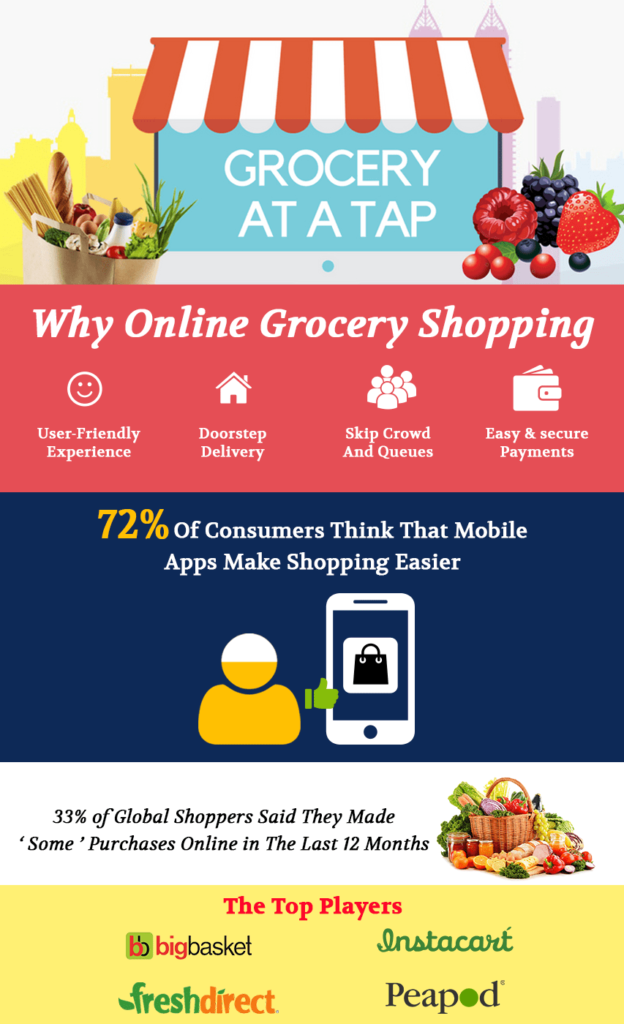 1. Understanding Customer Behavior
Taking the current scenario into consideration, it has become obligatory for the entrepreneurs to understand the behavior of their audience.
Moreover, it's also essential for entrepreneurs to know about the kind of groceries that major people are preferring such as the type of fruits, vegetables, pulses, and any type of eatables.
2. Increasing Customer Loyalty
The main objective of yourfree grocery delivery app is to get customer loyalty. You can render your audience special offers and reward points for being loyal to your grocery app.
This also helps you increase the number of potential customers to your grocery app and in turn increases ROI of your business.
3. Boosts your Profit Percentage
When the customer gratification increases, you can notice an automatic surge in the traffic of your app. The only thing you have to do is to assure your customers with the best quality grocery items.
4. Target Large Volume of Customer Base
Groceries are the fundamental things which are a necessity for every person ranging from people living in villages to the people living in urban areas. By having the cheapest grocery delivery app represents your business, you can target a large volume of customers in every nook and corner.
Nielsen points out: "Functionality and ease of use should be top priorities in website and app design, help should be readily available, and the checkout process should be simple and secure."
Key Features of Grocery App like Big Basket:
1. Login via Social Media
Logging in through social media is one of the popular options where the user can register on your app. This feature also helps in soaring up the traffic for your grocery app.
2. Listing of Products
Being a grocery app development company, our expert team have a clear picture of what should be present in the app. Product listing is an important element as you categorize the products by incorporating beautiful images to give your customers a transparent idea about what they are and how they look like.
3. Discount Coupons
Discount coupons are one of the most essential features of the grocery app. Discounts entice the major volume of the customers who decide to shop.
4. Navigational Menu
The grocery delivery app offers a proper category and subcategory of all the items. Hence a tactical navigation menu is mandatory as it aids the user in reaching the products they desire.
5. Remind Me
This is one of the vital features of the big basket app. It reminds your customers about the items they have bought earlier.
6. Push Notifications
These features allow you to send any promotional offers and productive deals to your customers. It also aids you to inform your customers about the newly incorporated items. This feature helps you to fetch many more customers and provides an opportunity to increase your ROI.
7. Payment Gateway
Your grocery app should provide quick and trustworthy payment modes. You have to include multiple payment methodologies like credit/debit card and e-wallet etc.
The main question that arises from most of the clients is " How much does it cost to develop an app like Big Basket"?
Some Key Factors that Determine the Cost of Grocery App Development:
1. Purpose and Functionality of the App
As we know grocery apps can be tremendously broad and the main purpose of the app commonly steers the development budget, regulating grocery app development like big basket cost.
2. Design of the App
You cannot ignore the design of the app when developing an app like Big Basket. Engrossing UX/UI design plays a vital role in engaging the buyers and in influencing them to buy more products.
An engaging UX/UI design actually costs more, but Tvisha Technologies has a validated experience in designing an app like Big Basket at a reasonable price.
3. App Platforms
This is one of the crucial factors that determine the price of grocery app development.
4. Integrations
The platform that you are going to launch your app determines the cost.
Integrations may involve more chunks of money in the initial stages but they will conserve time and money in the later stages.
5. E-commerce App Development Company
Of course, choosing the best company is quite a tough task though. Read carefully the testimonials and go through the portfolios so that you can get an overview of what they are. A good company will always render you the best services at a minimal cost.
Choose the best e-commerce app development company which provides you the best features at affordable prices.
I can proudly say that our Tvisha is one among them.
6. Native or Hybrid
These native and hybrid type of apps can run on a single platform and they are built according to the serviceability of the app. The native type of app is a traditional one which offers multiple functionalities and is magnificent in terms of performance.
A hybrid app is one which runs on various platforms. Also, it absorbs less time and involves less strain. Furthermore, it is affordable when compared to the native apps.
So now it completely relies on you, So by considering all the pros and cons, it's up to you to decide which one to prefer.
7. Post-Developmental Updates
Once your app goes live on the play store, users will be coming up with the bugs and flaws in your app. So to fix all these shortcomings, it consumes some chunks of your money.
8. Security of your App
In this era of hacking and cyber attacks, the security is of major concern and it has to be prioritized. Nobody would like to disclose their app data to everyone. So you have to definitely allocate some part of your budget regarding the same.
Conclusion
So this is the complete guide which depicts the significance of grocery app development like big basket. Here you can learn the features, factors, and benefits of having a grocery app for your business growth.
Why choose us?
Having professional techies and inventive designers, our Tvisha Technologies can aid you in reinforcing your grocery app development project. We provide a wide range of features for your mobile applications in accordance with your typical business requirements. The apps developed are then tested on multiple platforms to check for flaws.
They provide you with high-quality mobile applications which are cost-effective and affordable. They have built and delivered various robust mobile applications on multiple platforms by employing the latest technologies. We have successfully built and established numerous mobile applications by using unique ideologies.
Tvisha Technologies focus more on making their clients happy and satisfied through their applications for many years. They feel proud of being one of the renowned mobile app development companies in India with a strong team of Mobile Application Developers.
FAQ's
Which app is best for order grocery?
Big basket is the best grocery app for ordering groceries. It provides dairy products, regular kitchen items, and fresh farm vegetables. Having this app on your mobile is like owning the entire supermarket at your fingertips.
Which app delivers groceries in two hours?
The big basket app delivers your groceries to your doorstep in two hours. You can do the complete shopping for buying groceries in one place through this grocery delivery app.
Which app is best for daily needs?
The big basket grocery app is best for your daily needs. It is an on-demand grocery app offering you good quality and fresh groceries with different payment methods, which helps customers buy items and pay for them quickly.