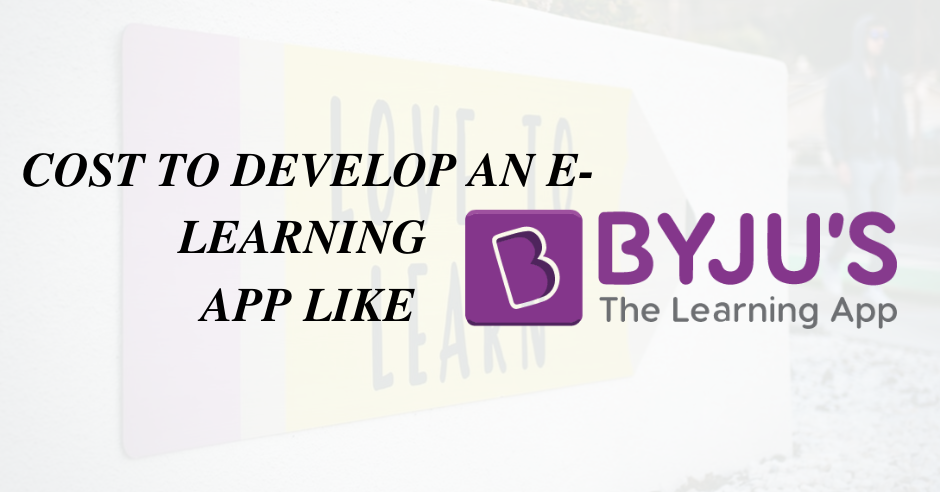 Published December 19,2019 by
Davu Siva
How Much Does It Cost To Develop An E-Learning App Like ByJu's?
89% of smartphone users download different types of application including social media, games, shopping, and 50% of these downloads are from the education category, in 2019!
Byju's, eLearning app, already has 10 million users, a base of thousands of paid subscribers, and an excellent retention rate.
Learning via mobile applications is not the future. It is the present.
The education sector has evolved and it will continue doing so – digitally and in a way more advanced format. The developments made through fostering new technologies like Virtual Reality and Augmented Reality is providing real-time learning experiences for learners in a flexible and creative manner.
Why you Should Consider Developing an App Like Byju's?
Byju's success in India has definitely disrupted the learning system. Apps like Byju's and topper make us visualize the power of innovative and more progressive mobile-learning solutions. Apart from making the education process more engaging and interactive, it also assures providing a comprehensive standard of education with ease, effectiveness, and simplicity.
Innovation in the learning process and education sphere has enabled Byju's to receive funding from brands like Facebook and other premium investment firms like Aarin Capital and Sequoia Venture. With exceptional performance, integrity, and security, Bjyus provide an inclusive and exhaustive learning model.
By associating with the right educational app development company, you can also launch an m-learning application that makes learning more addictive. Creating a mobile-centric learning platform is indeed a profitable investment.
Education App like ByJus Development Process
To develop an m-learning application, you certainly need to seek assistance from an eLearning Android app development company. But before that, it's important to have a thorough understanding of various processes including research, designing, and development and the deployment stage.
With an understanding of each of these stages, you get an idea of what to present to the end-users and also estimate the Cost to Develop App Like Byjus.
1. Research and Idea
For your m-learning app to be successful, it's important that it is based on a strong idea, for only that will be converted into a high-demand education application. The subjects you choose to teach via your application should target specific audiences and it should appeal to them so much that they download the app
Performing significant research and brainstorming sessions before proceeding to the next stage will help you stay ahead of your rivals. The concept has to be viable. You can test the viability and utility of your ideas by doing a thorough market analysis, setting well-defined apps, and transferring competitive rivalry, and creating a timeline.
2. Design
An interactive design on an easy-to-use interface is one of the reasons behind Byjus popularity. Hence, when you are designing an m-learning application, make sure that it has all the engaging elements, and at the same time, the app offers state-of-the-art user experience. The app should have a decent design that can capture the user's interested. It shouldn't be crowded. It shouldn't have large-sized elements/graphics that take years to load. Go with bite-sized elements.
3. Development
Once the design is ready, it's time for the development process to kick start! This stage begins with the start of a conceptual phase with validation features that provide the concept of the application. In this phase, let your app move through several stages of improvement and advances. The app is passed through stages of light testing, fixing of bugs, and additions of key functionality
4. Deployment
Post the development, when the app is ready, deploy on the operating system of your choice, either iOS or Android, or both. Strategies and processes for deployment on each platform are different.
Features and Functionality required for Developing an app like Byju's
A Mobile-learning application like Byju's has three different panels: Student's panel, Teacher/instructor's panel, and the admin dashboard. For each of these panels, you'd need to have a different set of features and functionalities depending on the requirement.
1. Student Panel
Student panel is apparently the most accessed panel, and as the name implies, is designed with a motive to make signing-in easy and hassle-free. And once the student has logged in, they should be able to navigate across the app easily, without the app crashing or taking time to load. Navigation from one lesson to another and all other features should be effortless. Some of the student panel features which determine the cost of development of an app like Byju's are as follow:
Simple Registration
Video and Text chatting
Advanced Search Filter
Selection of Subscription Plan
Posting Questions
Quizzes and Online Exams
Download or Read online
Detail Profile Creation
Course Detail on Click
Shipment Status
Purchase History Dashboard
Forgot Password
2. Admin Panel
Admin Panel is equally important because it' where you manage the users, the content displayed to them, subjects, and respond to their complaints. Hence, an Admin Panel should have all the features your management may need to offer the best of the services to the students, always. Some of the admin panel features which determine the cost of development of an app like Byju's are as follow
Badge Management
Location Supported
Maintain the accounts
User management
Subjects Management
Premium subscription control
Transaction History
Content and multiple filters
Statistics
Ticketing
Bill Management
Customer Complaint Management
Discount and Promotional Offer Management
3. Teacher's Panel
By creating a dedicated teacher's panel, you can assure that your instructors can log in with ease and navigate effortlessly. Some of the teacher panel features which determine the cost of development of an app like Byju's are as follow:
Register account
View Questions and answer
Console Statics
Account setting
Detail Professional Profile
Edit Account details
Video and Text chatting
Forgot Password
The Cost of Developing an App like ByJu's
The cost of development of an application like Byju's mainly depends on the platform, design, and size of the application. The cost also depends on the educational app development company that you partner with. Here's an average estimation of time and amount spent on the development of an educational app.
The average price of educational app development based on hours:
India –$30 to $55 per Hour
USA– $100 to $ 200 per Hour
Europe–$80 to $190 per Hour
The average price of educational app development based on the following factors:
Technical implementation- 40-55 hours and an average cost of $1500
UI and UX design –350 hours and an average cost of $20,000
Front and Back-end process –450 hours and an average cost of $15,000
Testing-– 80 hours and the average cost of $2500
Final Words
There's a lot that goes into designing a learning application like Byju's. Should you wish to own an app like Byju's., with one or more of the features mentioned above, we are here to help bridge your dream to reality. Our team of expert app developers is here to assist you at any point in the process. Get a Free Consultation Today!
Also Know: On-Demand Tutoring App Development