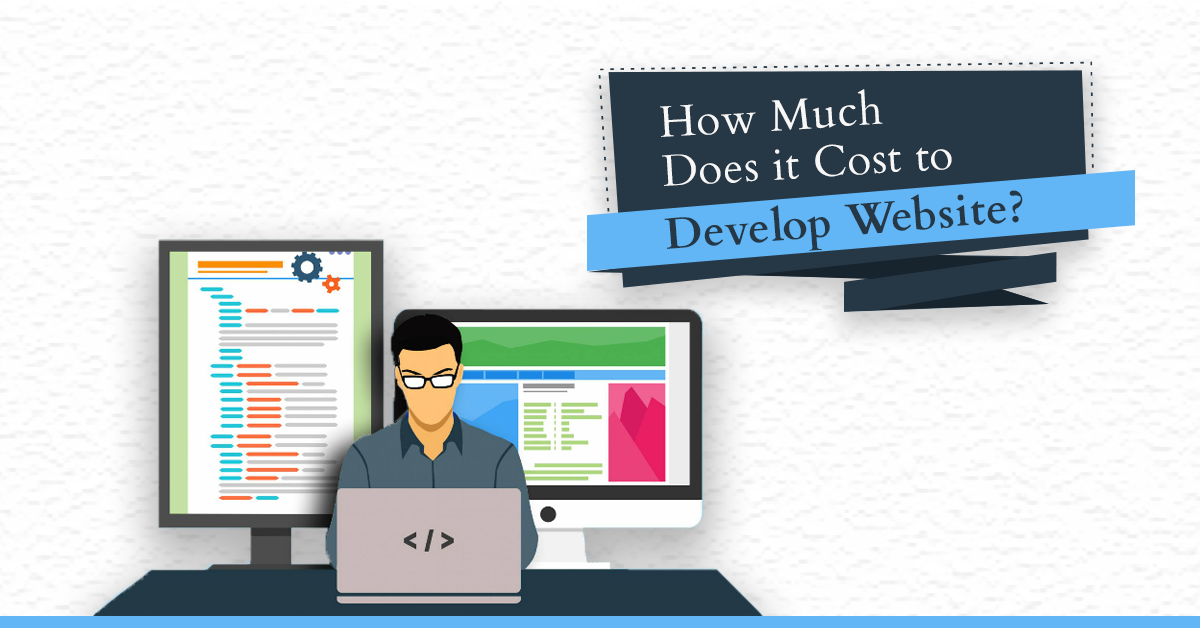 Published August 20,2019 by
Krishna
How Much Does it Cost to Develop a Website in 2019?
A website is a must-have tool for any organization, company, an educational institute, or business for sharing information or selling products or showcasing their services. It is the basic building block of any business, and acts as a communicator between business owners and customers. Nowadays everyone is creating their own websites. Bloggers are evolving as dust on the earth. This is the era where there is no such company without a website.
Cost to Develop Website:
It is a myth that building a website is expensive and it needs a lot of maintenance. The total cost to develop a website solely depends on your business requirements and goals. With the advent of technology and web development tools, there is no need of compulsion to hire a pro designer for your web development since you have lot of stuff over the internet that helps in building your own site.
If you are a beginner and didn't have an idea, then this guide is provided to you for your good start. This guide will help you know the things beforehand to avoid unnecessary spending of hefty sums on designers and developers.
Before going to the cost details, let us distinguish the types of websites - static, dynamic, and e-commerce websites.
Design and Development Cost:
Design is not a piece of cake since it reflects your business by showcasing your services. It is a mediator that help in attracting and retaining customers, building brand, and marketing. You can use either a website builder (online) since there are several web building software such as WordPress, Wix, Squarespace, Weebly, and site123 are available. Or you can hire an experienced professional web designer from a Website Development Company for your web development.
1. Static Website:
As the name implies, the static websites will have fixed content that won't be updated regularly. This is the basic type of website. These websites can be useful where there is no need for regular updates of the content such as educational institution websites, content-based websites, Blogging websites, small enterprises, etc. These websites are
easy to create
cost-effective
less need for back-end maintenance
created with HTML pages and
need to publish the pages on the server
There are also static site generators such as Jekyll which is developed with the help of Ruby and GitHub integration. Hexo, Pelican, Harp, and Octopress are other examples of static site generators.
The cost of static website building ranges from $445 to $4500 based on the number of pages, complexity in the design etcetera.
2. Dynamic Website:
Needless to say, as the name implies the dynamic websites holds the content that is dynamic (changes frequently).
These websites
Needs more time than static sites
Cost-effective than static websites
A regular need for back-end maintenance
Created with CMS like WordPress
Need to publish the pages on the server
The cost of dynamic website building ranges from $2500 to $16000 based on the number of pages, complexity in the design features etcetera.
3. E-Commerce Website:
These online stores are extensions of your offline stores. It is a great source for businesses that are created for selling goods (tangible and intangible)/products/services.
These websites
Needs more time than dynamic sites
more than hundreds of pages
Shopping cart
Expensive
A daily need for back-end maintenance
Created with CMS like WordPress and Woocommerce
Need to publish the pages on the server
The cost of dynamic website building ranges from $4500 to $25000 based on the number of pages, shopping cart integration, complexity in the design features etcetera.
Apart from the website development cost, (whatever the type of website either static or dynamic or e-commerce website), you also charged extra costs for a domain, hosting, logo design, and maintenance.
1. Domain cost:
The domain is the virtual address for a website like the physical address (location) of ours. It is the source for accessing your website over the internet. Like we have taxes for our home, the websites have the cost to hold them.
e.g. www.tvisha.com
You can purchase TLD (Top-level domain) names such as .com,.org,.net, .co and you can use country codes such as .in, .uk, .us etcetera. You can buy domain names from domain providers such as Godaddy, Bigrock, Namecheap, etc.
You can purchase your website domain name based on your business name (unique and easy to use) and renew the domain name annually. If you no longer need it, then you can sell it on auction and market places such as Godaddy Auction and eBay marketplace.
The domain name cost is not much expensive as it is available at cheap costs starting from $10.
2. Hosting cost:
Hosting stores all the data (files, folders, images, videos, and everything on your website). Depending on the content and website builder, select a hosting server among these four servers.
A. Free server: No need for any payments.
B. Shared Server: Your website needs to be shared along with other websites on a single memory (Storage space).
C. Virtual Private Server (VPS): Half of the storage space is managed by yourselves apart from sharing it with other sites.
D. Dedicated Server: The total storage is dedicated to your website and is expensive. It is best suitable for e-commerce sites.
The monthly hosting costs for shared, VPS, and dedicated servers are $3-$22, $35-$170, and $165-$660 respectively.
3. Logo design cost:
The LOGO is your BRAND!. You can design your own logo using logo design generators (free and paid) available online or you can hire a pro logo designer.
The quality and good design that reflects your business may cost in the range between $250 to $ 1500.
4. Maintenance cost:
Last but not least, it is the essential cost that every web design company provides and charges. Without proper maintenance, no business can stand for its longevity.
The maintenance cost for the website (back-end) will be in the range between $100 to $ 300 based on the type of website.
Conclusion:
Needless to say, the cost to develop a website purely depends on the features and type of website. The total estimated cost to develop such an app will be based on the requirements $500 to $25000 and it will be stretched up if you need more features for your website.
The cost includes:
Domain cost (Annual renewals)
Hosting server cost (Annual renewals)
Logo designing
Web designing cost (static/dynamic/static)
Number of pages
Back-end maintenance
Updating the content
Additional features and
The time needed for developing
We have provided you a rough estimation. You can consult our developers for an accurate cost. Based on your budget and business requirements, you can decide the options provided above.
accept chat
Overall client rating is 4.5 out of 5.0 for

Tvisha Technologies

by

8,756

clients on over

12,800+

+ projects.