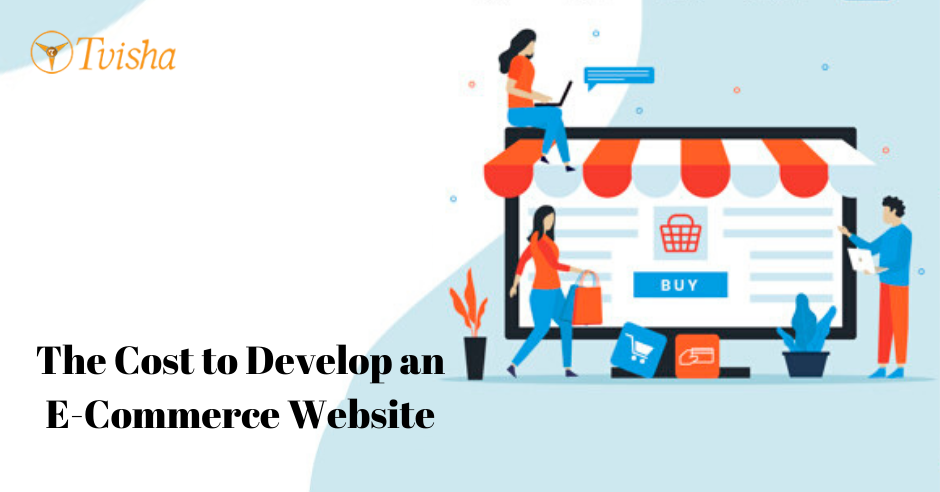 Published July 26,2022 by
Tvisha Technologies
Guide to Understand the Cost to Develop an Ecommerce Website
If you are looking to start an online business, there's no better way to commence than launching an e-commerce website. Having a fully-functional online store can help you reach out to a broader audience and maximize revenue and profits. However, it would take some significant investment ecommerce website design and development company to get an e-commerce website up and running.
Cost Factors for Ecommerce Website Development
Let's break down some individual factors that add up to the entire Cost to develop an ECommerce Website.
1. Number of Pages
One of the primary pricing factors is the number of pages you want to include on your website. Small businesses can get it covered by building a landing page or two using a service like SendPulse, but the more products you have the more pages you need. For a functional e-commerce website, you will need at least 250 pages. Thus, the cost of pages can be substantially higher in e-commerce than the regular sites that usually feature a handful of pages. But if your pages are made and designed well and contain the right information, they will pay for themselves.
A typical e-commerce website consists of unique pages for each product, category pages, personalized profile pages, contact us page, about us, terms and conditions, refund policy, and many more. Therefore, you will need to put in a significant up-front investment of $100 to $2,000+, but it would be rewarding in the long term.
2. Website Design
UI/UX design is one of the significant success factors for your website. However, it is one of the costliest parts of e-commerce website development as well. The design of your site attracts and gain new visitors and is essential to make a robust first impression. If your website looks bulky, clunky, or outdated, most visitors will smash the back tab within a few seconds.
On the other hand, if your design is sleek, unique, and responsive, visitors will spend more time and will visit your website recurrently, eventually turning them into loyal customers. The web design costs vary depending upon your requirements. If you are planning a simple and sleek design that is responsive and functions well, you can get the design done for as low as $250. If you want your website to have a distinguished world-class appearance with interactive elements, high-resolution images, and intuitive features, the costs can spike above $20,000.
3. Content is the key
Irrespective of how good your website looks and feels, if you are not investing in high-quality content, you will lose potential conversions. E-commerce websites, in particular, don't require a lot of written material, so you don't have to spend a lot of copywriting. Some primary pages that you need to focus on would be product pages, terms, and conditions, about us, privacy conditions, etc.

For an e-commerce website, the entire copywriting can cost between $50 and $500 per page. The price depends upon the type of writing you are looking for: long-form, blogs, product descriptions, or white pages or guides.
4. Search Engine Optimization
Search Engine Optimization (SEO) is a vital factor for your e-commerce website to succeed, as ineffective SEO means no traffic, and hence, no conversions. Moreover, SEO ensures your website sustains over the long run and generates conversions constantly. Therefore, if you want to earn more revenue over the years to come, you need to invest in optimizing your website with SEO.you will have no steady organic way to attract customers.
SEO is a continual process and requires consistent work. Therefore, it costs you per month. For good-quality SEO, you will need to spend $300 to $1,500 a month.
After considering the above factors, you might have an idea of the costs required for creating an ecommerce website. Now it will be easy for you to develop an ecommerce website.
Can I create a eCommerce website with WordPress?
Yes, one can build ecommerce website with WordPress as it is an open source content management system(CMS) which helps you create a website easily. WordPress offers various ecommerce options, from paid subscriptions and one-click payments to a completely personalised online store. But you need reliable plugins and web hosting to make a successful online store. There is also no need to write a single line of code while developing an e-commerce website using WordPress.
Which software is best for ecommerce website development?
Although there are different software best for ecommerce website development, Shopify is prominent among them. It is the best-hosted ecommerce software with strong sales tools and dedicated ecommerce designs and features. Its drag and drop functionality eliminates the challenges of building an ecommerce store without writing any code. You just have to know your software requirement specification for ecommerce website to start creating it using this software.
5. E-Commerce Functionality
An e-commerce website that was created by any of the ecommerce website software platforms needs to be fully functional with shopping carts, checkout processes, personalization, and customer identity protection. To convert your visitors, your e-commerce website should be easy to use and should provide seamless navigation and actions. Some features that enhance the functionality of a site are:
Show multiple images of a product to demonstrate its ins and outs
Supplemental information on a product like specification sheets, MSDS sheets, etc.
Many e-commerce brands also provide a window where people can talk to business representatives or customer support to resolve their queries. For this, brands use a live chat feature on the website, which is quick and easy. However, others use a VoIP phone system because of its obvious benefits i.e., better help, quick solution, and can talk to more than one person. This curated list of the best VoIP phone system from LuckyMag can be of your help.
E-commerce functionality costs can range between $500 and $2500. It might get challenging for you to determine what functionality does your website needs; therefore, it is best to consult an ecommerce website development company for the best advice.
Some Additional E-Commerce Website Development Costs
Apart from the expenses discussed above, there are a few additional features that can be an add-on to e-commerce stores such as
Database integration pricing: $5,000 to $25,000 per integration
E-commerce content management system (CMS) pricing: $0 to $15,000+ per year
E-commerce website domain name pricing: $5 to $15 per year
E-commerce website hosting pricing: $75 to $200 per year
Flash and multimedia elements: $250 to $10,000
Website maintenance: $500 to $1,250 per year
All of these costs are not necessary; thus, consult some reputed eCommerce website developers before investing in these solutions.
Wrapping It Up
The cost of an e-commerce website can range between $5,000 and $350,000. From designing to SEO, there are a plethora of factors that determine the final pricing. The cost per hour charged by the website design and development company you hire also adds up in determining the total cost of the total project.