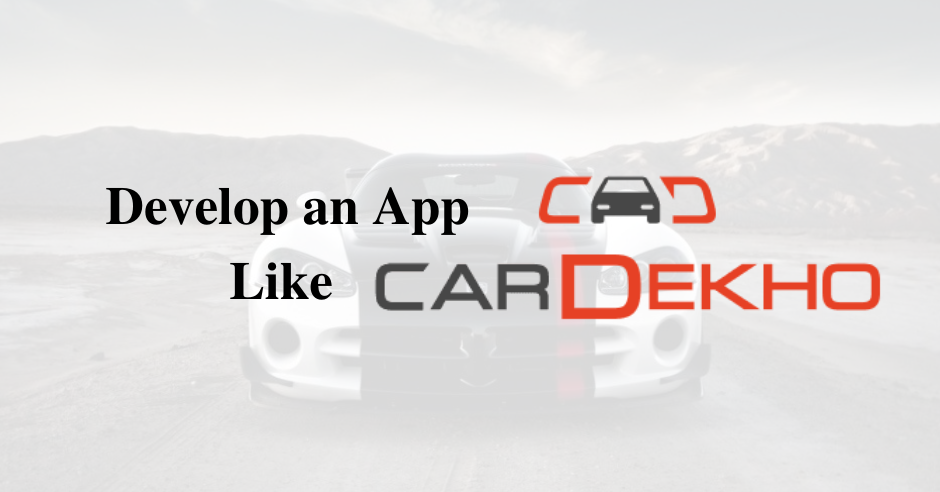 Published December 09,2019 by
Tvisha Technologies
How to Develop an App Like Car Dekho and Estimate Its Cost
Seating Capacity? Mileage? Interiors? Power Steering? On-road cost? Horse Power?
These are some of the questions that most car buyers seek answers to before they decide to buy their dream vehicle. With the advancement of the internet and Google becoming the ultimate solution for all problems, the customers today have become smarter. They leave no stone unturned before deciding to make a purchase. Whether it be their 4G smartphone or big purchases like a Car.
With a click of a few buttons or swipe of fingers, they can easily compare different car models, brands and their offerings – all thanks to applications like Car Dekho. The increasing use of car comparing websites before vehicle purchase has also got many prospective entrepreneurs thinking about the cost to develop an app like Car Dekho.
If you too have been wondering about app developments like Car Dekho, then this handy cost estimation article deserves your attention. Read on to find more about the development of comparing websites:
Why Car Dekho is Trending?
Car Dekho – an Indian automotive portal offers a secure and highly effective way for prospective buyers to find the vehicle that is right for them. With rich automotive content like details specifications, expert reviews, pictures, and videos from different angles, and pricing, the Car Dekho website and application sure is helpful.
One of the reasons it has been trending is it's 'feel the car tool' that gives a 360-degree view of the interior and exterior with the explanations of the features, sound of the car, and more. The platform also includes a car classified for users to upload their used cars for sales, so that interested users can buy them at cheaper prices.
Car Dekho is trending and the demand for car comparison android app developers has surged because of the rich array of tech-enabled features for car dealers, OE manufacturers, and buyers.
3 Exciting Features of Car Dekho Application
Check out the list of some of the interesting functionality and features of using Car Dekho Mobile Application:
Feel the Car Tool: Offering a 3D-viewing experience, the Feel the car tools allows the viewers to control the cockpit (virtually) via their phone. With horn functions, they can assume a few real-life experiences as well.
360-degree view of the car: It is one of the most outstanding features, allowing users to have a complete view from different angles and aspects.
Compare different models: Read and compare all the specifications, review, see shots of cars, go through the standout features, and detailed reviews from users who already own the vehicle.
Why is it Wise to Invest in an application like Car Dekho?
Automobile App Development has long been trending, and it's always wise to invest in them since there has been a growing demand for apps or services that can be accessed right from the phone. People today literally want the world in their hands.
The automobile market is ever-growing and ever-evolving, and an app like Car-Dekho opens door to lucrative opportunities for the developers and owners. Here's how you can win your target customers by creating an application like Car-Dekho:
Comparison: prospective buyers can compare all the specifications of minor and major value. From mileage to horsepower, every bit of information that helps a smart decision making.
Reviews: Trusted reviews and testimonials from buyers who are already using that vehicle.
Offers and News: Users can stay up to date on the latest offers and news relating to their favorite brands and models.
Loan EMI Calculator: Should they wish to purchase a car; they can simply go through the Loan EMI Calculator and get an estimate.
Explore new launches: All the new launches and their features can be easily read.
List of certified dealers: With apps like Car Dekho, users can access the list of reliable and genuine dealers and purchase from them.
Valuation tools for used cars: Confused about accurate pricing of a car, check them out through valuation tools specially designed for used cars.
Detailed Images: 360-degree viewing experience and details to 'know' the car, and not just 'see' them.
Videos for Better Insight: With Videos, the users get a clear and better insight that helps them make an informed decision.
Advance filters: Car Dekho iOS app developers have recently launched apps with advanced filters like mileage, transmission, seating capacity, cc, car features – all of which help users narrow down their search for the perfect car!
Cost of Developing a Car Comparison App
There are tons of exciting elements that play a critical part in defining the design and functionality of mobile applications. The same rule applies to the development of apps like Car Dekho. The overall cost depends on the number of features, UX Design, and other factors.
You can create a car comparing application in various dimensions, colors, features, and forms and the development cost varies for each feature.
Some of the deciding factors that influence the cost to develop an app like Car Dekho are as follows:
Business Model
Developer (Front-end & Back-end)
Functionality& features
App Development Platform
Design (UI/UX)
With all these factors in mind, the price is bound to vary. For example, if the Design is simple and very basic, the development cost would be basic too. UI/UX cost could be as low as $100 but if you want your car comparison application to have features like '360-degree-viewing' than the price will go as far as $1000 for designing only. In short, the better the features/functionality, the higher will be the cost. Here's an average estimation for you to set your budget app:
Car Comparison App with basic features: $10,000
Car Comparison App with advanced features: $30,000
Car Comparison App with extra functionality: $50,000
Wrapping Up
There's a lot that goes into designing a car comparison application like Car Dekho. The process is highly overwhelming and requires thorough engagement. The designers and developers make hard decisions and the final product is the result of an exhausting and long walk. The cost to develop an app like Car Dekho is expensive but the end- result is extremely profitable and equally rewarding.
Should you wish to own an app like Car Dekho, with one or more of the features mentioned above, we are here to help bridge your dream to reality. Our team of expert app developers is here to assist you at any point in the process. Get a Free Consultation Today!