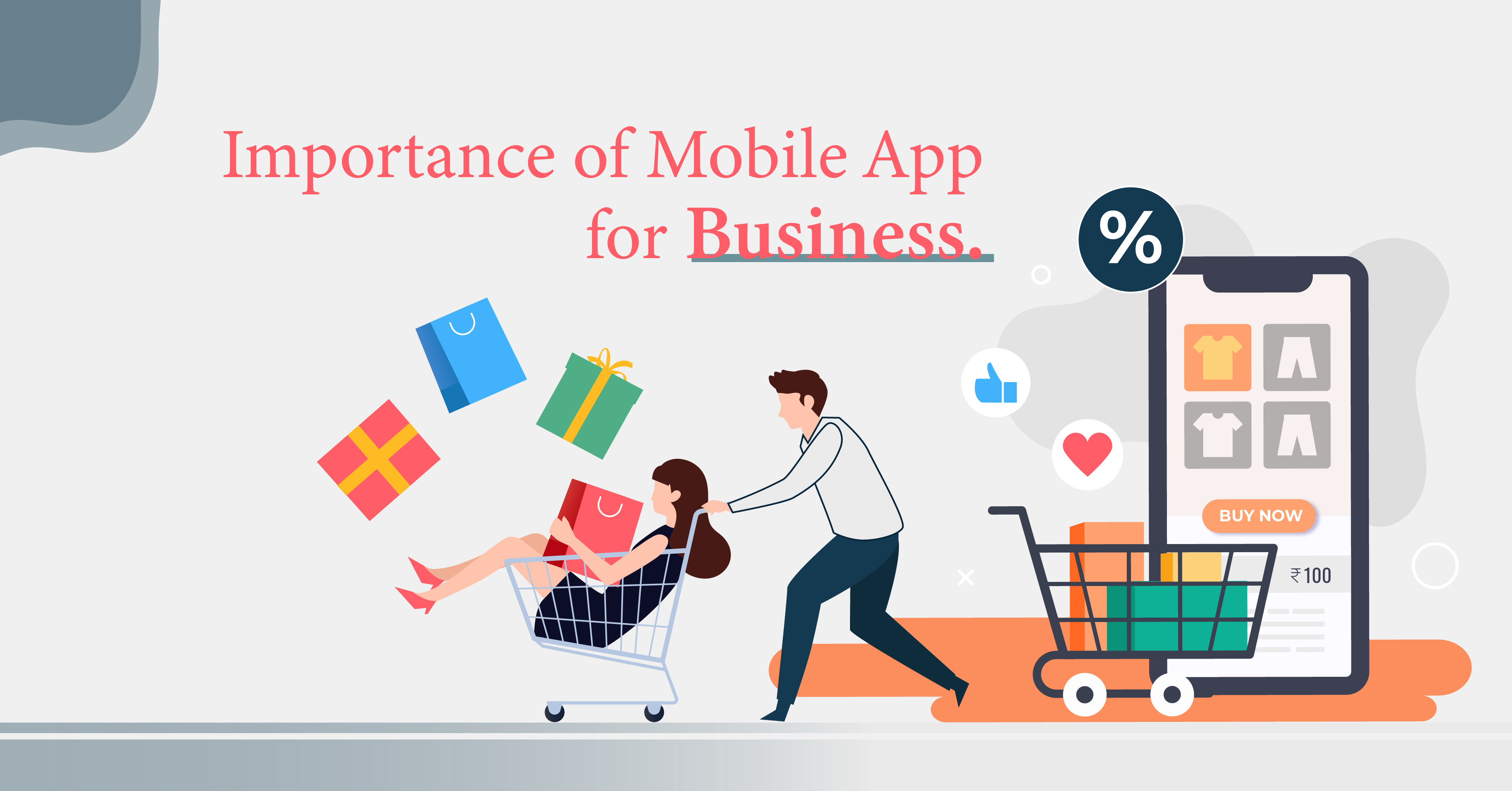 Published August 22,2019 by
Krishna
The Importance of Mobile Apps for Business Growth
"Mobile apps are evolved for making things easier for everyone"
The emergence of mobile apps - the new version (extension) of websites has transformed everything in the business realm. Integrating your business with mobile apps can take your business to the next level. If you don't take advantage of technological advancement, you will be out in the crowd. Developing mobile apps for your business or industry or company is not a "current trend" to follow, but a "permanent necessity" to adopt since mobile apps guarantee the company's success.
Skyrocket your business with a top-notch mobile app which is a small fragrant in the mobile revolution that has sprouted for making things easier and automating everything.
The mobile apps have become a favourite thing for boomers, Gen X, and millennials and the time spent by them on mobile apps is minimum 3 hours per day because it doesn't need internet connection once it has been downloaded in the phones. This is very advantageous for the businesses who want to excel their business through mobile phones and their applications.
There are various types of mobile apps such as native apps, web apps, cross-platform apps, and hybrid apps etcetera which can be built for various applications based on business goals and requirements.
First of all, let us dive deep into the importance of the mobile app for business.
"Mobile app is the need of the hour for businesses now"
Importance of anything lies in its benefits which are jotted out for you below.
1. Increased Brand Reputation
If you want longevity for your business, you need an exceptional brand reputation that only comes with the robust mobile application which resembles your business and its services.
2. Mobile Apps Can Generate High Revenues
Mobile applications add more revenue to businesses. Its flexibility in usage yields more user experience and is the reason for more customer engagement. It involves in-app purchases, downloading of the app, and marketing gives an enormous rise to the ROI by cutting extra expenses.
3. Makes The Process of Buying Products or Services Easier
Gone are the days of purchasing products/services/goods (both tangible and intangible) at the physical stores. With the advent of the internet revolution, everything has become online and online orders have become the lifeline for everyone. With the integration of payment gateways, buying the products or services has become more secure and flexible.
"The more flexibility in using the app owns the more engagement rate hence leads to a higher conversion rate."
4. Mobile Apps Connect the Global Mobile Users to your Business
The ever-increasing growth of mobile users gives businesses a broad reach by connecting the world through mobile apps. Your business can reach to all the mobile users across the world.
Your Business<----->Mobile App<----->Mobile Users (across the globe)
5. Higher Traffic and Higher Conversion Rate
You can own the traffic that leads to more conversions through a single app. However, you have to make sure that you have to choose a Mobile App Development Company that fulfills all the acquirements in designing an application.
"Traffic for your business is always directly proportional to the conversion rate of your services"
6. Quick Communication
A responsive mobile app can also bridge the communication gap through fast responses for user's or customer's queries. Mobile apps provide real-time interaction between business owners and customers. Apart from that, the last two years has seen a sort of surge in the development of mobile apps for customer services.
7. Easy Payments
With the integration of third-party payment gateways, the transactions have become hassle-free for everyone. This is one of the main reason people prefer mobile apps. Besides, inventory management can become easy for business owners.
8. Enhanced UX
If you want to remain in customer's mind, tie-up with app developers who can design user and SEO-friendly applications i.e. good UI/UX design that helps in enhanced customer engagement (loyal customers). The mobile application gives increased user experience (UX) on your services since these help in easy navigation of services according to the choices of customers. This indirectly will increase the trust in your brand and business.
9. Reports and Analytics
Last but not least, it is the outstanding feature of any mobile application which gives brief insights into their business so that it can act as a guide for better improvement of a business.
Thus, the mobile apps have the calibre in transforming the way of business in a rapport.
Conclusion
Though your business has a wonderful website, the mobile app also called a responsive website gives more personalized experience and quick responses for your customers than your website. It is the main importance of the mobile app for business.
In brief, mobile apps are interactive, responsive, user-friendly, SEO-friendly, easy to navigate and customizable, and more personalized.
Got it? Then why wait?. Tie-up with a mobile app development company that helps in designing an intuitive app at an affordable cost. Reap good returns with high volumes of conversions and make your business successful. Let the single touch of customers on your app change the destiny of your business to great heights.