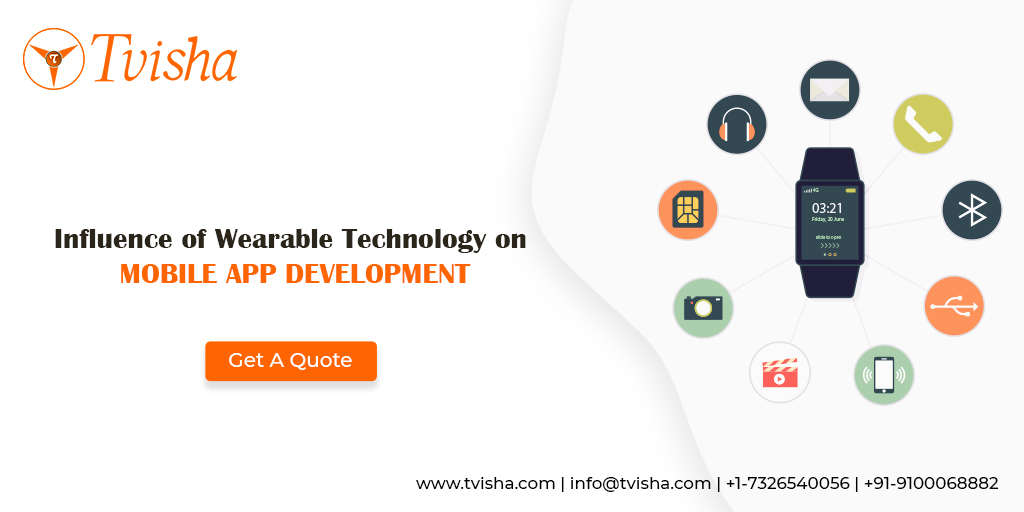 Published October 18,2018 by
Tvisha
Influence of Wearable Technology on Mobile App Development
Wearable Technology is one of the most trending technology in the modern era. It influences all the industries and sectors, such as the healthcare sector, the entertainment industry, fashion industry, fitness industry, education, transportation, media, finance, and tourism. But before discussing the influences and impacts of wearable technology in details, let us first discuss what wearables are. These are smart electronic devices with micro-controllers that are incorporated into clothing or worn on the body as implants and accessories. Wearable technology is helping people make their professional lives easier and also helping in arranging personal lives in a number of manners. For example, the development of smart devices including Apple watch and Google Glass among others has revolutionized this modern world, and this innovative technique will stay there for longer and will benefit many regimes. People have started embracing this technique as it is enhancing the lives of the users. The applications earlier we used in computers and mobiles now have been moved to smart watches and glasses, which offers a new larger circumference and boosts the constantly evolving technology market.
Because of its custom usability of being wireless, wearables hold the potential to change our lives completely in a few years. And as they are gaining momentum, the developers need to tackle the change of context. But without mobile apps, wearables are nothing because 84% of the wearable device mimic mobile phone features. Many companies are deploying wearables for their IT solutions but for developers, they are constantly gaining steady pace in terms of team communication or employee health and wellness. Therefore, the developers must be capable enough to seize the opportunity here, as they can expand the UI capabilities of the wearables to make them more user-friendly and modular. And where wearable devices have continued penetrating the market, mobile apps are going to play the crucial role in the future of variables.
Impacts of Wearables When It Comes to Mobile App Development
So, let us discuss the impacts of wearables when it comes to mobile app development
1. Expansion of App Category
Development and innovation of wearable devices were primarily consumer-centric from the beginning. But recently developers have changed direction and broadened the market by creating business-related apps. According to experts, it increases business productivity and accelerates workflow. Studies also suggest that wearable technology in the workplace increase productivity by 8.5% and increases employee satisfaction by 3.5%. And with coming of more wearable tech pieces in the market, this impact will continue to grow.
2. The Emergence of App Development Platforms
To ensure the compatibility of a wearable device, mobile app technology needs to be upgraded regularly. For instance, Google launched Android Wear, which is a platform with a user experience that extends its reach to a new generation of devices and is designed specifically for wearables. Developers are then challenged to advance the technology by building more apps for emerging platforms.
3. Innovation in Application
For real-life activities, development of mobile apps for wearables is proving to be a tremendous benefit. A whole new opportunity for healthcare professionals has been also opened with the help of wearables to create devices that could offer insight into wearer's health. As technology is getting bigger and better by time, now it is easier for professionals to have information about their patients, which could be accessed anytime from anywhere. One of the examples for this is Google Glass. It can be used by surgeons to monitor a patient's heart rate and vitals during an operation without any interruption. Besides, it has also proved effective for fitness coaching. This Glass-equipped coach can see key data points about clients and adjust their training on the fly, based on a set of training rules developed. The app development is even more exciting when it comes to supporting personal health monitoring using Bio Glass. A recent study suggests that being able to comfortably monitor physiological information during daily life can reduce the costs associated with health care.
4. Integration in Daily Living
Our daily lives have been totally changed due to technology and wearables like fitness bands, trackers, and smartwatches. Mobile app technology integrated with wearables has made lives more interactive and efficient with user-friendly featured apps. Wearables are also getting very good at measuring us. It tracks real-time data to help fitness enthusiasts to meet their goals as they offer us a medium to keep all of our health data safe, secure and assorted. In addition, smart clothes have also made their appearance, which helps people look smart and health conscious at the same time. But primarily, such clothes are developed for sportspersons so that they could track their growth as well as performance while indulging in sports practices. Innovation in wearables has now made it much easier to lead our lives more prominently.
5. Betterment in GPS Technology
With the advancements in technology and introduction of Wearables, navigation is another field which has great improvements. Now users can receive directions to their destinations in their hands, due to the wearable apps and this is an essential area of wearable development. The lives of drivers are changing by wearables, leveraging them with the benefits of GPS while driving. A wearable device having a GPS as a guide is helping drivers reach to end destination. In order to beat the traffic and go on smoother lanes, accurate satellite direction is another benefit that comes along with the use of GPS embedded wearables and to avoid the chances for road accidents, advanced information is also helping.
As wearable technology continues to add value directly to consumers, the expansion of mobile apps for wearables will play a vital role in the future. The evolution of wearables that is embedded with so much of intelligence, is growing to bring more innovative gadgets in a number of domains. Definitely, the technology is a promising one, therefore, the effects of the same are also going to be more promising in the days to come, whether it be health, finance, travel, or entertainment, the effect of wearables in all these industries are going to be visible sooner in the near future.