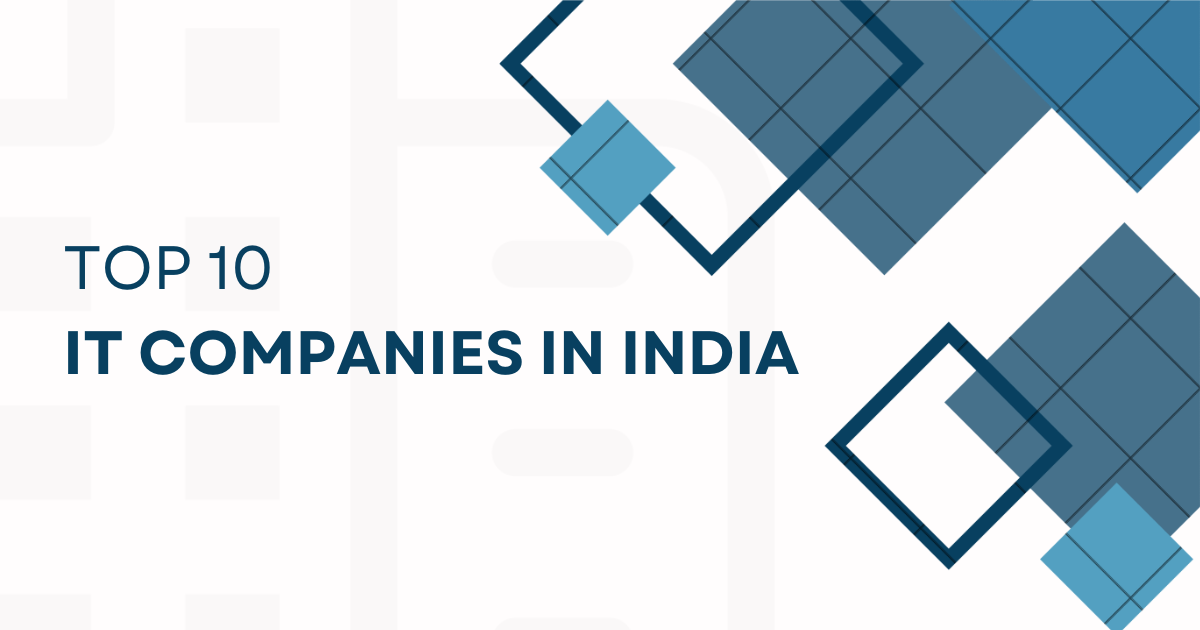 Published May 11,2023 by
Tvisha
Top 10 IT Companies in India: Powerhouses of Indian Tech
India is the country which is a hub for many IT - Information Technology companies. It has many businesses that offer technology-related services and products to both international and domestic clients. India's IT industry has grown fast over the past few decades with the largest employers. Here these industries are employing millions of individuals. As a result, India is eventually home to many world's most successful and largest IT companies.
Importance of IT sector in India's Economy
India's IT companies are the worldwide successful businesses that design, develop, and sell the services or products associated with the technology. They play an essential role in India's economy by offering unique solutions to satisfy the growing necessities of organizations, businesses, and people to store, process, and send information more effectively and efficiently. India's government always supports IT companies as they possess the power to offer many employment opportunities and drive economic growth. The government is implementing many initiatives and policies to promote IT companies' growth by developing technology parks and special economic zones.
This led to an excellent business environment that could be able to invest in India's IT companies. The main factor contributing to IT industry growth is cost-effective labour and highly skilled availability of a large pool of highly qualified and cost-effective work. This has made India an attractive nation as a platform for multinational companies that wish to outsource IT-related services. As a result, foreign countries' IT industries want to benefit from the Indian IT business environment and skilled workforce.
The article aims to offer an overview of India's top 10 IT companies. We aim to highlight in this article IT industries covering their background and history, the services they offer, the main clients of the companies that are contributing to their success, and the achievement and awards received by the 10 companies. We will discuss them here separately. So let's discuss 10 IT industries that are successful and at the top in India.
List of the IT companies in India
1. Tata Consultancy Services (TCS)
Tata Consultancy Services(TCS) is a multinational IT company offering different IT services. Its headquarters are located in Mumbai, India, having offices worldwide. Currently, 60,000 employees are working in TCS branches earning a revenue of 1.62 trillion.
It was founded in 1968 and is the subsidiary company of Tata Sons. Natarajan Chandrasekaran is the company's chairman, and Rajesh Gopinathan is CEO. It is one of the first companies to be established in India. In 2004 it became a publicly traded company making it a prominent profitable IT industry.
Services Offered
The services offered here are
Cyber security
Automation and AI
Quality engineering
Cognitive business operations
Conversational experiences
Internet of Things
Cloud
Analytics
Blockchain etc.
It provides various amenities to employees like soft skill training, free transport, child care, education assistance, cafeteria etc.
Major Clients of TCS
General Electric
Cisco
British Telecom
Tata McGraw Hill
Wallmart
Nokia etc
Achievements and Awards
TCS won 2 Microsoft Partner of the Year awards in 2021.
It was named Dynamic 365 Field Service in the US and Azure Intelligent Cloud in France for providing exceptional services and solutions based on Microsoft Technology.
In the Top Indian Company for Creating Brand in India, TCS won National Intellectual Property Award in 2021 and 2022.
It won Frost & Sullivan Technology Innovation Award.
2. Infosys
Infosys' full form is Information Systems. Let's discuss it in detail.
In 1981, Infosys was established as a public company as Infosys Consultant Pvt. Ltd. It was begun by 7 members, including Mr N.R. Narayana Murthy, with USD 250 investment. In 1992 it turned into a public company. In 1999, it was the first Indian company listed on the NASDAQ.
It became the largest IT services company globally, operating now in 45 Countries with 250,000 employees.
Services Offered
Application Development
Application Modernization
Data Analytics
Cyber Security
Internet of Things
Testing
Blockchain
Incubating Emerging
Digital Marketing
Major Clients of Infosys
ICICI Bank
Air National Guard
IBM Corporation
Department of Energy
PeopleSoft etc
Achievements and Awards:
Infosys being the best-presented account for 11 years, continuously made its name to be included in the Hall of Fame by the Insititute of Chartered Accounts of India in 2006.
Forbes ranked Infosys No.19 as one of the World's most innovative companies 2013.
Hfs Research ranked it the world's 18th largest IT service provider in 2013.
Avasant recognized Infosys as the Retail and CPG Digital Services leader in 2020.
It was placed as Forrester Wave Application Modernization & Migration Services leader in 2021.
3. Wipro
The full form of Wipro is Western India Products. Let's discuss Wipro in detail here
Wipro is a prominent IT company which is incorporated in 1945. Mohamed Premji is the founder of this IT industry. Azim Premji is the company's chairman, and Thierry Delaporte is the CEO. Wipro has 209,890 employees working currently. Its headquarters are in Bangalore, having 20 offices worldwide.
Services Offered
Services provided by Wipro are:
Infrastructure Services
Data Analytics and AI
Digital Operations & Platforms
Blockchain
Cyber Security
Consulting
Application
Major Clients of Wipro
Mitie Group Plc
Aditya Birla Capital Ltd
Microsoft Corporation
Amazon
Cisco etc
Achievements and Awards
In 2004, Wipro won a National Excellence in Corporate Law award from the Institute of Company Secretaries of India.
It was ranked 52nd as India's most trusted brand based on Brand Trust Report in 2014.
Forbes Global 2000 list ranked Wipro 755th in May 2016.
In 2023, Wipro won Best BPO Award.
4. HCL Technologies
HCL Technologies is an IT company whose abbreviation is Hindustan Computers Limited.
It was constructed in 1976, and Shiv Nadar founded HCL Technologies. Roshni Nadar Malhotra is the company's chairman, and C Vijayakumar is CEO. Shiva Nadar is the CSO and MD of HCL. Its headquarters are in Noida, India. HCL Technologies has 168,977 employees with 180 branches worldwide.
Services Offered
Hybrid Cloud
Cyber Security & GRC
VLSI Design
Next-Gen network services
Supply Chain Administrations
Digital Counselling
Major Clients of HCL Technologies
IBM
Microsoft
Johnson Controls
Barclays
Airbus
Achievements and Awards
It won the 2020 Google Cloud Specialization Partner of the Year for Infrastructure Award.
It is ranked best among the Forbes Global 2000 Companies.
It has won Golden Peacock Award for corporate social responsibility in healthcare, environment, and education.
5. Tech Mahindra
It is the IT industry which was built in 1986. The company's CEO is C.P.Gurnani, and the chairman is Anand Mahindra. Tech Mahindra headquarters is in Pune. Here 125,336 employees are working. This IT company has many branches in the United States, France, China, Japan etc.
Services Offered
SAP
Testing
Cloud Services
Digital Supply Chain
Artificial Intelligence
Network Services etc
Major Clients of Tech Mahindra
Project Management Institute
Celonis
General Electric
Vodafone
Flipkart etc
Achievements and Awards
It won Growth Excellence Award by Frost and Sullivan in 2008.
It received the IT People Employer of the Year Award at the IT People Awards.
Tech Mahindra won the 2011 Microsoft Communication Sector Partner of the Year Award.
It is declared the 2010 and 2011 AT & T Supplier Awards winner.
6. Accenture India
Accenture India is a prominent IT services providing company. It was first established in 1987 in Mumbai and later was separated as the legal IT industry in 2001. It has 200,000 employees. Accenture India is identified as the best company for its leadership and started various initiatives to provide better employment opportunities to skilled students or experienced professionals.
Services Offered
Digital Engineering and Manufacturing
Edge Computing
Metaverse
Supply Chain
Digital Transformation
Major Clients of Accenture India
Walmart
Tata Steel
HDFC Bank
Max Healthcare
Reliance Jio
Achievements and Awards
Accenture India got the National Award for Person With Disabilities for 2021 and 2022.
It was ranked as the best workplace in India, with many skilled employees
It won Economic Times Awards for Corporate Excellence in the Company of the Year category.
7. Tvisha Technologies:
Tvisha Technologies was established in Hyderabad, India, in 2002 by founder and CEO Sudhir Naidu, with a team of directors. It began as the company network consulting and system integrations company for helping different enterprises to create their digital workplaces. It possesses excellent experience in App development and maintenance. It has a team of over 150 employees who have amazing expertise in several technologies.
Services Offered
Software/ Application development
Software/ Application Maintenance
Infrastructure Management
Outsourcing
Digital Marketing
DevOps
UI and UX design etc
Major clients of Tvisha Technologies
Cyient
PaymiTime
Saferun
Teach for Change
Quintto
Achievements and Awards
Clutch. co ranked it as Top Mobile Developer in 2018.
Appfutura.com ranked Tvisha as the top App Development Company.
GoodFirms.co ranked it as the best among Mobile App Development Companies.
8. IBM India
It was incorporated in 1951 in India, and its headquarters are in Bangalore. It became a great leader in Indian Information Technology Industry. The skilled employees here help their clients resolve technical problems and complex business. It has offices across 20 cities.
Services Offered
Blockchain
Cyber Security
Hybrid Cloud
Cloud Computing
Analytics
Application Services
Major clients of IBM India
Oracle
Intel
Google
Cisco
Dell
Achievements and Awards
In 2019, Forbes ranked IBM India among the world's most reputable companies.
NASSCOM gave a corporate award for Excellence in Diversity to IBM India in 2020.
9. Capgemini India
It was established in 2001 and from then on it became a leading company in our Nation. Here 125,000 employees are working, and it has offices in 0 cities. Its headquarters are in Mumbai.
Services Offered
Data and Artificial Intelligence
Enterprise Management
Cloud. etc
Major Clients of Capgemini India
AXA
Citibank
Domino foods
Achievements and Awards
In 2021, Capgemini won Nasscom Engineering and Innovations Excellence Award in three categories.
It was recognized among the 100 best Companies for Women In India in 2020 by Avtar's BCWI.
10. Cognizant India
It is a large IT company established in India in 2003. It has 200,000 employees working in various offices and offering the best services to India's global clients. It won many awards for its education, healthcare, and environmental contributions.
Services Offered
Application Services
Infrastructure Services
Business Process Services etc.
Major Clients of Cognizant India
Achievements and Awards
Analyst Firm IDC recognized Cognizant India as a leader in digital services in 2020.
In 2019, Business Today identified it as the Best IT services company.
Conclusion
Thus, here are the 10 best IT companies in India that are prominent and leading as the best companies and ensuring to mark their presence worldwide. These IT industries are contributing significantly to India's economy. They are becoming reputed companies by offering better employment opportunities. They are evolving and growing by providing innovative services to raise the country's prominence worldwide.