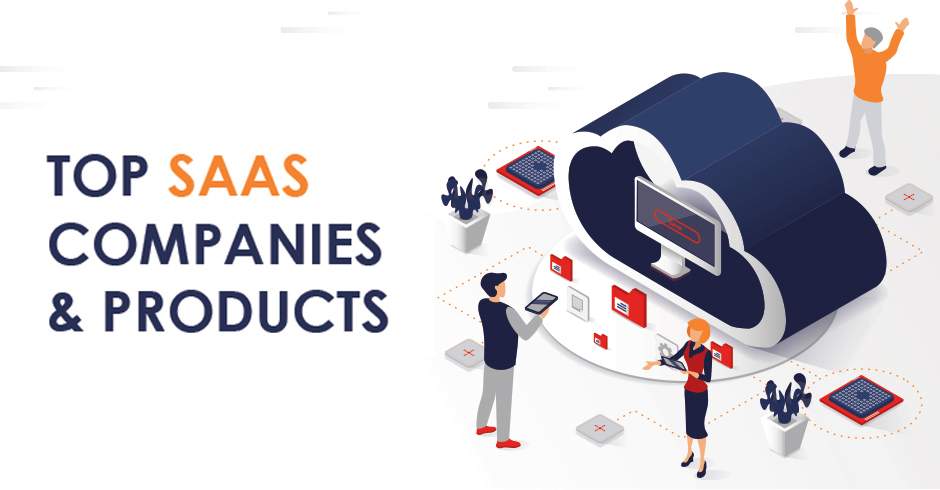 Published February 08,2020 by
Tvisha Technologies
List of Top Software As A Service (SaaS) Companies and Products to Watch in 2023
SaaS or Software as a Service has been gaining a lot of importance in recent times. Businesses, irrespective of their sizes are switching to top SaaS Companies and Products according to their organizational requirements. This is a major shift from the purchase of hardware and software packages that was the traditional practice.
What is SaaS?
In simple terms, SaaS is a comprehensive software package made available by third-party providers through cloud-based systems. Traditionally, the practice was to download and install the necessary software on computers. With SaaS software, companies simply approach third parties depending on their requirements. The SaaS company would then provide these companies with access to their services that reside on a cloud. Companies can access these services through an internet connection. SaaS services are like Payroll Software pay-as-you-use subscription services and are to be renewed on a regular basis. On their part, SaaS providers ensure data security, performance and seamless access to services.
SaaS software is also known as hosted software, on-demand software or web-based software.
A simple layman example of a SaaS product would be an email service like google or yahoo. A user enters into an agreement with the provider by signing-up for their services. The provider would, in turn, provide email services to the user.
In an organizational context, Some of the SaaS applications include:
Payroll processing software
Database Management Software
Customer relationship software
Enterprise Resource Planning
The SaaS Business Model
A SaaS business model is completely cloud-based, in that, the SaaS company will host its SaaS applications, SaaS software, and SaaS products, online. Once an organization has purchased a SaaS software from a provider, the provider has the responsibility of hosting, updating maintaining the code as well as the products on the cloud. SaaS products and SaaS services are available to the buyers on a subscription basis which can be renewed either monthly or on an annual basis.
The SaaS Delivery Model
The delivery model of SaaS is a bit similar to that of the Application Service Provider model. In SaaS, the provider will create software according to the client's requirement and it is then delivered to the end-users over the internet. A single copy of the software created to suit the specific requirements of the client is distributed to all the users over the cloud. The end-users, then install the software on their machines. An important feature of SaaS is that the SaaS provider/developer can roll out updates or new features as required by the client periodically, or as and when needed. Another significant feature of the SaaS delivery model is that the client can use their own software and integrate it with the APIs provided by the SaaS provider. This is a major advantage for companies that have their own fully functional software systems in place.
SaaS Start-ups
Recent times have seen a lot of SaaS start-ups popping up. The great potential in the various unchartered SaaS software, SaaS solution, and SaaS application-related territories is providing challenging and fulfilling opportunities for entrepreneurs. One of the major reasons for SaaS start-ups gaining such importance is that the scope of SaaS is global, with huge access to international markets and less overall costs of delivery.
SaaS Start-Up Life Cycle
Any SaaS startup goes through three phases in its life cycle
Setup Phase: In this phase, a SaaS company will plan its products, identify its target customers and create campaigning and advertising to target potential buyers. Very good knowledge of the current trends in SaaS products, SaaS software, and SaaS services is extremely important. A grip on the market lays the foundation for a successful SaaS delivery model.
Growth Phase: The SaaS company experiences growth in clients as well as sales. This is the stage where the company breaks even and starts seeing profits. There will be a need for creating teams to take care of sales and services as well as marketing. Careful re-investment of profits back into the business is an important step to continue the growth curve. The SaaS company needs to continue keeping itself abreast with the changing market as well as the changing market requirements as technology is never constant. In a dynamic SaaS environment, the ability to absorb the changing technologies and incorporate them into SaaS products, SaaS software, and SaaS services paves the way for the long-term success of the SaaS company.
Stabilization: The SaaS company will have an established loyal customer base by this stage and new customers keep coming in. The company has to concentrate on continuing to innovate and not get stagnated in the ever-changing and ever dynamic SaaS environment.
SaaS Start-Ups to Look Out for in 2023:
1. Lately
Lately is considered one of the promising SaaS start-ups providing its services in the marketing field. Lately is a SaaS platform that helps the client in creating a dashboard from which acts as a single point of contact for all marketing tools, marketing processes, media content – both traditional and social, calendars, files, etc. Lately basically makes all marketing activities available at a single dashboard.
2. CoSchedule
Another SaaS platform in the field of marketing, Co-schedule provides SaaS tools and applications to organize all marketing activities in one place. With Marketing Suite for Businesses and Enterprises and Editorial Calendars for Individuals and Start-ups, CoSchedule offers tools that help its clients have unified calendars which can help in effective time-management and avoid scheduling conflicts.
3. Docurated
Docurated is a sales-based SaaS platform that provides the sales team with effective document management. The platform helps the sales teams research, design and share their content in an effective manner to help improve the overall sales figures.
4. Netcrumb
A start-up in the field of webpage designing, NetCrumb offers a SaaS platform for creating effective and responsive one-page websites.
5. Setapp
A SaS start-up offering a suite of applications designed specifically for Mac Platform. The suite also has apps for those who wish to move to Mac from windows.
6. CompStak
Compstak provides SaaS solutions in the Commercial Real Estate Platform. It consolidates data on lease comps, sales comps and quality checks for various real estate projects. It also provides data on businesses that are closing.
7. FeatureSpace
This SaaS startup differentiates itself from all the other start-ups by being a SaaS platform for fraud detection. A start-up in the field of Adaptive Behavioral Analytics, FeatureSpace also provides a SaaS platform for risk-management.
The SaaS business model has seen a lot of success due to the many advantages it provides.
1. Ease of Use
Application development and deployment are much quicker as everything happens on the cloud. Any changes needed in the last minute can also be made quickly, bringing down the risk factors during the development and deployment stages.
2. Scalability
Another major factor that has led to the success of the SaaS business model is the easy scalability, meaning that any SaaS applications and SaaS software can be upgraded or downgraded quickly at the click of a button. Any upgrades can also be made and deployed quickly, removing the risk factor of time-lag in making the needed changes.
3. The Cost Factor
The traditional software and system upgrades were an extremely expensive affair for big organizations, as the upgrades had to be done on each machine individually. Purchasing all the necessary software was also an expensive proposition. With SaaS, costs are minimized to a great extent.
4. The Time Factor
The SaaS provider takes care of all the aspects related to the SaaS software and SaaS application design and upgrades requirements, giving the management time to concentrate on their core activities. All the deployments can also be done simultaneously worldwide making it easier for organizations to work on a unified system and avoid time-lags related to different time zones.
5. Ease of Deployment
Apart from the fact that the deployment takes place from a unified system i.e., the Cloud, SaaS also provides the advantage of requiring minimal or no extra hardware for the process of deployment. So any expenses, that would have otherwise been needed, to procure systems such as IT infrastructure, VPN connectivity, etc can be now completely avoided.
6. Ease in Addition to New Users
In the traditional system, the addition of a new employee to the organization would mean setting up the whole system and make all necessary upgrades and changes, all from scratch. With SaaS, the whole process can be done with much more ease and not much of an additional cost.
Top SaaS Companies and Products
Here's the list of the top 15 Top SaaS Companies and Products to look out for in 2023
SalesForce: SalesForce is considered the pioneer of the SaaS industry. The setup almost 15 years ago, this company is considered the leader in Customer Relationship Management. Salesforce and Lightning UX are the current SaaS product offerings from SalesForce.
Troop Messenger: The online messenger is a cloud-based comprehensive instant messenger application for businesses with features like Instant chat, audio calling, video calling, audio messaging and screen sharing. Look out for the SaaS model and the Self-hosting model from this emerging player in the unified communication chat market.
Mailtrim: Most of the client interactions happen through emails! The Mail Trim business email software allows the team members to receive their multiple account emails into a unified inbox. Business owners can try creating a free account to explore its sophisticated and clean UI, alongside the unique emailing features. Currently, it's two editions; Mail Trim Personal and Mail Trim Business both available to the users.
ProofHub: ProofHub is a project management company that provides the award-winning SaaS applications for project management and team collaboration. It focuses on simplifying the way teams can manage their projects and become more productive.
Oracle: Oracle is the second-largest SaaS company after SalesForce. Oracle recently launched its flagship product known as the Oracle Fusion which concentrates on CRM and financial services.
Mulesoft: Mulesoft has its own suit for products known as API or Anypoint Platform of Integration products. These suites of products help integrate Saas with on-premise applications on both mobile as well as on-premise systems
Google: Google owns a large number of SaaS products that help in analytics, online advertising, document creation, etc
Adobe: Adobe is the leader in SaaS products in the fields related to printing and publishing as well as marketing
Microsoft: Office 365, the Saas product from Microsoft provides its customers with MS Office suite. The cloud-based services from Microsoft provide a major platform for their on-premise SaaS products. Azure, an ISV platform is the latest and in-demand SaaS offering from Microsoft.
SAP: SAP Business By Design, from SAP, offers a complete suite of products needed to run a whole business organization with applications ranging from customer service, human resources to sales and services.
Oracle: Netsuite is the SaaS product suite from Oracle. With a focus on Enterprise Resouce Planning, Oracle's cloud-based Netsuite offers services in financial management, CRM, global business management, etc
Slack: Although Slack doesn't provide on-premise chat for extended data security, it offers the Slack App Directory which is a suite of around 1500 applications where you can find an application for advanced security. The users can integrate these applications into their own platforms or create applications on their own using APIs.
Service Now: Now Platform, the complete product suite from ServiceNow has various products and services that help digitize workflows
Zoom: Zoom is a video communications company that provides the cloud-based communications platform for online meetings, video conferencing, chat, etc
MathWorks: Mathworks provides products in mathematical computing software- the most popular being "MathLabs". These cloud-based products are mainly used by engineers and product developers.
Shopify: Shopify offers cloud-based e-commerce services. With its products Shopify Plus Enterprise and Shopify POS system, the company offers 100% safe and mobile commerce-ready services.
Atlassian: Atlassian offers enterprise software-based products and services designed targeting content managers, product developers, and software developers. Jira and Confluence are their most popular products.
Bookafy: It is one of the easiest online schedulers to use. Simply create your calendar rules and share the link to your scheduling page, and clients can start setting up their appointments. There's no more back-and-forth for you or your client. Bookafy has a robust feature set built for enterprise appointment booking and used by small businesses around the world. Beautiful. Simple. Robust.
Conclusion
The development of technology has enabled both hardware as well as software to be used from a remote cloud rather than from on-premise infrastructure. With speed and agility of service being the decisive factor to counter competition, more and more businesses are reaching up to Cloud to enhance their business standing. Top SaaS companies and products are certainly sitting pretty on Cloud 9!