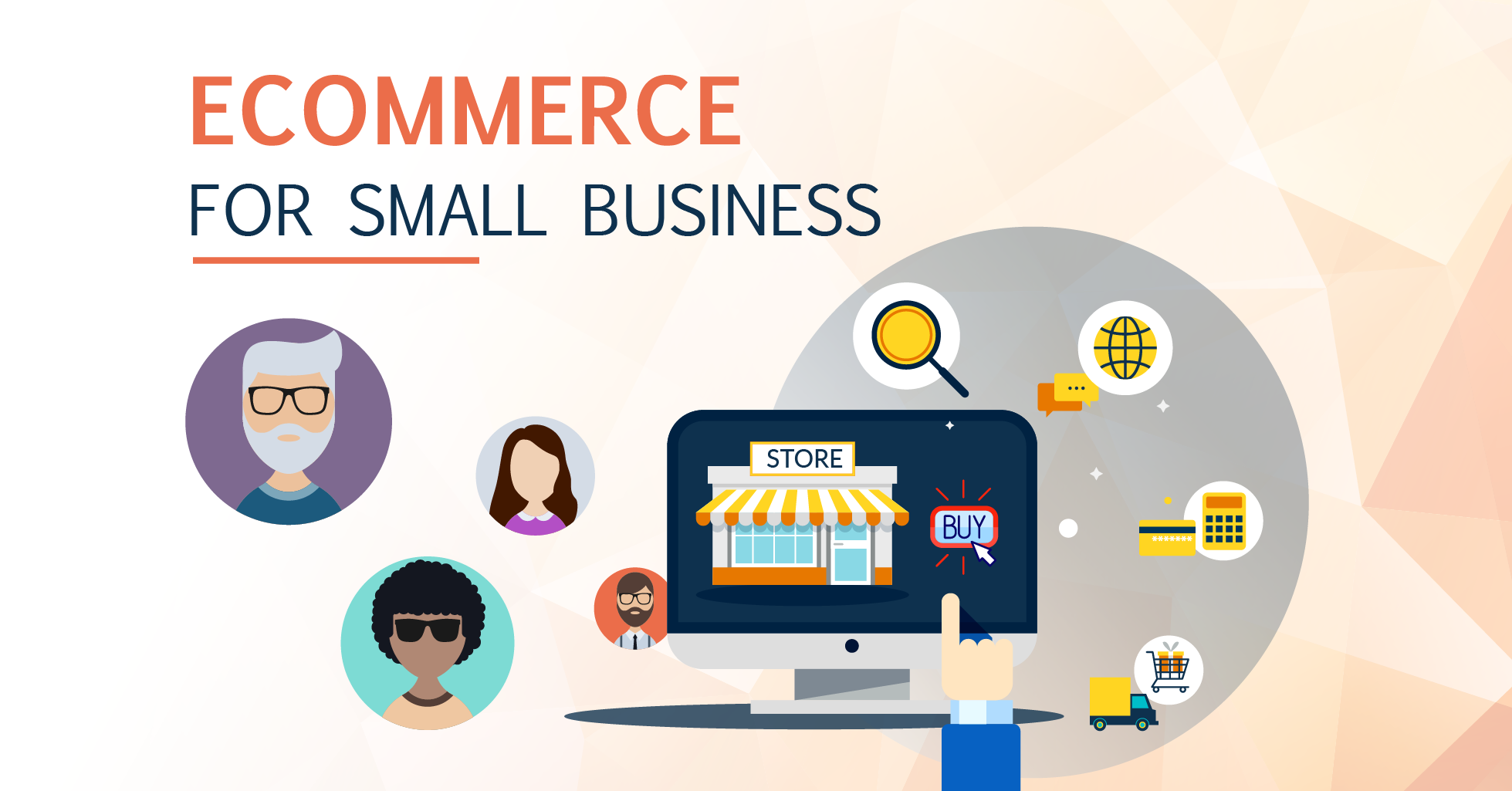 Published September 23,2019 by
Siva Davu
Make Your Small Business Go Online With ECommerce
LEND ONLINE PRESENCE TO YOUR SMALL BUSINESS WITH ECOMMERCE
Not so long ago, it was a tough job to launch a small business and establish ecommerce businesses since it involved many tasks such as creating a website, cart design, payment gateways integration, inventory management, content updating, online store management, etc. All these are time-consuming processes and expensive too.
Thanks to the software development solutions that automate the process of developing and managing the webshops, many tailor-made solutions that suit any business model have evolved. Also, utilizing the right ecommerce marketing strategy for your small business can help it grow. It will also help you generate sales and leads without spending so much money. You need not be a coding expert but just need to set up the things based on your business goals. It has changed the way of online shopping.
In this article, We have put together a list of platforms of ecommerce for small business out of dozens of software solutions which act as blueprints for any business models that will help in shaping your business.
Top Ecommerce Platforms for Small Businesses to Boost Online Sales
1. Shopify
It is one of the best enterprise ecommerce platforms to transform your small business into ecommerce. Shopify holds a bunch of modern features. In addition to that, Shopify has an extensive array of templates including free and premium Shopify templates that will help you to build your store with ease. It has integrated with the shopping cart, Social network integration, own payment gateway that allows credit cards and PayPal transactions.Learn how to set up PayPal with WooCommerce website. Besides, it has marketing tools such as discount code, coupon generators, gift cards, e-mail marketing, product reviews, Google ads, and Facebook ads.
Benefits:
Automates sales
Allows sales on social media
Fast and hassle-free checkout hence no abandonment rates
Analytics
Marketing tools and Customer relationship management (CRM) tools
No need to purchase additional solutions
Content management system (CMS)
Self-help resources (to resolve problems, user guides, tutorials, Discussion forums, ECommerce University)
2. Magento Go
It was specially designed for small and medium businesses that want their online store to go viral. This tailor-made open-source ecommerce software solution has a rich feature set that includes layered browsing to filter and customize the search products. It is not a turnkey solution and it needs high technical and coding knowledge for customization of things. It has thousands of plugins. However, you need to add third-party payment gateways to access the credit card and it allows you to integrate with the shipping system.
Benefits:
Cloud hosting and deployment
Unlimited customization (complete design)
Secure and scalable
Availability of extensions including social media
Allows different product comparison
Resource library (demos on online store management and new plugins)
SEO feature
Gift cards, coupons, discount tools
3. Bigcommerce
This built-in featured ecommerce solution has many themes, newsletters, shipping, tax, and analytics along with marketing tools such as SEO, coupons, product reviews. Several Small and Medium Enterprises (SMEs) tasted success through this platform. It can be integrated with other applications such as contacts, mail, eBay, Facebook, and Google shopping. It allows setup wizard and provides information through demos, tutorial videos, detailed user guides. Though it has a few free themes, you can design your online store by using tons of premium themes, customization options, and various plugins.
Benefits:
Rich-set of premium features and plugins
Support (extensions and integration)
Supports multiple stores
User guides and brochures
Analytics
Marketing tools
SEO feature
4. eBay
It is an auction cum ecommerce platform hat offers e-merchants to establish their own stores. With this, you can create several product pages based on the number of products you have. It has several tools for management, promotion, and tracking.
Benefits:
Customized e-newsletters
Promotional e-mails
5. Volusion
Last but not least, Volusion is one of the best ecommerce solutions. Besides its rich-feature set, it has been integrated with shopping cart and payment gateways. You can sell unlimited products through Volusion.
Benefits:
Integrated Facebook sales
Integrated with eBay and Amazon
These ecommerce platforms are to name a few. You can also use Yahoo small business, 3dcart, Wix, Esty, Weebly, Yola, Prestashop, Weebly or its alternatives for your small business to stand in the crowd with unmatched benefits hassle-free.
Benefits of ecommerce for small businesses:
Enhanced customer experience
Brand awareness
Cost-effective approach and time-saver
Understand and track customers' needs and their behavioral patterns
Expand business by reaching the global market
Hassle-free inventory management
Uninterrupted communication with customers
More sales-more profit
Availability of Analytics
Summing Up
In a nutshell, all these eCommerce website development company for small business software solutions doesn't fit for all kinds of businesses since every small business has its own model based on its requirements. You can choose a platform wisely that suits your online store. You will reap lucrative profits with these cost-effective solutions. Retail outsourcing through technology also has a great advantage to expand your online businesses, and you can check at https://fr.trocglobal.com/ for more insights and ideas to learn.