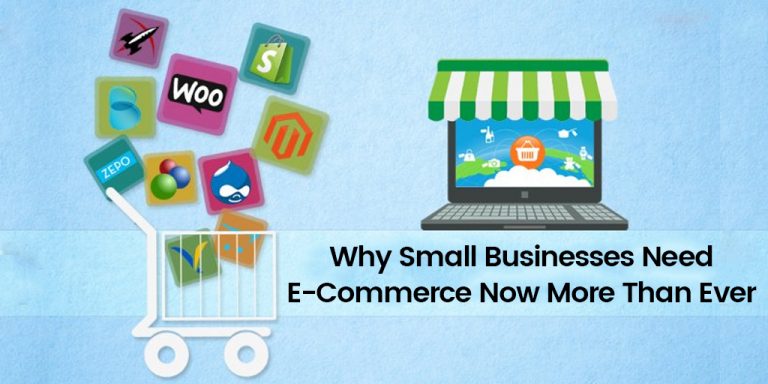 Published June 22,2023 by
Tvisha
Why Small Businesses Need E-Commerce Now More Than Ever
The concept of reaching out to customers has never been so effective before the onset of e-Commerce. It has assumed game changing phenomenon with most of the alternate avenues in vogue till then having shut their shop, literally. E-commerce has made the lives of millions of people across globe far more structured as far as shopping is concerned. Verticals cutting across sizes are increasingly turning to this easy-to-use platform in the process of making their presence felt. Going web has become the new age Mantra. Whenever debate goes on "online business", e-commerce marks its usability over advantages pretty well. And what with research suggesting 70% of world customers prefer online shopping as opposed to their favorite retail stores, the die is cast for sure.
It being so, with businesses and activities declaring their allegiance to e-commerce, we will discuss all those points that make e-commerce an essential entity to fuel your business growth.
More than Purchasing Online
With an interactive yet engaging e-commerce website development, small retailers can make their humble presence in online world. Online marketing becomes vital as it is an easy to navigate vehicle to provide convenience for consumers apart from helping businesses with leads and sales. Several consumer behavioral studies have indicated that more than half of the shoppers prefer to go online over store shopping and the rest do through research by browsing the store details before stepping into a store. This is the natural tendency of every human being to check ratings, product specifications and quality tags and customer reviews before making any purchase. And for that online presence is vital. We can say that- moving to online platform is ideal for brand recognition and also product- services promotion.
Modernization with Online Shopping
For more than one reason, online shopping is the trending feature. This is understandably so since shopping is a time guzzler. In the current context of living, time is one commodity which is perpetually in short supply with everyone. And being perennially time -deprived, consumers take umbrage of online shopping. E-commerce or online business offers 24×7 services with alluring promotional, easy to buy and return policy, instant issue resolution and in addition lets costumers share their personal shopping experience. Consumers also feel no crowd, faster product search, varied payment modes. Hence, it is wise for smaller retailers to make their stores easy to access and customer friendly by enlisting their business on online podium.
E-commerce and Socialization
Being social means more leads, more sales and definitely business optimization. Nowadays social media plays the key in accumulating a huge customer base and thereby enhancing business. To actualize this,e-commerce developers are designing the websites accordingly offering social sharing options that let customers share experiences of products/services with near and dear. Brick and mortar versions can get a great boost too by their social presence. Social media is a strong storm that spreads all information effectively worldwide and small business must consider this social power to establish e-commerce outlets.
Minimal Spend
Setting up a physical store at various locations means more retail space and a massive set of challenges, apart from the gigantic investment needs. Physical presence demands labor, rental, inventory and staffing costs of huge proportions. On the other hand, opening an online store is economical as well as has far wider reach. And the icing on the cake is – lower levels of taxation. However, it is even easier to set a store online with skilled assistance of an e-commerce Development company that aids your business go successful offering engaging e-commerce website with amazing feature implementation.
Hence having a clear vision of business uplift, business owners &marketers should move to electronic or digitized retail leaving old modes of retail far behind. They must switch on to e-platforms changing their marketing strategy meeting the ever-growing customer demands. And e-tail is the best and easiest way to grow your small business serving customers' needs effectively.