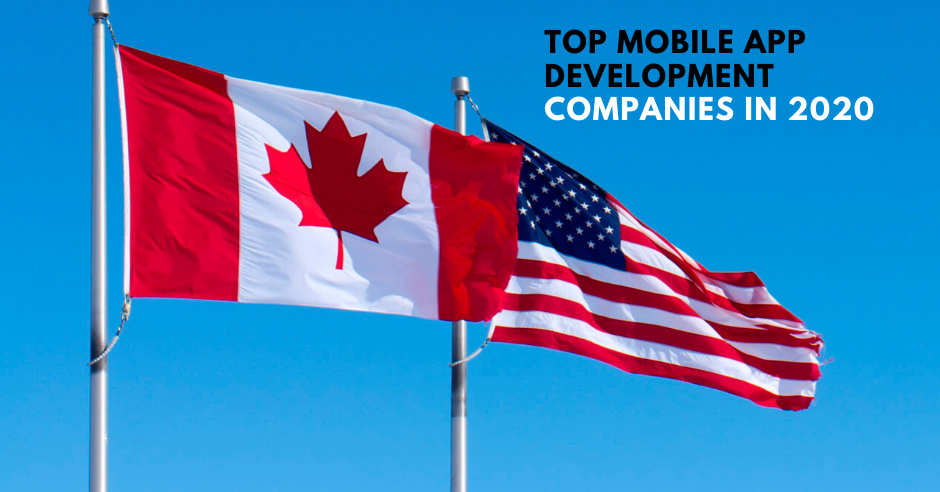 Published May 17,2019 by
Kiran
Top 10 Mobile App Development Companies in Canada and USA in 2023
Many businesses around the world are becoming mobile-ready. This is because those businesses that have integrated their operations with mobile-ready apps are a safer lot today than others that have not.
One part of the world that is a well-known center for world-class app development services is Canada. If you are a business owner in Canada, it would help you to get to know the top 10 mobile app development companies In Canada. We have listed out these top 10 companies for you. Read on to know more about these app developers in Canada.
List of Top 10 Mobile App Development Companies in Canada & USA
1. Tvisha Technologies
Tvisha Technologies offers best-in-class software development and app development services to reputed companies worldwide. Their hallmark programs are fast-track IT solutions that use a perfect balance of technology and software development. For the last decade and a half starting from the year 2003, they have recruited able teams of young, qualified and brilliant technologists that work to produce a heady mix of value-added business services and basic technology leaving all their clients immensely satisfied.
Automation being their singular goal, they have developed fully functional mobile apps for both private players and government agencies across different industries and sectors that include hard-core manufacturing, energy, banking, healthcare and education among others.That their experience is so wide and varied has gotten them to be among the best mobile app development companies in Canada.
2. Clearbridge Mobile
This company founded in the year 2010 and is based in Toronto. Their apps are popular and purportedly have more than 100 million downloads. Their client list includes names such as Dow Jones, PayPal, Microsoft and The Wall Street Journal. Their technical teams are known for their proactive attitude, timely execution of the project and error-free products. They are among the top-of-the-line Android app development companies in Canada and are also affordable.
The reason they have become so popular with their 200+ projects is because of the overwhelming response from their clients. For instance, they created a mobile app with extensive features in both iOS and Android OS to enable the app users to pay their telecom bills easily and also manage their account statements at a very nominal cost.
3. TTT Studios
This is a small-sized development team consisting of only 33 employees. Based in Vancouver in Canada, they have been around for nearly a decade from the year 2010. They create customized computer applications, apps and develop websites as well. They cater to enterprise-level clients as well as midmarket-sized business owners. Their client list is varied and includes FortisBC, Revols, and Pixels. They undertake projects worth $50000 and above.
The development team is known to have a professional, solid and knowledgeable approach to any project at hand. One of their notable projects involved creative handling of a regular iOS and Android app with a commerce backend process and multiple different APIs. They provide more than what we expect is what clients have to say.
4. Freshworks Studio
Founded as recently as in 2016, they have already earned a name for themselves. With offices in Vancouver, Seattle and Victoria, their staff number over 60 developers that are adept at developing both Android and iOS apps and other customized applications for clients. They also are known to extensively research and provide the best UI/UX for their clients.
They bring the rightly talented individuals to work on any specific client project. This makes the end product incredibly impressive. Among their notable project was a national registry for organ donations. This had a front-end and back-end and an API that connected it to a mobile app. They have also successfully provided the app maintenance and support demos of this system. Company like IBM and tools like Hootsuite have done business with these developers. They have had a number of wards come their way including Business Examiner's Best Technology Company in 2018.
5. MindSea
With experience in mobile app development for over 10 years now, the company has expertise in developing any kind of Android and iOS mobile apps in Canada. The best part is that they can integrate these apps with existing functional business applications. Another notable quality about MindSea is the nominal charges for the expertise that they provide.
Located in Halifax, the team size they have is only about 20 in number but consisting of exceptional developers. Their apps are highly rated, some of them even by Apple Inc. they were in a recent mention for the short time they take to develop functional apps. Their winning point is the detailed and proprietary research they conduct to make the best apps for their clients.
6. Two Tall Totems
This is a design-oriented and one of the popular iOS app development companies in Canada. Two Tall Totems has a 40-odd sized team of developers that create exceptional software for both start-ups and enterprise-scale businesses. AMA and Harbour Air figure prominently among their satisfied clients.
Two Tall Totems have a few tall claims including 7 million downloads and still counting, applications built for over 19 industries across different sectors and 5 million active users of their apps and programs. Some of their prominent app creations include Forties BC that allows users to access their utility accounts online, Yervana that helps users to log into the adventure marketplace, MortgageBoss which works as a dashboard for the concerned professionals and many more. They have been rated as among the best mobile app development companies in Canada by reputed review agents.
7. 14 Oranges Software
Headquartered in Richmond, Canada, this web development company has set up offices in both Halifax and Ottawa. This company is about a decade old now and was founded in the year 2009. Their mega project was one for an election campaign for a government agency in a county. The functions included collecting voters' information, display of polling locations and display of election results. This app ensured that the public was increasingly involved in using the app and this improved the voter engagement through the entire process.
The company has catered to over 150 customers and completed more than 400 projects in their 10 years of existence. They are currently rated within the top 10 mobile app development companies in Canada.
8. Cortex
Cortex has its headquarters in Quebec City and has another office in NYC as well. Their development team has 35 members who together have created mobile apps, customized software applications, and AR/VR applications. About 10 years old now, the company services clients in marketing, advertising and financial services sectors.
Their client list has Thomson Reuters and Cirque De Soleil among others. A major accreditation they have earned is the pace of a Registered Consulting Partner of Salesforce which by itself is a premium organization.
Cortex has been able to double the number of employees in recent years and their teams now consist of many industry-leading professionals. They are pioneers in the development of mobile apps and are working with emerging technologies such as VR/AR, IoT, and voice recognition.
9. Macadamian Technologies
This company has more than 20 years' experience in the field of building full-stack software applications and software design. They do full justice to any project right from UX design to product strategy.
In addition to Canada, Macadamian offices are also located in other places such as Romania, Armenia and the US. They have created many successful mobile apps for some of the biggest companies. Their client list includes biggies such as LinkedIn, Twitter, Cisco and Microsoft. There are close to 250 employees in their software development facilities.
They are known to co-solve their problems or work closely with their clients to derive a solution for the complex issues that crop up in the course of development of the product.
10. 247 Labs Inc
An IT company in Toronto, this was set up in the year 2013. With a team of just 30 employees, they are among the leading android app development companies in Canada. They tend to smaller organizations and midmarket enterprise organizations in Canada.
247 Labs has executed projects for companies such as GM, J&J, and Motorola. They hire top-notch technologists, designers and developers to create and deliver a project to their client. They attribute this to a hiring process that filters out the best talent to work on projects. Once into the team, the members are part of regular training, mentorship and certification programs which help them to improve their skills continuously. All of these are reflected in the top quality of their products.
Conclusion
The above compilation of the top mobile app development companies in Canada can help you pick the one that you need depending on the objectives of your app, the resources that you have at hand and what you may want to accomplish.