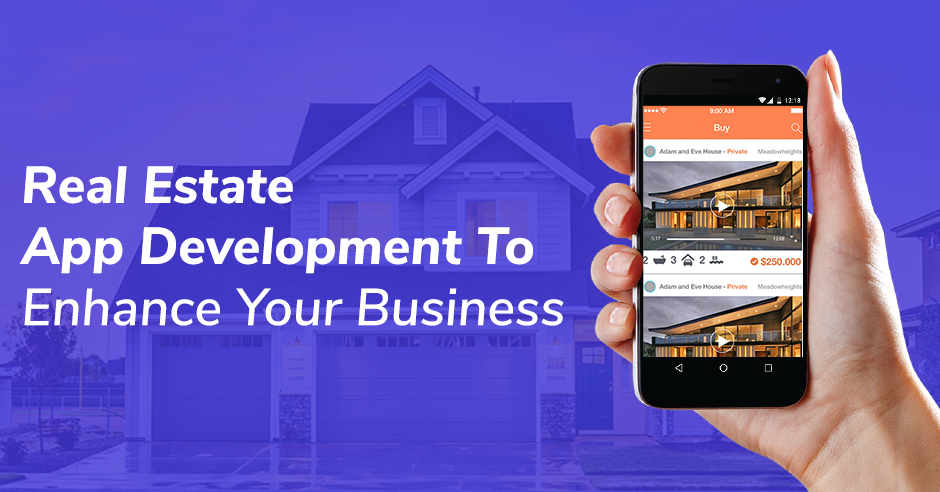 Published February 07,2019 by
Jamie Campbell
Real Estate App Development To Enhance your Business
In this digital world, we tend to rely on the internet for all niches of information. Mobile applications are one such segment that has changed the operations upside down. From basic bank transactions to boring home services, the mobile apps have occupied every little space. And, real estate app development is not left behind in assisting the people with its digital presence.
When people look for a house, they usually use two mediums. One, they go to real estate agents to find properties as per their choice and pay a commission to them, and second, they search online.
The internet has given the real estate market a big-time boost. It has reduced advertisement costs for real estate developers as well as brokers and made information easily accessible to customers. It is quite obvious that the real estate business develops a lot by having an online portal. In the world of real estate today, there are mobile apps for real estate agents, developers, and buyers.
In case you are a resident or an agent, you must look at the benefits of having mobile app for your real estate business:
Benefits Of Real Estate App Development
1. Enables Faster Property Search
With your application, people who want to buy or rent a property can view all the property listing on their mobile devices. All the details of a property like price, location, images, etc. can be seen through the app which is highly beneficial.
2. Provides Direct Marketing Channel
It provides multiple ways to market your business without having to bear any extra cost. The app helps in advertising and promotion, which can be done by giving special deals and offers to all app users without wasting much time.
3. Creates a Robust Business Identity and Brand Reputation
It build an image and a reputation for a company. An easy-to-use mobile app filled with useful features will create a positive image of the company in the minds of users.
Having a real estate app for your company helps in forming a unique business identity. A powerful brand identity helps to attract more customers, making the brand stand out in the market.
4. Expands Your Target Audience
Reaching a higher audience is the primary method for business growth. It can grow your business to reach a large number of people, regardless of their location.
5. Allows Instant Decision Making
Connecting to your buyers on a mobile platform pushes faster and better decision-making. Buyers get quick access to what they want to look for, from market trends to listings, and sellers get easy access to information about buyers who show interest in their listings. Guide your Real Estate App Development team to integrate push notification, Google Maps, and other vital information in your app to drive user engagement.
6. Allows You to Make Changes from Feedback and Reviews
No matter how well a business does, the room for improvement is always there. By allowing a platform for users to leave feedback about your company in your app, you allow yourself to become aware of the weaknesses and flaws in your business by analyzing valuable reviews and feedback from home buyers.
7. Provides You an Advantage Over Your Competitors
In the real estate industry, the smallest advantages in quality of deals and services you provide to your customers can give you an edge over other companies in attracting and retaining a big, loyal customer base. Investing in Real Estate App Development for your real estate company will allow you to gain a significant competitive edge that makes your company stand out from the rest. Moreover, the added functionalities of a mobile app will only help you in running your day-to-day operations successfully.
Features of Real Estate App Development
1. Listing of Different Properties
Real estate developers will want to list their properties on their app to build a direct channel for buyers and sellers, eliminating the need for agents. Property listing feature will help in bringing buyers and sellers together and save expenditure for both.
2. In-Depth Details and Images the Property
This feature will give users information about the cost estimation; the types of flooring, paint, and roofing; the location of the property; images of the property; and other such information and details needed by users for making buying decisions. Images are an integral part of a real estate agent app. No customer is going to be lured to buy a property without knowing what it looks like.
3. Customized Search Sorting and Filtering
It's good to offer an extensive range of property options but app developers must ensure that users do not get lost in the pool of information. A customized search feature can be very helpful for users to search for the property they want according to their budget, preferred location, desired facilities, required size, etc. Giving app users the option to sort and filter the properties by price, area, size, and other factors will make the app user friendly and easy to use.
4. Mortgage Calculator
Financing and budgeting are integral aspects of buying a property. You just can't buy any property if you are confused about the down payments, monthly installments, interest rates, and so on. Integrating a mortgage calculator in a real estate application will enable the users to calculate their finances and ascertain whether a property is within their buying ability or not.
5. 3D Property View
With the coming of advanced technology like AR and VR, it is possible to get a 3D view of a property through mobile apps. Offering a 3D view of the whole property is a good feature as it not only instantly appeals to the potential buyers but also allows potential customers to see what a property really looks through a mobile app without the need to visit the location physically
3D Property View allows you to present appealing visuals of your properties to home buyers in the form of videos and images, such as images and videos of rooms from different angles and map shots that customers will find useful when understanding and assessing the dimensions and layout of the property in question.
These visual representations will help home buyers in making their decisions, increasing the possibility of sales.
6. Geo-Location
Finding properties and amenities in a nearby location will be made easy by integrating geo-location feature. The users will get to know which property is located where and whether the location is convenient and desirable for them or not. It will also give users directions when visiting the property.
7. Favorites
This feature enables users to add their favorite and preferred properties to their favorite list.
How much does the Real Estate App Development cost?
The cost of Real Estate App Development depends on the size and complexity of the work. Other than that, the time consumed in the app development and the location of the developers play an important role in determining the app development cost. Keeping all such factors in mind, the cost to develop a real estate app has been outlined below based on different geographical zones.
US-based developers charge $100 to $250 per hour, Eastern Europe-based developers charge $80 to $180 per hour, and India-based developers charge $25 to $50 per hour for real estate mobile app development.
The cost of real estate mobile app development in India depending on the segments to be developed is graphed below:
Technical documentation (40 hours – $1000 to $2000)
Front-end and back-end development (400 Hours – $10,000 to $ 20,000)
UI/UX design (60 Hours – $1500 to $3000)
Testing (80 Hours – $2000 to $4000)
The average cost for the development of a real estate mobile application can be outlined after calculating the above overhead charges. A reasonable app with basic features may cost around $10,000 to $25,000 for one platform. The charges can go up to $35,000 in case the app is feature rich and driven by high quality standards.
A real estate app can provide you with various opportunities to come up with an attractive design that expresses the culture and essence of your real estate company. You can attract the attention of potential home buyers from the very first moment they see the design of your real estate app on their smartphones.
Besides the design, it's also essential for the app to have a user-friendly interface. Enable features like sorting of property on the basis of price range, room capacity, and size that optimize search results.
Once all these things have been taken care of, all you have to do is look for a right real estate app development company that understands your needs and creates the app accordingly.
Tvisha Technologies provides innovative fast-track solutions and specialized application development services to help improve your business processes, integrating different platforms. We have successfully developed many applications on mobile platforms like iOS, Android and Blackberry.