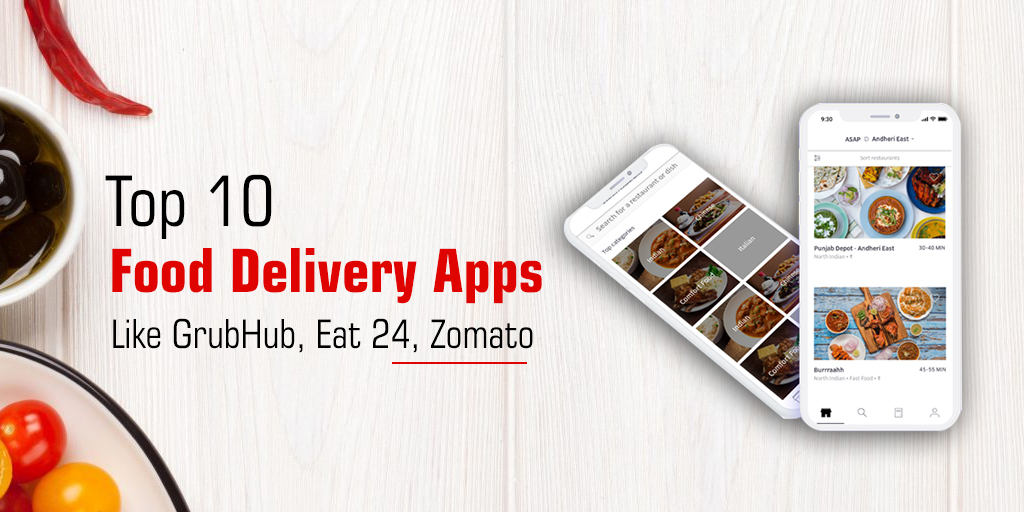 Published November 26,2018 by
Tvisha
Top 10 Food Delivery Apps Like GrubHub, Eat24, Zomato
Eating is the one thing we all love to do. What else could be better than relaxing on your couch, reading your favorite rom-com book, binge-watching Netflix or just idling with your dog and ordering food with your Food Delivery Apps and to choose a favorite place at your fingertips? Thanks to the app development companies who made it possible and seamless for us. Mobile applications have just eradicated the need for human contact, being on hold, and listening to the noisy background of a busy restaurant. These food delivery apps have made it super easy sparing you from the worries of menu markups to bill payments.
Food Delivery Apps That Serve You Scrumptious Meals
So, we have rounded up these top 10 applications that take as much delight as in serving you the scrumptious food.
1. Eat24
Eat24 believes in creating a world for you where you do not have to waste a single second of your precious time by researching, finding the location, calling people for their experience, and every other boring thing that only drains your energy. Eat24 is both an app and a website powered by Grubhub that enables you to order your food online from thousands of local restaurants with ratings and reviews on a single screen. With an app like Eat24, just a few clicks on your smartphone, you are taken straight to taco nirvana, pizza bliss, sushi euphoria, tater tot joy, and egg roll ecstasy!
2. GrubHub
GrubHub is a food delivery app that is always at your service, no matter where you are. All you have to do is enter your address, and the app tells you about all the restaurants that can deliver to your locale; it also shows you droves of pickup restaurants near you. You can make your search more precise by directly searching the cuisine, restaurant name, or menu item. The app filters the results to the point. The best part is, an app like GrubHub doesn't charge a penny for the delivery! Moreover, it provides you access to reviews, coupons, special deals, and a 24/7 customer care team that tracks each order and makes sure you get exactly what you ordered.
3. Seamless
Seamless, founded in the year 1999, provides its services in London, along with cities across the U.S. This online food delivery app feeds a large number of hungry offices. The app is mostly known for its services to individual employee meals, group orders, lunch catering, and catering for corporate meetings and events. A part of the Grubhub Inc. portfolio of brands, Seamless is headquartered in New York and provides work to 1001-5000 employees.
4. Yelp
Yelp is an online food delivery app that currently caters food services in more than 1,500 U.S. cities. Yelp is known for its credibility. If you have chosen the app for selecting restaurants, you can positively rely on it to deliver your dinner. It provides one of the best ratings and reviews on the restaurants and cuisine. It is built on several years of restaurant reviews. Yelp doesn't charge you in accessing the services but the restaurants may take a delivery fee.
5. Doordash
Doordash is available in a number of cities, including Atlanta, Seattle, Boston, New York, and Chicago, among others. Its network may not be as large as Seamless or GrubHub, but it has a few unique features. Doordash has 'DoorDash Delight' scoring system, which uses several factors such as food quality, restaurant popularity, delivery time, and customer satisfaction to recommend the best restaurants in your area. The food delivery fees at Doordash differs depending on the restaurant you choose to order from.
6. Postmates
Postmates is an online delivery service that has quite different and unique features to itself. It delivers you a lot more than just-food. Yes, it delivers alcohol too! It can pick up anything you wish from your doorstep and deliver it to your friends' doorstep or anywhere you want. Postmates doesn't have any partnership with restaurants. It is currently available in more than 90 cities throughout the United States. To your delight, this online app offers a 'Plus Unlimited' service for $10 a month that provides you the facility of free delivery from selected stores and restaurants on orders of more than $25.
7. UberEats
A stand-alone food delivery app, UberEats currently provides its services in many locations such as in Chicago, Los Angeles, Amsterdam, Austin, Baltimore, Singapore, Tokyo, Portland, and a number of places scattered around the globe. UberEats may be confused with Uber that drives you around the city, but they are different applications. They share many of the same features like cashless transactions and estimated delivery times. So, if you can trust Uber to drop you safely back home, trust them to deliver your delicious order without much delay. Surprisingly, it charges only a $5 delivery fee.
8. Delivery.com
Delivery.com is an online service app that gets you anything and everything from lunch, groceries, a bottle of wine to your laundry. The app is available in a number of significant cities across the United States. Like Seamless and GrubHub, Delivery.com provides its services completely free of cost, though the restaurants may charge a delivery fee and have an order minimum. It makes the money by using a small percentage of your pre-trip subtotal.
9. Foodler
Foodler is a food delivery app that is available in many of the United States' cities, to be specific, more than 4,000 U.S. cities. The fascinating thing about other Food Delivery Apps is that they do not demand a cash transaction. If you have credit cards, Paypal, or Apple Pay, then you are ready to go. But Foodler is unique in a way that it accepts two additional forms of payment, that is, Bitcoin and Foodler Bucks. Moreover, Foodler not only is a service app but also provides a built-in rewards program that allows you to earn free meals.
10. Zomato
Zomato is an app like GrubHub, which is currently available in over 10,000 cities across India. It is also available in countries like the USA, Australia, the UK, UAE, Canada, Ireland, New Zealand, South Africa, Portugal, the Philippines, Indonesia, Turkey, the Czech Republic, Brazil, SriLanka, and Qatar. It is working to cater its services to more locations in the coming days. It was previously known as Urbanspoon in few countries like USA, Australia, and Canada. Within the app, you can easily browse through the photos of restaurants, the menus available, user reviews, and ratings to decide the best possible options for yourself. Do use its map feature to guide yourself to the restaurants.
Isn't your tummy waiting to be pampered?
In this digital age, an app development company can benefit a lot from the food sector. Perhaps that is the reason we see hordes of Food Delivery Apps.
Among them, the listed apps are the best in class and have too many advantages to be neglected! They display a galaxy of restaurants with delicious cuisines with no hidden charges and allows multiple gateways of payment. If you are Looking to develop a food delivery app for your restaurant then check out the guide on-demand food delivery app development.