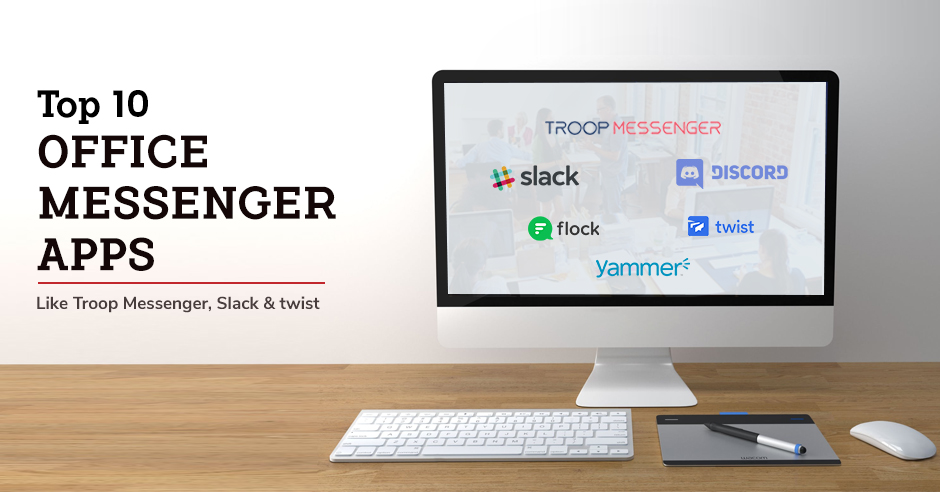 Published December 01,2018 by
Elon Musk
Top 10 Office Messenger Apps like Troop Messenger, Slack and Twist
Office Messenger Apps for all Sizes and Sorts of Businesses:
Communication is the key to success and it can be done in many different ways: People can talk in person, over text or email, or online through social media. So, what can an organization do to keep all these conversations in a single place? That is where office messenger apps kick in.
These apps provide teams a platform to collaborate in open forums or just informally catch up or talk in private messages, removing the need for 'catch-up' meetings. And the best part, these team chat apps are good at keeping global teams connected.
Typing out an email or making video calls can be as frustrating. Chat apps simplify this. Today's communication software helps in arranging team conversations around various topics, search through company archives to find out if a question has previously been answered, and much more in a single place.
Here are Some of the Best Office Messenger Apps to Help Keep your Office in Sync
Troop Messenger is yet another office messenger that is surely a harbinger of a revolution in the corporate world. It is an ultra-fast and simple business messenger to make your team super productive. It's a free slack alternative that brings all your communication and business operations at one place.
With the basic features included like Direct Messaging and file sharing by drag and drop, Troop Messenger has stepped ahead with Audio/Video calling, and being encrypted on the server-side, it has marked its seal of security.
UX/UI being User friendly,it demonstrates the development by the finest of app developers working towards providing an ease of communication and usage, which has no need of going through pages of user manual.
Other features Include Secure Login, Location sharing, info on all the messages of group chat. Upcoming features being money tranfer, conferencing, Task and project management Troop has embarked upon being the finest of the business chat applications available in the app development field.

Other than one-on-one and group chat, Slack also provides the features of video conferencing, and individual and team audio calls.
You can organize multiple teams, projects, and other items through hashtags, as well as share files either by dragging and dropping them into the platform or through Dropbox, Google Drive, and other file-sharing services.
An app like Slack helps your team kick off a project, hire new employees, deploy codes, review sales contracts, finalize a budget, plan your next office opening, and more.
Twist organizes all of your team's discussions so that they stay in one place and on topic. With the help of Twist, you can discuss ideas, manage project updates, and collect feedback –on your own schedule.
Twist keeps your conversations ordered by topic in asynchronous threads so that your team can connect to discuss important topics and o disconnect as they need.
Microsoft Teams makes a chat-based workspace focused on real-time collaboration. Its features include chat, notes, meetings, Office, Power BI, Planner, and extensions and apps. Microsoft Teams looks and functions a bit like Slack, with threaded persistent chats that can be private or open.
Ryver's "private teams" (private groups) and "open forums" (public groups) feature two types of communication: Chats (for informal conversations) and posts (threaded topic-based conversations).
A really remarkable feature of Ryver is that chats and posts are totally integrated. A chat can be "promoted" to a post if it needs to be a more formal conversation.