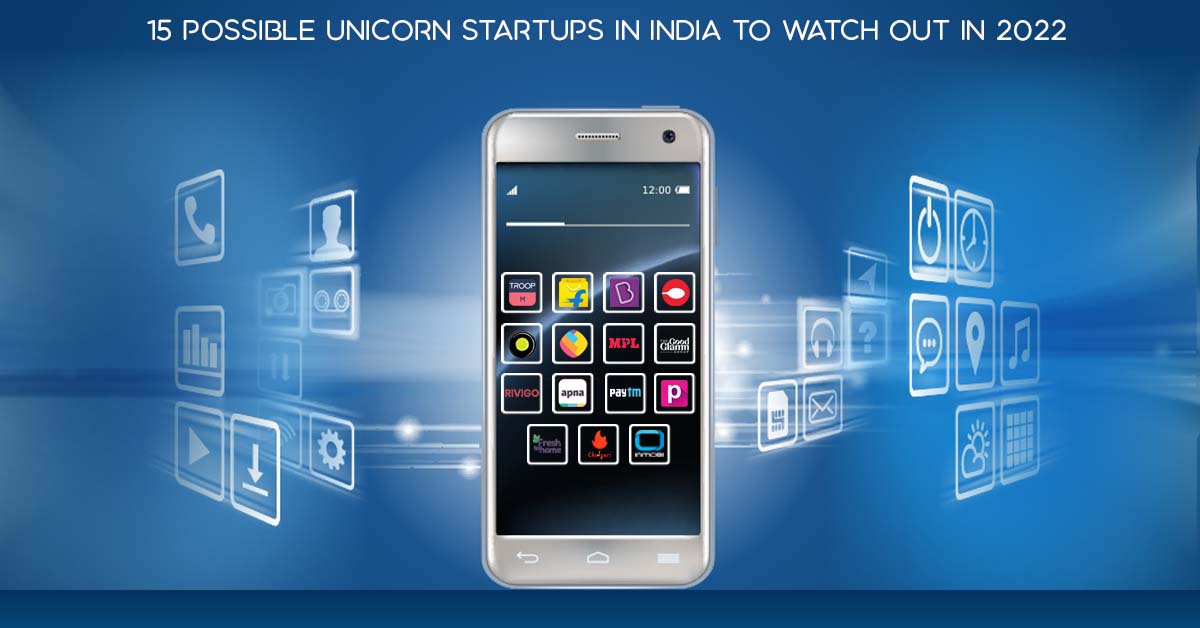 Published February 12,2022 by
Tvisha Technologies
Top 15 Possible Unicorn Startups in India to Watch Out in 2022
Unicorn startups have evolved as groundbreaking innovations!. India has become the third country that has the most number of unicorns across the world. Here is the list of 15 Unicorn Startups in India you should not overlook. All these are privately-owned startups that have crossed the $1 billion mark and some of these have the possibility to become unicorn startups in 2022.
Without making a delay, let's dive in.
HQ: Bangalore, Karnataka
Industry: Marketing and Advertising
Founded: January 2007
Founders: Abhay Singhal, Amit Gupta, Mohit Saxena, Naveen Tewari, Piyush Shah
Brief overview:
The entrepreneurs started their journey after understanding the potential of mobile advertising. It has evolved as one of the unique startups in India that drives the real connection between brands and customers. It helps businesses to identify, understand, acquire, and engage customers by leveraging the latest technologies in mobile intelligence. It was the first unicorn startup in India that made a way for many other Indian startups to turn unicorns. Its subsidiary company, Glance, has also become a unicorn in 2020.
HQ: Bangalore, Karnataka
Industry: E-commerce, Marketplace
Founded: 2007
Founders: Binny Bansal, Sachin Bansal
Brief overview:
Flipkart is a well-known eCommerce marketplace in India and is a one-stop-destination for more than 150 million products under 80+ categories. After inMobi, the first Indian unicorn, it was the first Indian startup to earn unicorn valuation during the 2011-2012 timeframe. It
operates an e-commerce website with 350+ million users thus making their lives easier. They can make the wish lists, pay easily, save data and transactions, have easy returns, track the orders, and many more. And the Ping feature of this mobile application helps the shoppers to share their shopping experience. This platform is always the right time and right place to make orders and get them delivered to your doorsteps. Moreover, it is the best bet for better and bigger discounts. In 2018, this e-commerce giant was acquired by Walmart for $16 billion which helped it to scale easily and fast. Now, it has become the most valuable Indian firm with a valuation of $37.6 billion.
HQ: Bangalore, Karnataka
Industry: Edtech, Distance education, M-learning
Launched: 2011
Founders: Byju Raveendran & Divya Gokulnath
Brief overview:
It is a Freemium E-learning application and EdTech platform. This app has 9 lakhs+ paid subscribers and is used by 15 million+ students across the globe who spent at least 53 minutes daily on the app. It is
the first Indian startup that reached $21 billion. The app is built for students from 3rd grade to above and it is going to develop an app for 1 to 3 grades as well. It has spent over $2 billion on acquisitions alone. It helps students and job aspirants in building great careers.
HQ: Gurgaon, Haryana
Industry: Online food ordering and Retail
Founded: 2008
Founders: Deepinder Goyal and Pankaj Chaddah
Brief overview:
Better Food for More People!. It's a tagline or statement for Zomato, an Indian food delivery startup and restaurant aggregator. It allows users to order food from all restaurants and get them delivered to their doorsteps. Primarily, it is used to provide information, user reviews, and menus of the restaurants. With time, it has become a large food ordering platform with 3.5 lakh+ delivery partners, 5000+ team members across India and delivering 78 million orders of wide varieties daily.
HQ: Bangalore, Karnataka
Industry: Transportation
Founded: December 2010
Founders: Bhavish Aggarwal & Ankit Bhati
Brief overview:
Ola connects customers and drivers and offers outstanding mobility solutions using various types of vehicles such as bikes, cabs, auto-rickshaws, metered taxis and enables safe, convenient, transparency in riding and fares for millions of its customers. It has more than 1.5 million drivers across 250 Indian cities. This ride-sharing platform expanded its footprints across the UK, New Zealand, and Australia.
HQ: Bangalore, Karnataka
Industry: Social Media, Mobile Apps
Founded: 2016
Founders: Ankush Sachdeva, Bhanu Pratap Singh, and Faris Ahsan
Brief overview:
Mohalla Tech Pvt. Ltd, Sharechat's holding company, is founded by the three entrepreneurs Ankush Sachdeva (CEO), Farid Ahsan (COO), and Bhanu Singh (CTO). It has a valuation of more than $2.1 billion and this application is available in 15 Indic languages. Sharechat has a credit of holding 160 million MAUs(Monthly Active Users) as of today. Its features that make this one of the top unicorn startups include private messaging, tagging, user-generated content, content sharing such as jokes, videos, songs, etc.
HQ: Bangalore, Karnataka
Industry: E-Sports and Gaming
Launched: 2018
Founders: Sai Srinivas Kiran G and Shubham Malhotra
Brief overview:
A wide spectrum of games under a single platform, MPL (Mobile Premier League). It is the largest eSports and mobile gaming platform in India with 70+ games under various categories and 90 million users across the world. MPL has also expanded to the US, Indonesia, Singapore, and Jakarta. It is 100% secure, legal, and games can be
downloaded free of cost on Android and iOS. It has many money-earning games where users can play and earn. It is hailed as the second Indian online gaming startup that turn unicorns with a $2.45 billion valuation.
HQ: Mumbai, Maharashtra
Industry: Beauty and personal care
Founded: September 2021
Founders: Priyanka Gill, Naiyya Saggi, Darpan Sanghvi
Brief overview:
This beauty and personal care product company was launched with a mission to become the world's largest digital FMCG conglomerate of the future. It owns four major brands namely MyGlamm, PopXo, Baby Chakra, and plixxo. Moreover, it claims to be the country's first D2C (direct-to-consumer) beauty and personal care company to achieve unicorn status.
HQ: Gurgaon, Haryana
Industry: Logistics and Supply Chain
Founded: 2014
Founders: Deepak Garg and Gazal Kalra
Brief overview:
Rivigo offers reliable, fast, safe, and affordable Cargo and Freight services for a wide range of industries such as automobiles, automotive, clothing, eCommerce, etc. It uses the latest technologies for effective transport services. In 2018, it has entered the unicorn club and in September 2019, it has turned into a unicorn with a valuation of $1.05 billion.
HQ: Mumbai, Maharashtra
Industry: Human Resources, Recruiting, and Employment
Founded: 2019
Founders: Nirmit Parikh
Brief overview:
It has become the youngest startup to enter into the unicorn club within 21 months from inception. This professional networking platform and job portal help both students and blue- and grey-collar
workers. Its services spread across 28 cities and reskill and upskill both students and working professionals on professional requirements and help them grab employment opportunities anytime from anywhere. Thus, it is making industry-ready professionals and improving the working force in India. To date, it has served 15,000 employers across 70 different communities.
HQ: Noida, Uttar Pradesh
Industry: E-commerce, Finance
Founded: August 2010
Founders: Vijay Shekhar Sharma
Brief overview:
Paytm is one of the biggest Indian unicorn startups that offer digital payment services. It is used to do recharges, pay bills, book travel & movie tickets, open a savings account, send/receive money to friends and family, invest in stocks & mutual funds, etc. Users of Paytm can make contactless and secure payments at more than 21 million stores, apps, and websites with a single tap. It has brought a digital revolution like never before. Now, it has 20+ million businesses and
merchants who accept payments through Paytm. This is due to the fact that over 300 million Indians utilise Paytm to pay at shops. Finally, in 2015, it has entered the unicorn club. As of June 2021, it is ranked third on the list of top UPI apps in India and its valuation reached $16 billion.
HQ: Mumbai, Maharashtra
Industry: e-Beauty & Grooming and Salons & Spa
Launched: 2012
Founders: Manish Taneja and Rahul Dash
Brief overview:
With 7 million MAUs (monthly active users), purplle has become the leading e-beauty destination. This beauty e-tailer has 50,000 products of 1000+ brands. Purplle offers a highly personalized digital shopping experience for its customers through its app with detailed user personas, test makeup feature, product recommendations based on search keywords, personality, purchase behaviour, etc
HQ: Bangalore, Karnataka
Industry: e-commerce platform
Launched: 2015
Founders: Shan Kadavil and Matthew Joseph
Brief overview:
It is the most trusted online fresh meat and fish retailer and is expected to turn into a unicorn in 2022. It was created with the sole aim of making available of 100% fresh with 0% chemicals fish and meat to everyone. It has outperformed Licious in better hygiene and diverse offerings. Besides India, its services are spread across UAE.
HQ: Bengaluru, Karnataka
Industry: Entertainment
Launched: 2018
Founders: Sumit Ghosh, Biswatma Nayak, and Deepak Salvi
Brief overview:
It is the expected video startup that can turn into a unicorn business in 2022. This short video app lets users create and share any content of duration 15-45 seconds. It has got fame with great user retention
and growth after the Indian government banned TikTok, one of the short video apps of China. It has currently 56 million users and is available in 20 languages. Also, it is aiming to reach 100 million users within 2 quarters, hire required talent, and enhance its content by associating with OnMobile. It is helping Chingari with its D2C ONMO gaming platform integration and collaborating on other product integrations to serve users.
HQ: Hyderabad, Telangana
Industry: Software and mobile application development
Founded: 2017
Founders: Sudhir Naidu
Brief overview:
Sudhir Naidu, the CEO and the product head is one of the visionaries of this top-notch instant messaging and unified business collaboration application. Launched in 2017, it has been made to improve the internal communication and collaboration of office teams of Startups, SMEs, Large Enterprises, Government, Defence and other industries with its quite affordable plans. You can find its UI text in 12
international and regional languages for better usage and feasibility. This end-to-end encrypted platform for messages, calls, and conferences are available with the service models of SaaS, On-Premise, Chat APIs, White Labeling and Custom Application.
With its highly collaborative features, it has outperformed all other leading instant messaging apps and become the G2's 6th Highest Rated Business Instant Messaging Software & Best Performer under the fastest growing team communication software category. Thus, this SaaS company has grown tremendously both in scope and scale. Its features include instant one-to-one/group messaging, file/desktop sharing, audio/video conferencing, integrations with Zapier, Cattlecall, Google Drive, DropBox and LDAP, Analytics, and many more. This communication and collaboration software brings all your communication to one place. It has garnered more fame in the time of the pandemic when work from home becomes a necessity. It is a perfect tool for remote or virtual teams, freelancers, etc. as the software is absolutely flawless and secure. No doubt!. Troop Messenger can become the first unicorn startup in India without investors.
Conclusion:
Startups in India are myriad. However, making it a unicorn needs a great vision, utmost dedication, continuous efforts, sufficient budget, and teamwork. By having all these, the aforementioned Indian startups have made their way to enter the unicorn club.