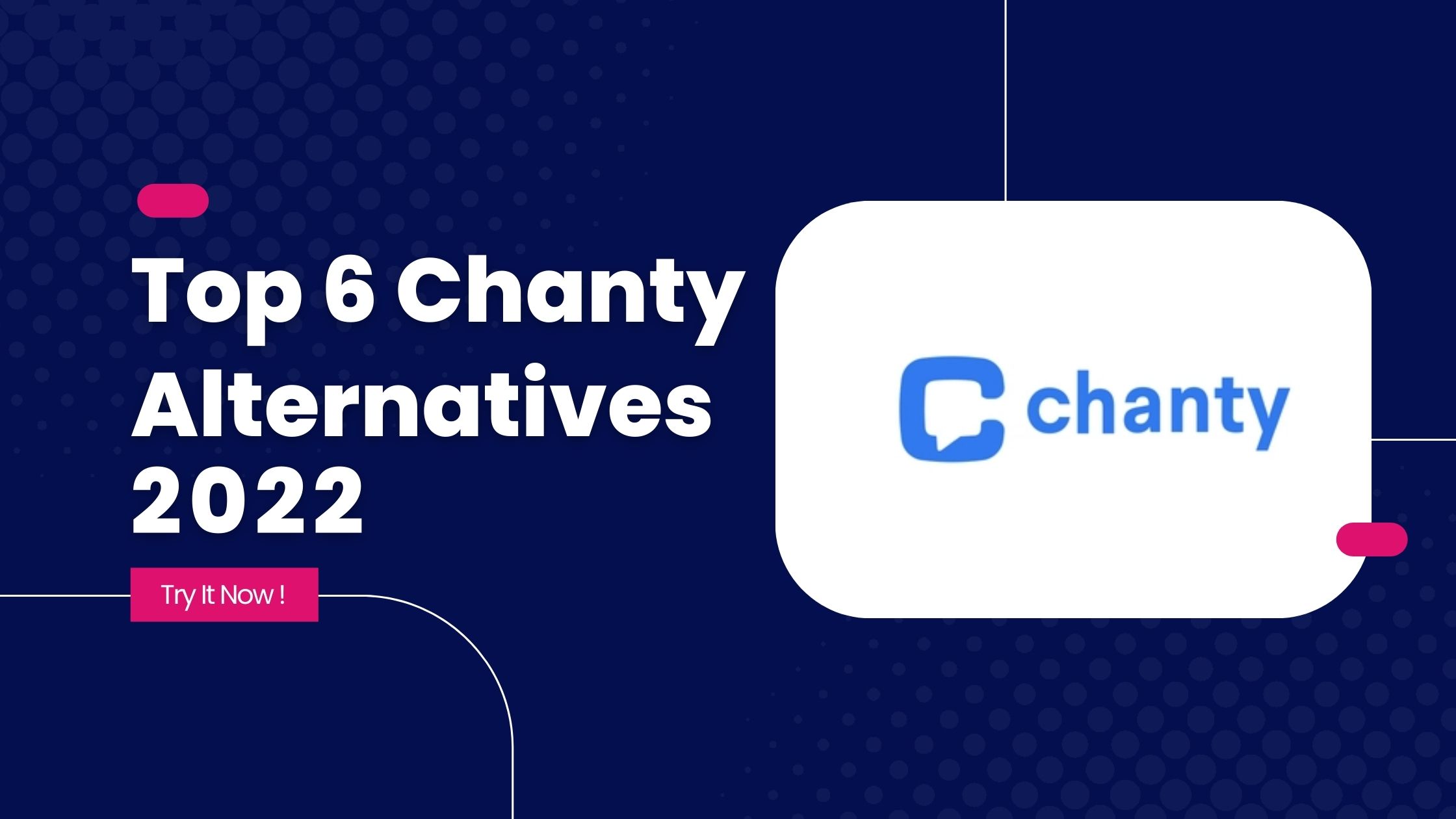 Published June 25,2022 by
Tvisha Techonolgies
Top 6 Chanty Alternatives 2023 (Features and Pricing)
With time, businesses are switching between offline and online. For that, a conference app with offline experience characteristics is needed, and such apps are in great demand.
A conference tool is a device that helps to organize, track and manage events. They play an important role in the process of event management.
The need for effective screen sharing software and also instant messaging software in recent times is because more people are working remotely. It is also harder to get together in person for meetings or conferences.
Many apps tick the boxes and provide exceptionally high-end features. One such app is Chanty.
Features and Price of Chanty:
Chanty Team book allows users to find all the information on a single page. In this app, multimedia can be shared easily, and specific members can be highlighted too. Ideas and inspirations can be pinned to avoid losing them. Managing and assigning tasks is easy, along with adding simple code snippets.
Chanty is free, and for some basic additions to features, it requires a fee of 3 dollars per user per month. At a nominal price, Chanty allows its users many benefits to stick with Chanty for the long term.
Though Chanty is a great tool, others are too for the same.
Here Are The Chanty Alternatives in 2023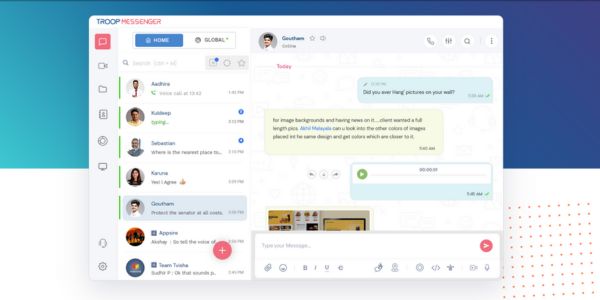 One of the few tools that is compatible with all domains is Troop Messenger, whose application development involved extensive study conducted by its dedicated team. Hence this is a tool developed considering the global teams requirements such as team communication, files exchange, audio/ video calls, conferences, remote access, screen sharing, and so on. The layout is straightforward; those using it for the first time can also understand and use the elements efficiently.
Features and pricing of Troop Messenger:
One-to-one features are available in every plan of this messenger.
In one-click messages can be shared with many people, known as the fork-out messaging.
Burn out feature self-destructs confidential messages and allows you to send messages to yourself.
Messages can be recalled, edited, and responded later as per convenience.
Sharing a screen is not a hassle with Troop Messenger as it lets the users view the screen and understand it better.
The advanced options are allotted in various plans provided by Troop Messenger.
The pricing depends on the features you need and the members you need it for. Affordable pricing is the sole reason for the success of this app.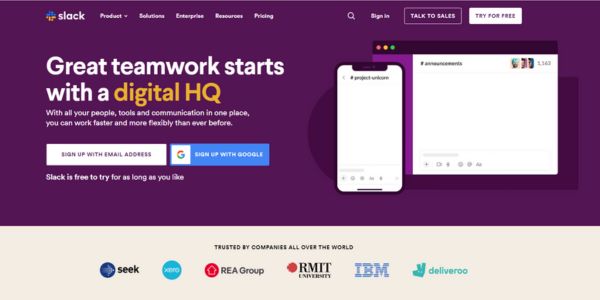 When selecting software best for conferences, the list does not end without mentioning Slack. Its unique employee platform keeps them connected in the virtual workplace.
Features and Pricing of Slack:
Channels are created in which members can be added based on the profile they work for in the company. But these channels have limited access.
Reminders for attending meetings and sending reports before deadlines can be done. The timer can also be added to remind in some number of minutes.
Apps can be integrated with Slack to improve its functioning.
Description can be added to channels to provide detail of their purpose of them.
Slack pricing is considered the best among the existing ones. Occasionally, Slack slashes prices for specific communities and countries.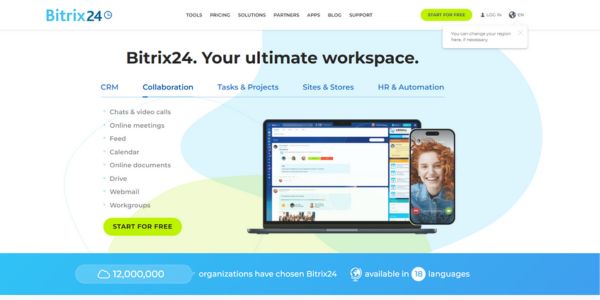 This software can automate procedures and tasks from small to large-scale businesses. A unified and complete set of equipment is provided to ensure the smooth functioning of the workflow. Web applications and mobile-based apps are supported.
Features and Pricing of Bitrix 24:
Multimedia and calendar sharing is done along with simplicity in allowing assignments.
Organizing, integrating, scheduling and managing are made simpler.
Internal and external communications are managed.
Bitrix 24 provides services and tools to make the method speed and manageable.
CRM integration eliminates the need to install several applications.
There are flexible plans for every size of business. It also offers a free trial and a forever free plan.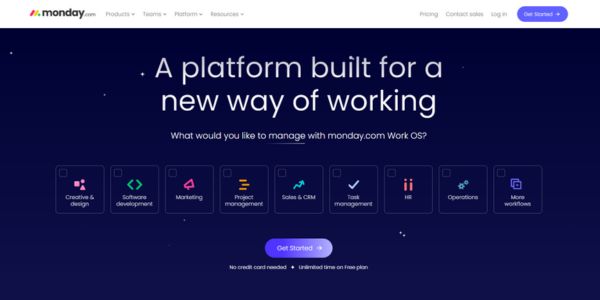 Monday.com offers personalization templates for the best UI experience and layout. Planning, collaborating, and tracking in a single tool makes this app the most widely used worldwide. Overview of employees can be represented with pictures.
Features and Pricing of Monday.com:
Planning your work according to schedule has become easy with a tabular form that includes assigned work and submission date.
Integration, collaboration, and personalization make this app unique and trustable.
It has tools for every department like Sales, HR, Product Management, Media, etc.
Monday.com is the app every head needs for the department working under them to manage workflow efficiently.
Analytics, charts, and other visual graphics are made rapidly.
To expand productivity, Monday marketplace lists numerous apps to choose from.
Many benefits are included in the free plan itself. To extend the usage for larger teams, the paid version is suitable.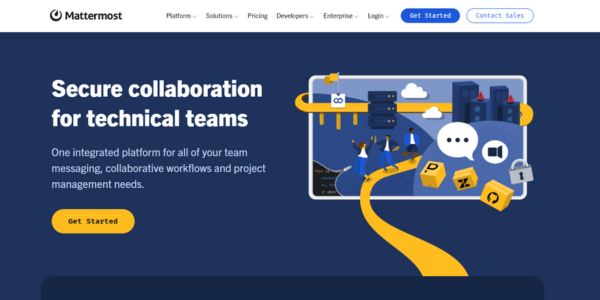 Mattermost claims to be more than just an instant messaging software. It is specially built for developers for a better workflow. Open API and many community apps and frameworks provide better security and privacy.
Features and Pricing of Mattermost:
This is an app that connects every employee. It claims to be one stop solution for collaboration.
The integration platform is a channel based which connects people via tools. Screen sharing, boards, and visibility of timeline and data are adjusted according to need.
This app also has channels for shared interests. Enough data usage is given for storage and sharing.
This also has a forever-free and affordable pricing plan starting from 10 dollars per user per month. The features included are worth the price.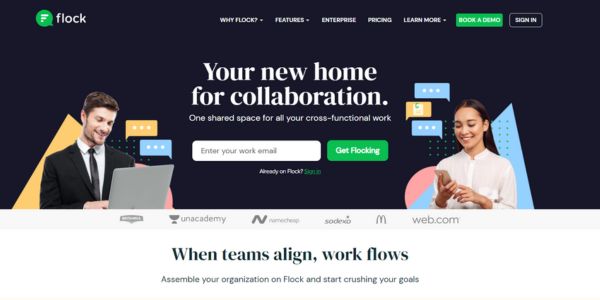 Every collaboration tool has many features that are present commonly. Some perform better, and some features are better in other tools. Likewise, Flock is claimed to be faster than Slack.
Features and Pricing of Flock:
Chatting and calling are a click away in Flock. Any file can be shared, and there are advanced filter options.
Sharing news and other announcement is done instantly. Managing emails are done interestingly.
The company directory can be accessed in an app. Messages can be bookmarked for reading later.
Team organization and allotment of task is done easily.
The free plan can be used by 1 to 20 members. As the number of members increases, a minimal amount must be paid, which is truly affordable.
What to look for when selecting a suitable app?
Each of these features is essential for different reasons.
Flexibility allows organizers to customize their conference to fit the needs of their participants.
Scalability allows for large numbers of participants and concurrent sessions.
Usability ensures that participants can easily find what they are looking for and that the conference tool is easy to use.
Safety is always a concern, and a good conference tool should provide features that protect participants from harm.
Conclusion:
A good conference tool can help make the planning and execution of conferences much easier. It should provide an optimal participant experience and ensure that all participants have the chance to participate in the discussion and learn from each other.