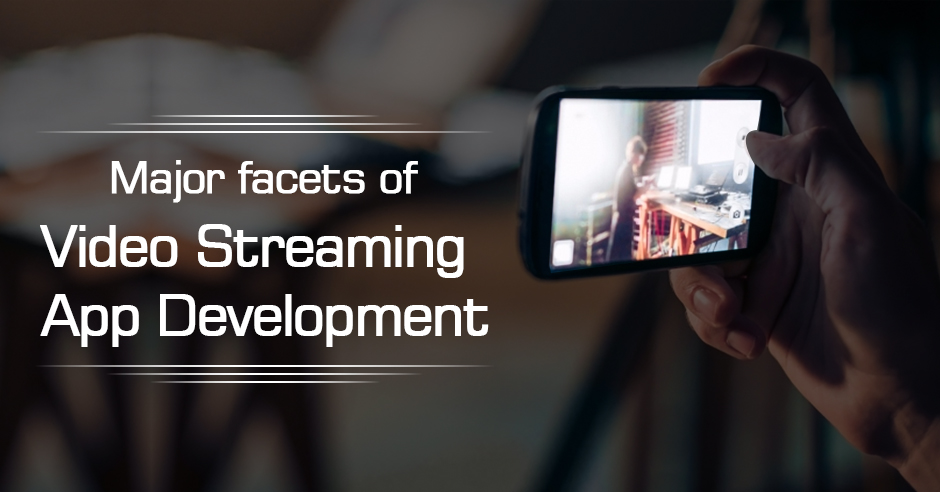 Published February 18,2019 by
Jamie Campbell
Major Facets Of Video Streaming App Development
Unlike catching different shows at particular broadcasting slots, a Video Streaming Mobile App Development is this generation's way of watching "television". Long gone are the days when one would have to wait for hours to watch one's favorite show or catch a particular screening of a film to watch it. Today, you can stream your favorite—the numbers have also increased exponentially—series from anywhere you are, be it your house or on a bus ride or on the street, and at any time.
More number of people are opting for it as it the most convenient way to access video content at the most satisfying of qualities—one can choose to stream at 4K technology, an option that remains unavailable in the services that local cable operatives cannot provide you at this time. Video streaming mobile app development services is currently the biggest thing both in the world of television and technology, as mobile app developers battle it out to outdo one another to develop the smartest, smoothest, the most user-friendly and efficient video streaming app. Some of the top video streaming apps right now are Netflix, Hulu, Amazon Video, HBO Now, etc.
These are essentially platforms whereby using data, you can stream anything of your choice. So it is also much more than television; you can it use it as a way of keeping up with the world as well as for blowing off steam after a bad day at work.
Key Facets to Consider Before Developing a Video Streaming App
Major Facets : Before you decide to develop a online video streaming apps like Netflix, you will be required to take note of major facets which are essential to the running of such a platform. They are as follows:
1. Scalability
The issue of scalability is crucial to the running of the platform. You have to choose at what level you want it to run (it is best to imagine the biggest possibility, that is, a platform with eventual global access—something that video streaming apps such as Netflix, MUBI, Hulu, Amazon have created—considering the maximum possible outreach across different genres and differing audiences for them). This is important because the scalability is basically the back-end architecture of the app that helps sustain the platform with increasing registrations from newer digital locations.
2. Security
With scalability comes the question of web security. The more the number of users start registering, the more important the question of security would be. And the question of security manifests not just in the context
3. Flexibility
of plagiarized or stolen content (which is directly related with quality check and quality control of the content) but also crucial legal necessities such as digital rights, encryption, access controls and other safeguards. A major part of security also includes safeguarding the platform itself from hackers who might be trying to illegally hoard off of the technology.
4. Flexibility
The concept of flexibility implies that the video streaming mobile app development firm you have chosen should ensure that the app is digitally compatible enough to support all operating systems and devices. It is important to remember that these days most mobile platforms come with a website at the back-end, which can be accessed through desktops and tablets as well.
5. Challenges
Even though one may take sufficient care of the above-mentioned points, there are a few other hurdles that are absolutely important before you actually get to developing one. It is also important to mention here in the form of a breather that although the set of priorities seem to be long before you can start the process, you will find yourself on a roll once you get started. So here are some of the things you need to ensure beforehand:
Large-scale Data Transfer and Storage – You need to be aware of this because this is expensive, slow and bandwidth intensive and it is necessary that you have all the required resources ready.
Live and On-Demand Video Streaming – Same as the previous one, the infrastructure for this is expensive. Additionally, there is a reduced scope of reusability that comes with this.
Content Transcoding – This is only expensive for large data sets, and multiple jobs are required to be processed in different formats to sustain it.
Content Distribution Analytics – Usage analysis is not only expensive but also uncomprehensive, but it is an important facet of maintaining the platform.
Some of the common points that you need to think about before developing an app are:
User Registration
Privacy Settings
Streaming Quality
Payment Gateways
Online Community
Cost of Production
Cost of Storage
Analytics & Team Organization
Hosting
Geolocation Tracking and Subscriptions
Features of Video Streaming App Development
As mentioned earlier, in the world of technology, Video Streaming Mobile App Development is currently occupying the biggest share of the market. With the right mobile app developers, it is today possible to create your own video streaming mobile app.
First step to this is to look and thoroughly filter out what you like. The idea is to create a platform that will provide a service even better than the existing one. A Google search and hours of scrolling through different apps always helps find a compass; a point from where you can navigate your design ideas.
The second step is to pay critical attention while hiring expert UI Design and UX Design, ascertaining the experience of the app development firms in providing the quality of output that you are seeking for your video streaming mobile app.
The third step is to take into account the common features and develop some of your own. Building a motto is crucial so that it can stand as your business signature, or better brand identity (for example, HULU concentrates on a different kind of content than HBO Now).
Conclusion
Video streaming app development will enable already established studios and production houses in the cinema industry to channelize their own content and generate revenues through subscriptions, while allowing them the scope to cater to their consumers in a more personalized way. Not only this, it will also allow local broadcasters of specific content to reach out to specific audiences based on relatability vis-à-vis the age and gender demographic and cultural dividends.