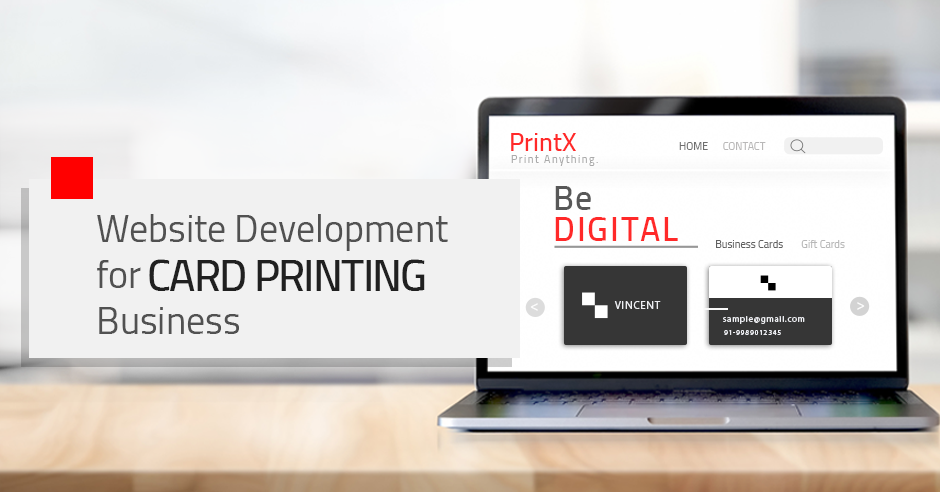 Published August 28,2019 by
Siva Davu
Website Development For Your Card Printing Business
"Imprint a lasting impression with a great website of your own".
For any business to go online and go viral needs a website. It is the digital introduction of your physical printing company. The card printing for any invitation such as a wedding, birthdays, obituary, events, and identity cards etcetera. And whatever the type such as flat, send and seal fold-up, pocket, folded invitations, printing industries need an online presence for their business. Gone are the days when people go to card printing shops and select a design and order. This is the digital era where every decision made online.
Moreover, it has become common that people are sending digital invitations due to their busy lifestyles. That is the reason several online invitation makers are emerging out there. Now this industry has become a booming industry with lots of opportunities to grow.
Why wait?. Develop a website for your card printing business and kick-start your career in the realm of business.
Challenges Faced By the Printing Industry
The invitation card printing industry is the collaboration of design and printing services with two phases. Some businessmen may outsource the design parts and print them at their press. Or they may own both firms i.e. designers and printers in the same industry. Whatever the type of resources whether in-house or outsourcing experts, you need technical help to serve the customers when there are the bulk amount of orders. Showing your designs to every customer every time is a burdensome and time-consuming process.
Then what is the solution?
Simple!. Address your business with website development.
Benefits of Developing a Website
Print shops can make their workflow easy
Offers more personalized services
Showcase all your designs and types of services
Provides 360-degree presence
It reduces the time and expenses
Increases User experience
Wide reach
Builds brand value
ROI
Invite global visitors with a good website design
Reach out to a web application development company that helps in designing a website for your business. Make sure that your website design resembles your invitation designs. The more you decorate your websites gives you more visitors have to your box printing press company since your website is the index of your business.
Increase your ROI with a robust mobile app
Furthermore, reach out to a mobile app development company for more user experience for your business. It is like an add-on to your services.
The feature set for a mobile app must consist of a dual-panel: Admin and User.
Admin Panel Features
Add/Manage Product list: This feature in the application allows the admin to add several categories such as wedding invitations, birthday invitation, wedding anniversaries, identity cards for educational institutions and companies, any special occasions or ceremonies etcetera. Also, the admin can add several themes and various designs with different colors under the categories based on availability.
Tag and Manage Prices: Admin can tag different prices for different invitation designs and update them by increasing or decreasing the costs.
Manage Orders (view and track): Admin can view the number of card printing orders received/canceled/revoked and the number of cards delivered to the customer. Also, he can track the location of delivery if the app is integrated with Maps and Geolocation.
Manage Inventory: This shows the list of all transactions done and these all are monitored by the admin.
View Reviews and Ratings: This feature allows admin to view the feedback from all the customers and based on them act further.
Reports and Analytics: Admin can generate all the reports with a single click in pdf formats that consists of the number of orders, transactions, and the stock of cards, etc. and get insights for his business.
User Panel Features
Registration: The user has to be registered into the application with their credentials to access the designs from the application.
View/Select: Users can view the number of designs and styles list and can choose the desired design.

Make and Manage Orders: This feature allows the user to make an order for cards and manage them by scheduling the orders by canceling/ revoking/pre or postponing.

Add/Manage Cards on the Cart: User can add any number of design cards in their wishlist in the cart and manage them.

Notifications: Users can get notifications on the orders made by them, delivery details, and payment details (successful/unsuccessful).

Track Delivery: The customers can track the location of the to be delivered products.

Payment: Customers can make payments online or cash on delivery based on their preferences.

Rating/Review: All the customers can view and give the ratings and reviews on the availed services.
Integrated Features
The integrated features of mobile app development for card printing include:
Maps and Geolocation (for live-tracking locations)
Payment Gateways (for monetary transactions)
SMS API integration (to send notifications)
Conclusion
Yeah!. We came to the end of the article. The old conventional methods in making awareness of printing invitation cards will no longer generate you more profits in this digital realm of "GO DIGITAL". Leave writing cards in a word doc an then converting Word to PDF in the past! You have to update yourselves with the latest trends and technology if you want to sustain and reap profits for your industry. So, develop a website for your card printing business now and give a competitive edge to your competitors.