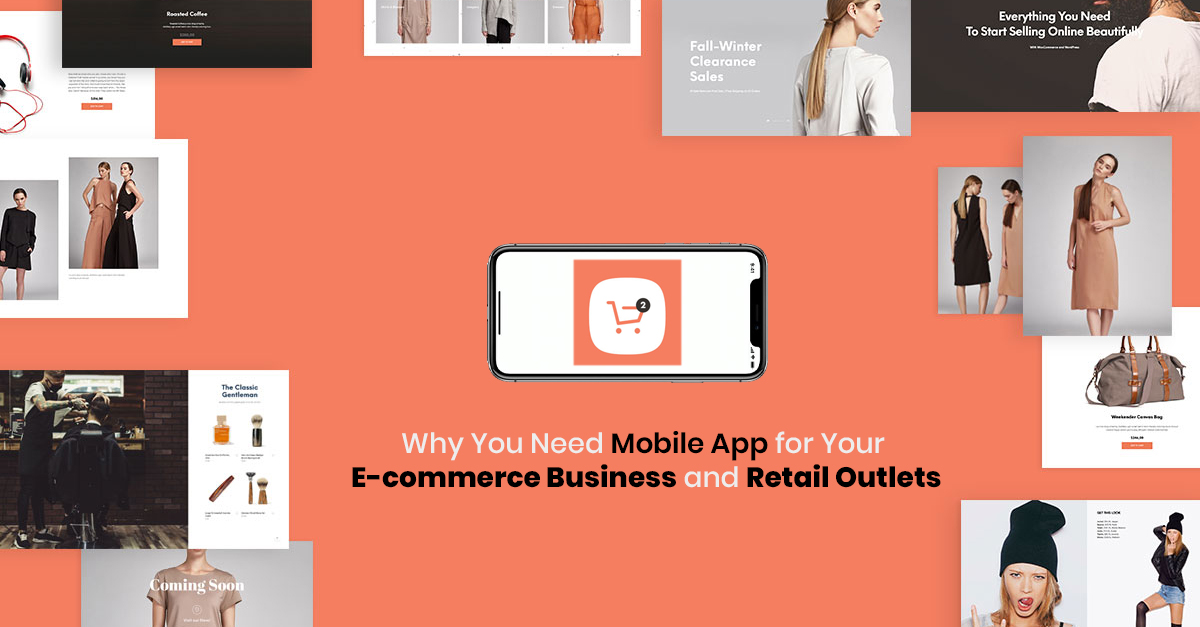 Published June 13,2018 by
Tvisha
Why You Need Mobile App for Your E-commerce Business and Retail Outlets
The introduction of Ecommerce made the whole business field, more of online. Availability, mode of service, varieties of choices, flexibility and time-saving have been the interests of audience, while analyzing customer importance, targeting specific audience and cross-channel connections have increased the scope of online businesses for ecommerce development companies.
The scope of online business has today expanded its wings from just collecting the data from the customers, maintaining user-interface, easy navigation, check-out, sign-in etc. to analyzing the requirements and orders of the customers depending on their cost-effectiveness. This has got a more deeper advantage than it seems. Ecommerce business analysis makes it easier to focus on specific targeted customers and increase the sales. This ease of helping the customers make buying decisions, increase the goodwill as well as the customer-friendliness of the company.
Google's Viewpoint
Google defined this on-going strategy in ecommerce as "Micro-moments" which point the important demands of customers like "I want to know, I want to do, I want to go, and I want to buy" moments. A customer demand should be met at once and the ecommerce companies that utilize such micro-moments which lasts for few seconds benefit the most.
When the customer wants to know about the services nearby or about the online shopping for certain product, it is the time to advertise the product or service to the customer, which is much easily done through mobile apps. An Ecommerce app development company can help in meeting the demands of targeted customers. Similarly, when the customer wants to do shopping, the instructional videos of "how to do" help them reach our product as soon as possible. Ecommerce app developers can embed these videos into the mobile app for easy access. In the same way, when the customer wants to go and buy a certain product by physically examining it, the information provided regarding the nearby outlet as and when the customer demands, helps boost the business. Ecommerce developers can design he app to enable the customers utilize these services or buy the product.
Why Micro-Moments Matter?
By the end of 2018, the mobile ecommerce sales, are projected to reach 27% of all the ecommerce sales. This shows the power of mobile ecommerce apps which help you to reach your targeted customers as immediate as possible. So, an ecommerce development company should opt forecommerce app development for a steep growth in online business. Let's understand the use of mobile ecommerce in detail.
For example, a shopper wants to buy a pair of sunglasses. Previously, she used to identify her need, then would research on her desktop for available options, assess brands and offers on that product and then would have made a purchase.
While the things have changed a lot now. The same shopper might have visited a certain online store when a new pair of Sunglasses attracted her. Though she didn't plan to buy that, this Ad keeps on following her through the internet, with various models and price rangers reminding her that she had an eye on the product once. With the help of this Ad retargeting, she will take some time to have a look at her favorite brand which she might have liked on social media and look up for coupon codes to make a purchase, cost-effectively. This kind of advertisement gives customer satisfaction as well as increases business.
Now, none would deny that mobile is playing a major part in this ecommerce business at this point of time and that these micro-moments are the essential ones to take care of.
What are the Golden Moments?
Whenever time arises for any business to flourish, that's a Golden moment for that business. These keep on occurring, but one should be eager enough to grab the opportunity to serve the customers and to gain customer-loyalty. According to Google, there are four types of Micro-moments, which reflect the thinking of a customer.
I-want-to-Know-Moments: When someone is exploring or researching but is not necessarily in purchase mode.
I-want-to-Go-Moments: When someone is looking for a local business or is considering buying a product at a nearby local store.
I-want-to-Do-Moments: When someone wants to help completing a task or trying something new.
I-want-to-Buy-Moments: When someone is ready to make a purchase and may need help deciding what to buy or how to buy it.
These are the moments when a customer wants to get the need, and this is the time all the ecommerce developers await. With the ideology of providing better service to customers by finding the targeted customers all the ecommerce portals are developing apps with the help of ecommerce app development companies. Customers are obviously attracted when best brands serve them with quality goods and services.
Hence, anticipation of micro-moments of the customers and being present for their needs is desired. Along with that, providing the relevant information of their search is most important. For example, when a customer is looking for some sunglasses, suggesting buying spare parts for the car or bike is enough to irritate the customer. Unlike that, if some other cool shades, goggles or frames were suggested, there are more chances of a customer sticking to the portal for some more time, exploring what all we have got.
Be accountable on what you are providing the customer, on what products the customer is interested in and so, to keep an account on what to be served and how.
Why do we need Mobile Apps?
With all the ongoing changes in ecommerce industry, Mobile apps are definitely the easiest way to gather user information, to study the users' behavior, their interests, the choices they make and thus to analyze their expectations. Apart from specific users, the varying demands for products and services of certain category like best and average sellers, seasonal demands, replacement requests are all analyzed for better business prospective.
When a customer installs an ecommerce app in a mobile, the basic information reveals the customer interests and the time spent on each page, orders made to cart, rejections done, the purchases made etc. all tell the purchase interests of the customer and his behavior. An ecommerce app development company can make this easy for a businessman who aspire to achieve higher targets.