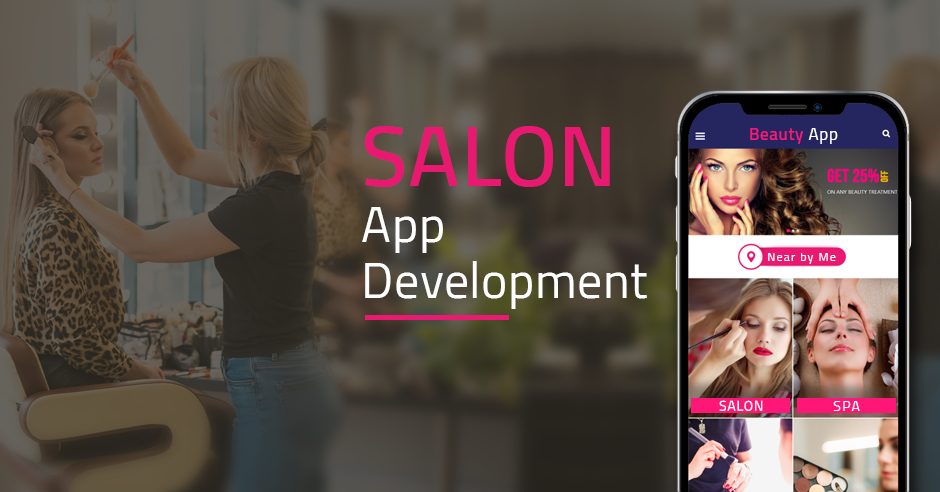 Published October 02,2019 by
Vrushanjali Thippabathula
Beauty App Development For Parlor, Salon & Spa
"Parlors are developed to enhance the beauty and mobile apps are developed to enhance business growth."
Everyone irrespective of age and gender desires to look young and have smooth and charming skin. These days, it has become mandatory for people to spend some time at the parlors, saloons, and spas. Though the spa centers are recently emerging in the country, they too have huge demand. Now its time for business owners to meet all the needs of their customers and manage the parlor - a tough proposition to handle with a single website. The advent of technology brought a dramatic change in the way businesses run. Thanks to the beauty app development company that helps in showcasing the world-leading beauty products, latest hairstyles, a variety of spa services by designing mobile apps.
Features of Beauty, Salon, and Spa Centers:
The feature panel for this app development will be incorporated with 3 panels. Admin, User, Experts (Beauty experts/hairstylists/spa therapists).
User Panel
1. Registration
Everything starts from here. Users or customers can log in to your beauty application through their credentials.
2. Make and Manage an Appointment
Users can make/cancel/schedule/reschedule an appointment for a service as per their preferences.
3. Customization of Beauty Services List
Users can view all the list of services, locations, and the profiles of beauticians, hairstylists, and spa therapists and choose one among them as per their preferences and type of services.
4. Offers, Combo Packages, Coupons, Discounts
These are the best ways to attract and retain loyal customers for your parlor. Offer all types of discounts, combo packages on all types of services.
5. Alerts and Reminders
This feature allows users to receive notifications and alerts on successful payments, unsuccessful payments, accepted appointments, canceled appointments, rescheduled appointments, etc.
6. Ratings and Reviews
All the users can rate and review all the services they have availed. This feature is helpful for both new customers and businessmen. Admin can know the customer satisfaction with the services through this feature and he can improve the services.
Experts Panel
1. Registration
Like users, the beauticians, hairstylists, spa therapists need to register themselves into the application through their credentials.
2. View/Manage Profiles
All the beauty experts, hairstylists, spa therapists can view and manage their profiles by updating their skills in various beauty or saloon or spa services.
Admin Panel
1. View and Manage all Profiles
Admin can view the profiles of both users and accept them. He can also accept or reject the profiles of beauty experts, hairstylists, and spa therapists based on his company's portfolio.
2. Beauty Services and Experts List
Admin can add or remove all the services such as hair coloring, hair straightening, hair cuts, hair conditioning, manicures, pedicures, facials, hair spa, massages based on availability at his saloon, spa, or parlor.
3. Tagging of Cost
Admin can tag the price for each service and he can manage them by increasing or decreasing the cost for each service.
4. Dashboard
From the dashboard in the application, the admin can view all the appointments, service orders, canceled appointments, total registered users and staff, monetary transactions, and everything.
5. Inventory Mangement
Admin can manage the cash flow in the application by accepting the transaction from users and by crediting the amount to the staff as their salaries.
6. Reports and Analytics
It is the prominent reason for every business to go for mobile app development. It gives deep insights into the business. Admin can generate all the reports on a daily/weekly/monthly/yearly basis.
Integrations
1. Payment Gateways
Every app must have to be integrated with payment gateways to go cashless and hassle-free monetary transactions. If you want more footprints for your parlor, spa, saloon then you need to allow credit and debit cards and other third party payment gateways. However, ascertain that you provide impeccable security to customer's data on monetary translations.
2. Push Notifications
It is a great feature that every mobile app will have and it is more or less like an in-app advertisement. You can send notifications on all the latest trends, offers, new services, new hairstyles, etc.
3. Geo-Tagging
This feature helps customers to locate the saloon nearer to them and if you provide any home services, then it helps your staff to locate the customer's home hassle-free.
4. Calendar
The calendar is integrated into the application for the beauty experts, admin, and users for schedule management of bookings according to their availability.
5. Live Chat
This allows users, admin and all the staff of the hair, saloon, and beauty services can communicate with each other about any queries.
Benefits of Beauty App Development
These are the advantages of spa, salon, and beauty app development that makes all the businessmen go after mobile applications.
Hassle-free bookings/appointments/Payments
No need of long-waiting queues at parlors, spas, and salons
Automation of business process
Easy exploration and showcase of all types of hair services, beauty products, and its services, and spa services.
Increased footfalls
Brand reputation
Enhanced ROI
How much does the app cost?
The cost of the beauty & salon app development depends on many parameters such as the cost to designers and developers and testers; the mobile platforms; the number of features and their complexity, integrations, and technology stack used. The cost for a single beauty/salon/ spa application will start from $3000 and stretch up to $7000. If your business offers three entities (beauty/salon/ spa) then the average cost will be more or less between $15000 and $20000. And you have to wait at least 2-3 months to deploy your app in the App Store and Play Store.
Wrapping Up
Why wait? Providing all the customers' varied needs is all about a successful business. Choose and associate with a beauty and Salon App Development Company and design a robust mobile app for your business. Connect all beauty, saloon, and spa services in a single interface and grow your business.
Have an Innovative app Idea
Get a Free Quote to Build & Manage your App..!