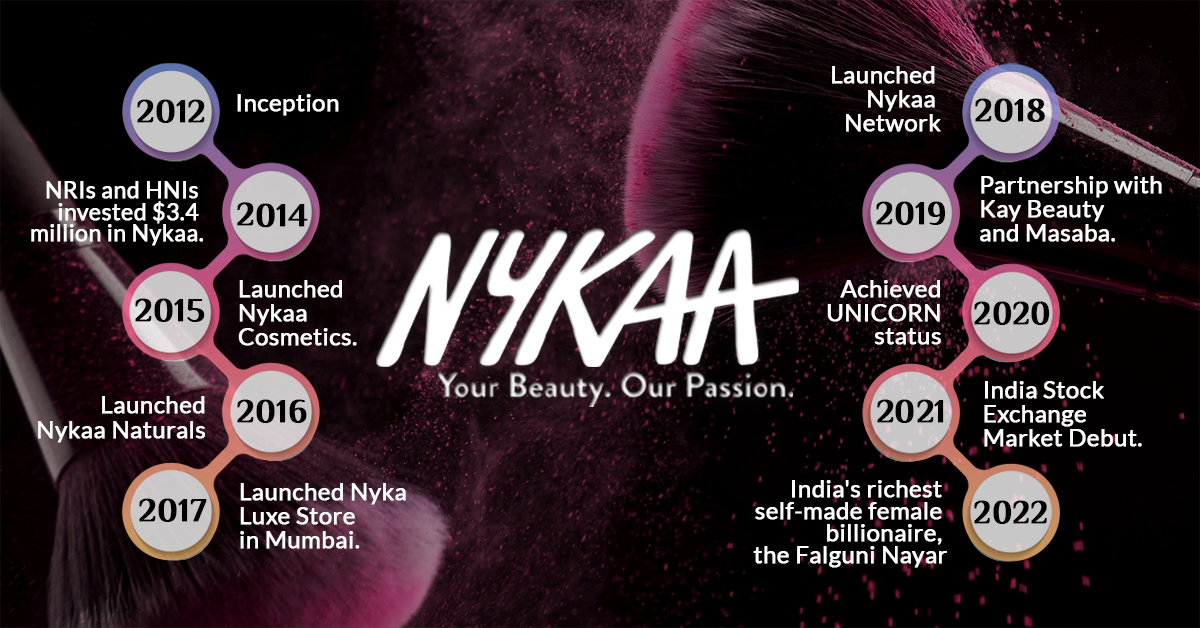 Published October 11,2022 by
SRIDHAR
Nykaa Success Story - The First Indian Unicorn Headed by Woman
Think BIG but Start SMALL– Falguni Nayar, CEO of Nykaa
Fashion and Lifestyle matter!
Fashion allows people to express themselves and lifestyle is the way they live. Everyone love and respects a well-groomed person. That's why fashion and lifestyle have become the essence of life.
As India's largest and fastest-growing lifestyle retail brand that sells beauty, health, and fashion products, Nykaa continuously seeks innovative ways to offer personalised products so that people can improve their beauty and lives.
Kudos to the Nykaa brand that never stops delivering more than what we expect and inspiring all, especially women.
This India's first women-led company has garnered its attention for entering the unicorn club in March 2020 just after 8 years after its inception.
Let's know the Nykaa success story and walk through its milestones...
Before diving into the milestones, let us look at how it all began.
The Inception of Nykaa Success Story :
The Nykaa story begins in 2012. Because the company was established in 2012 by Falguni Nayar, the richest self-made Indian women entrepreneur. The company's headquarter is in Mumbai, Maharashtra. The company sells products and cosmetics for beauty, health, and fashion. In no time, Nykaa has gained worldwide popularity for delivering beauty and wellness products of various brands without compromising on quality.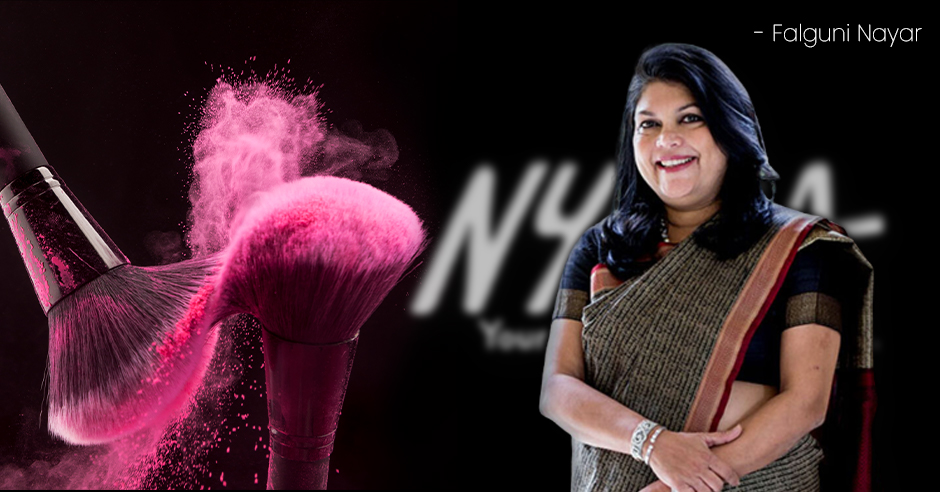 Founder: A well-settled professional banker turned entrepreneur!
Falguni Nayar, the founder and CEO of Nykaa. Being a woman, she proved that old age is not a barrier to starting a business and succeeding. She started her entrepreneur journey with Nykaa after resigning from Kotak Mahindra Group at the age of 50 years. Nykaa has grown by leaps and bounds over the past decade. That's why Falguni Nayar success story inspires all, especially women.
She was an alumnus of IIM Ahmedabad and did her MBA in Finance. After her post-graduation, she worked as a manager for A F Ferguson & Co for 8 years. Then, she joined Kotak Mahindra Group. Nayar led Kotak Securities before becoming the Managing Director of Kotak Investment Banking. She worked for this leading investment bank in India for long 19 years.
Accolades of Falguni Nayar:
Nayar has received many accolades throughout her career for her contribution to the Indian beauty and wellness industry. The Nykaa CEO story is incomplete without a list of awards mentioned below. Read on.
Falguni has won the 'Woman Ahead' award at the Economic Times Startup Awards-2017.

At the Economic Times Awards for Corporate Excellence-2019, she was awarded Businesswoman of the Year. Excellence-2019.

She was enlisted as one of Asia's Power Businesswomen-2019 by Forbes Asia.

She was recognised as Businessperson of the Year-2019 by Vogue India.

She was awarded the EY Entrepreneur of The Year-2021 Award by Ernst and Young under the startup category.

She was the recipient EY World Entrepreneur of the year-2022 award.

She was named the richest self-made Indian woman by IIFL Wealth Hurun India Rich List-2022. She ranks 33rd under the 100 billionaires list with a net worth of INR 38,700 crores.

In addition, she serves on the boards of Endurance Group, Dabur, ACC, and Tata Technologies.
How was it Started?- The Beginning
It all started from scratch! Falguni Nayar entered this beauty and wellness industry with little knowledge of the retail industry, beauty products, and technology. Despite significant market demand, India's beauty and cosmetic products industry did not reach the scope of the products seen in other countries such as France and Japan. Furthermore, more products were determined to be unavailable in many locations across the country.
All this prompted Falguni Nayar to create Nykaa under the parent organization named FSN E-commerce Ventures Pvt Ltd. That's the reason she resigned from her secured and high-paid job and started Nykaa with just 3 employees. In the early stage of this company, it received a few orders around 60. Now, the Nykaa brand has become a pioneering beauty and fashion e-commerce platform in the world. She proved that anyone could attain tremendous success at any age with passion, perseverance, and hard work.
What does NYKAA offer - Products and Services?
Nykaa has around 1,30,000 products from more than 500 brands. It is a one-stop destination for beauty. Its products are categorized into Makeup, Skincare, Hair, Appliances, Fragrance, Bath & Body (Manicure and Pedicure tools), Pop-ups (Bags, Footwear, clutches, makeup pouches, vanity kits), Mom & Baby, Health & Wellness, Men's store, and Natural (skin related products such as face oils and under eye care).
Nykaa provides comprehensive content that includes beauty advice, product reviews, Beauty Book, Nykaa TV, and Beauty buying guides. Beauty book, Nykaa's digital magazine consists of blogs related to makeup, beauty, fashion and fitness of women. On Nykaa TV, you can find various videos that provide the best makeup and beauty tips by well-known experts and vloggers. And Beauty buying guides help and assist you with how to shop on Nykaa.
The Nykaa helpline is intended to assist online shoppers in selecting products and services that are suited to their specific needs. In addition, this beauty and wellness brand's products are procured directly from the manufacturing brands and are thus authentic; Nykaa already sends its items throughout the Indian subcontinent and to Nepal, and it will soon begin worldwide shipping to many additional nations!
Challenges Encountered and How They Overcame Them?
Nykaa has faced many challenges during the journey. The challenges faced by Nykaa and Falguni Nayar as mentioned below.
Unique Selling Point (USP):
Nykaa has entered the beauty and fashion industry very lately. There are already key players such as Myntra and Ajio in this sector. So, it has to create a USP for its brand. They purchase directly from the brands, and they like to sell a product to its full cost rather than selling a poor quality product at low prices.
System Downsides:
In the initial days, there were frequent downsides, system crashes, and functionality glitches on its website. However, it has fixed all the bugs and continued growing.
Keeping Up Interest and Uniqueness:
It is the biggest challenge in Nykaa story. Shoppers won't attract towards a regular catalogue of products, and they won't like a poor shopping experience as well. So, continuously keeping the shoppers interested and providing a seamless shopping experience for them has become a challenge. For this, Nykaa continuously seeks innovative ways to offer personalised products and offers customers a good shopping experience.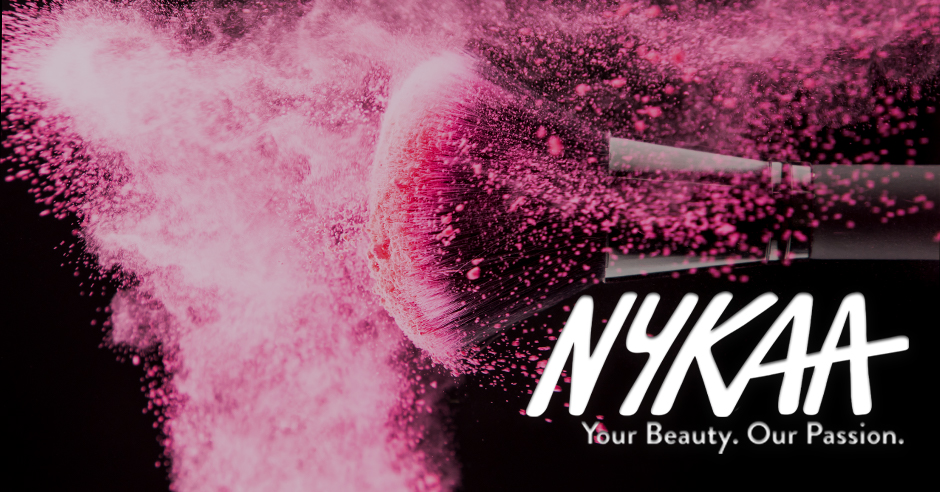 How Does Nykaa Work? — Business and Revenue Model !
Business Model:
Nykaa is a D2C (Direct-to-Consumer) e-commerce brand that operates on an inventory-based business model. It procures beauty and wellness products directly from the manufacturers and stores them in specified warehouses in Bangalore, Mumbai, and New Delhi. These products are available for purchase on Nykaa's website or through its three physical retail formats: Nykaa Luxe, Nykaa On Trend, and Nykaa Kiosks.
This inventory-based business strategy contributes high-profit margins to this company and helps it grow. Furthermore, Nykaa verifies the legitimacy of its items and adheres to fair pricing.
Revenue Model:
Nykaa generates its revenue from selling its own products online and in-store, banner advertisements, income from commissions, discount income, and other miscellaneous income.
Nykaa's Robust Marketing Strategies!
Apart from its inventory-based business strategy, Nykaa has robust marketing strategies that bought global awareness and growth to this brand.
It leverages influencer marketing.

It creates attention-grabbing, relevant, and engaging content.

As it has an intuitive UI that is easily navigable, it provides a seamless UX.

Nykaa collaborates with other companies to deliver their customers' tempting offers and discounts.

It creates and runs unique ads focused on various social issues on social medial platforms such as YouTube and Instagram.
Funders, Investors and IPO:
Today, Nykaa's valuation crossed the $13 billion mark. No doubt! It will become a decacorn in the coming years. It's all because of Falguni Nayar, her husband Sanjay Nayar, CEO of the KKR investment firm, investors, funds, and IPO. To date, the total funding raised by Nykaa is $341.9 million. This is the list of investors who make Nykaa's vision go forward and has been helping in its success.
| | |
| --- | --- |
| INVESTORS | INVESTMENT |
| Anchor Investors | INR 2,396 Crore |
| Fidelity Management and Research Company | Undisclosed |
| Steadview Capital | $13 million |
| TGP Growth | INR 191 Crore |
| Lighthouse Funds | INR 113 Crore |
| TVS Capital Funds | INR 25 Crore |
Bollywood actresses Katrina Kaif and Alia Bhatt, and other famous personalities had personal investments in Nykaa. Katrina Kaif has started Kay Beauty in partnership with Nykaa founder Falguni.
IPO (Initial Public Offering):
Nykaa had its first public offering (IPO) on October 28, 2021, and the band was set at INR 1,085-1,125 per share. It has received 82X subscriptions within three days. The bids for Nykaa shares totalled around $32.53 billion and these shares are listed at an 80% premium. Nykaa's shares were listed on the BSE for INR 2001, a premium of 77.87% over its issue price of INR 1125. On the other side, the scrip was launched on the NSE at INR 2018 at a premium of 79.38%.
The IPO was 81.78 times oversubscribed, raising 5,352 crores (US$670 million) at a value of US$7.4 billion. Nykaa went public on the NSE and BSE on November 10, 2021, and its price increased by 89.2% on the first day, valuing the firm at almost $13 billion. Falguni Nayar, the company's founder, has become India's wealthiest self-made female billionaire with a 53.5% share. Nykaa's shares reached a high of 1,390 per share on the BSE at the end of May 2022.
Major Acquisitions By Nykaa:
So far, Nykaa has successfully acquired 5 companies. They include Nudge Wellness, Kica, Earth Rhythm, Dot & Key, Little Black Book, and Pipa. Bella, 20Dresses, etc.
| | | | |
| --- | --- | --- | --- |
| ACQUIREE NAME | BRAND | HQ | DATE |
| 20Dresses | Online fashion and styling | Mumbai | 22nd March 2019 |
| Pipa.Bella | Fashionable costume Jewellery | Mumbai | 12th April 2021 |
| Dot&Key Wellness | Skincare | Kolkata | 22nd October 2021 |
| Kica | Women swimwear | New Delhi | 22nd April 2022 |
| Nudge Wellness | Nutraceuticals and Wellness | New Delhi | 22nd April 2022 |
| Little Black Book | Destination for Local Brands and Places | New Delhi | Soon |
| Earth Rhythm | Skincare | Gurgaon | Soon |
| MensXP | Fashion and styling for men | Gurgaon | Soon |
Milestones - The Rise of NYKAA
Here is a quick glance at Nykaa's growth milestones since its inception.
2012:

Inception of Nykaa under FSN E-commerce Ventures Private Limited.

2014:

NRIs and HNIs invested $3.4 million in Nykaa, Opened its first physical store at T3 International Airport in New Delhi.

2015:

Omni-channel presence across the country, Launched Nykaa Cosmetics (Makeup and Beauty accessories)

2016:

Sunil Munjal from Hero Group led a $ 12 million funding round, Launched Nykaa Naturals.

2017:

Launched Nykaa Luxe store in Mumbai

2018:

Launched Nykaa Man and Nykaa Fashion and Nykaa Network (Beauty community)

2019:

Launched Hygiene Essentials during the COVID-19 Outbreak, Launched Masaba by Nykaa, Launched Kay Beauty in partnership with Katrina Kaif, a Bollywood actress, and Acquired clothing brand 20Dresses.

2020:

Achieved UNICORN status, Launched Nykd by Nykaa.

2021: India Stock Exchange market debut, Launched Nykaa Fashion store in New Delhi, Acquired jewellery brand Pipa. Bella, Launched the first multi-brand store for Nykaa Fashion.
2022: Falguni Nayar has become India's richest self-made female billionaire.
In News and Accolades:
Nykaa awarded "The Disruptor of the Year" at the 17th India Business Leader Awards
It has a track record of a surge in its share values on the stock market as it gained 96% returns on investors' capital of the company.
Nykaa founder Falguni Nayar is India's richest woman as per the IIFL Wealth Hurun India Rich List-2022.
Nykaa has entered into Unicorn club in 2020.
Future Plans of Nykaa:
Currently, it has 17 million MAUs (Monthly Active Users) and has 70 physical stores throughout India. Also, it processes around 1.5 million orders per month and thousands of brands are available through this company. Moreover, it has nearly 3.1 million SKUs (Stock Keeping Units) on its website, app, and in its physical stores. In near future, Nykaa is going to enhance its operations by setting up 180 physical stores across the country by 2024 and expanding its warehouse capacity by 40%.
Wrapping Up:
The Nykaa founder story and her entrepreneurial journey towards success are unbeatable, which got us curious about how she in her 60s could achieve tremendous growth and unicorn status within just 10 years. Thanks for reading. I hope Nykaa success story inspires millions.
You can also read our previous inspiring success stories such as Amazon success story and Redbus success story here.
If you have any business ideas like Nykaa, you can reach us for e-commerce website development or e-commerce development. We, Tvisha, an ISO-certified website and mobile app development company, provide fast-track IT solutions for unique requirements.