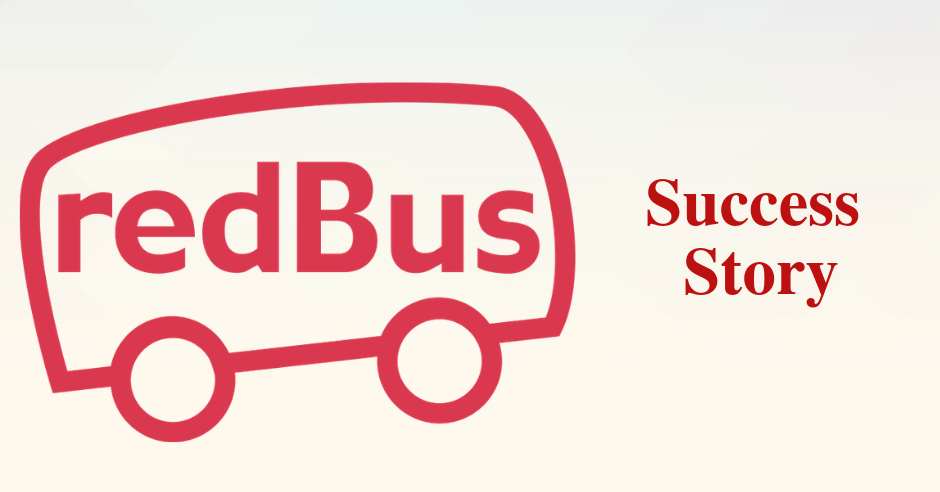 Published January 24,2023 by
Tvisha
Redbus Success Story: Revolutionizing the Way India Travels
Redbus success story helped the company succeed and paved the way for other Indian travel agencies to pursue risky actions. RedBus is an online bus ticketing service based in India that allows booking tickets via its website and iOS and Android mobile applications. Company headquarters are in Bangalore, and its primary function is to serve as a conduit for a network of more than 2000 bus operators spread across India, Peru, Malaysia, Singapore, Indonesia, and Colombia. It claims to have a customer base of over 20 million and that it has registered over 180 million journeys. The business quickly rose to the top spot in the global bus ticketing industry following its founding. The world's most outstanding bus ticketing software has made online bus ticketing seamless, putting travelers at peace like never before.
Success Story of RedBus - ENGINEERS TO ENTREPRENEURS
Traveling is a necessity for everyone. From kids to elders, everyone travels to somewhere daily. The purpose varies from the necessity or pleasure. The available avenues for transport are many-ranging from airplanes to autos. But the most commonly used mode of transport remains to be the BUS. Public transport buses are limited within the cities. For traveling from one city to another city is provided by private buses which are operated by bus operators under the supervision of travel agents. There will be hardships when traveling from one city to another city in case of limited seats, limited service providers and especially in the seasons of festivals. We had many buses around for traveling which provides AC and non-AC buses and other types of buses.
Booking of tickets gives a new experience to the travelers as it is an easy and efficient way to buy a ticket. After train and plane ticket bookings, the bus ticket booking also raised. Presently, there are a number of providers who provide online bus ticket booking. However, the first and now the top bus ticket booking platform is RedBus
Redbus is an online bus ticket booking platform which facilitates comfortable and affordable traveling to millions by providing dynamic and efficient online bus ticket booking system.
The Journey and Redbus Success Story!
Redbus Foundation: How it happened?
The Redbus success story founded with the three key people Phanindra Sama, Charan Padmaraju and Sudhakar Pasupunuri. The RedBus.in founders story comprises three engineers from BITS Pilani are the founders of the Redbus. After their graduation, they worked for MNCs in Bangalore. Phanindra Sama worked for STs electronics and Texas Instruments, Charan Padmaraju for Honeywell and Sudhakar Pasupunuri for IBM. Phanindra Sama was the master brain in evolving Redbus. He was the RedBus.in chief executive officer for Redbus for 8 years. Goibibo is the redbus parent organization and part of India's leading travelling organization MakemyTrip Limited.
The seed of Redbus success story shown on the entrepreneurial ground when Phanindra Sama trying to travel from Bangalore to Hyderabad for Diwali vacation in 2005. He could not get a bus ticket to travel to his hometown. He wandered around the Bangalore for a ticket. But he didn't get. That day, he came to know the disorganization in the system and communication gap between bus operators and travel agents. There is no translucent on available seats and price of the ticket. And everything was done there is through phone calls and for return tickets, need to go to the agents every time.
Sama felt it like clumsy. He believed that it could be solved through online. Then he discussed with his friends and three of them together decided to enter the realm of the entrepreneurial ground even though they didn't have entrepreneurial bug initially.
Origin of the Name:
The name was taken from the color of the Virgin brand which is started by Richard Branson as Sama was fascinated by his autobiography. He wished to have a color for his business. And the color of the Virgin brand is Red. And another reason is as it is online based and for the people's convenience they want to put the easiest and catchy name for their Redbus startup story. So, they finally proposed the name as the Redbus.
The Journey of Redbus Success Story:
The redBus story begins when the three engineers left their comfortable and affluent zone. In January 2006, the three started working on the solution. They built software and tried to sell it. But that doesn't pay off. Then they came to know about TiE Entrepreneurship Acceleration Program, Bangalore. They met the TiE team and discuss their plan.
The TiE assigned three mentors for them. They gave the idea of starting their own business and gave them assignments about the project. It is like a survey. They are fastidious in the assigned work. The three young entrepreneurs surveyed all the details like the number of buses, number of routes, the costs of a ticket, the way the people buy a ticket, profiles of customers, shares of bus operator and an agent.
They started it in August 2006 with only one operator, 5 seats with 5 lakh rupees. The Redbus startup story brought a revolution in the bus industry. They built a website with a name, redbus.in. After redbus.in founded, they went through the hardships and seasons of suffering throughout the whole journey before tasting success.
The Redbus success story didn't end here. Redbus today is roaring with success as an online bus ticket booking company with 10,000+ buses, 700+ bus operators, operating in 15 states and sells at least 5,000 tickets daily. It is a fast-growing startup. Redbus prolonged their services to hotels, bus hire, and pilgrimages. The redbus.in headquarters are in Bangalore, which operates like a hub as the medium for bus operators across different countries in India and Malaysia etc.
Redbus Ticket Booking Offers:
The three young entrepreneurs make the traveling of millions very convenient and comfortable. The Redbus offers:
Multiple Travel Options Across Thousand of Routes
Excellent Customer Support for solving travel issues
Low-cost tickets
Provides extra benefits (Discounts, deals, and festive offers, etc.)
M-ticket, E-ticket, and Counter ticket
Luxurious hotel services
Bus hirings
Pilgrimage tours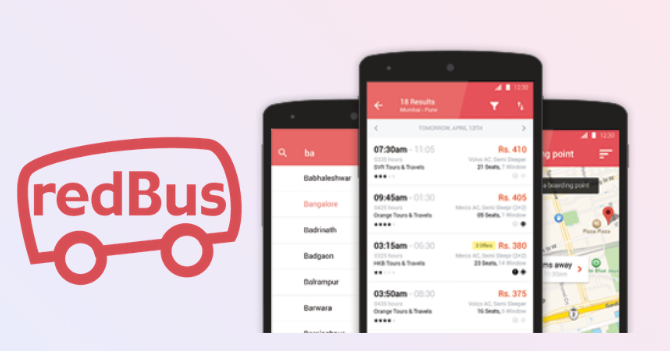 RedBus Investors:
The investors for globally recognized redbus.in are:
TiE
Inventus, and
Helicon ventures
In just a few years of their journey, the three entrepreneurs amped up its revenue above $12M.
Redbus Challenges:
The Redbus success story prolonged its operations across various countries besides India are Colombia, Indonesia, Peru, Malaysia, and Singapore.
The challenges they had to face in operating this red bus success story includes:
Payment gateway issues
Propagate the same working environment, culture and value system in different countries. To meet this challenge, they frequently travel to the countries and communicate through emails.
Globally, Redbus now has 8+ million customers, 2300+ bus operators and 100 million trips are booking worldwide using ticket booking app development. Redbus sold their stake to Ibibo groups, South Africa for $135 million.
Currently, Prakash Sangam is the CEO of redbus.in since 2014 and Anoop Menon is the CTO (Chief Technology Officer) of redbus.in
Redbus Achievements:
Phanindra became the second entrepreneur from India to join Endeavour.
The most innovative company from the business standard.
The most trusted brand from the brand trust report.
Mobile innovation award from the eye for travel.
Phanindra Sama placed under "40 under 40" by Fortune India in 2014.
Phanindra appointed as the CIO (Chief Innovative Officer) of TSIC (Telangana State Innovation Cell) on 10th November 2017.
Top 5 startup in 2010' by Forbes magazine.
The Redbus startup story reveals that, "Education ignites a better understanding of obstacles".
Ticket Booking App Development:
We can book tickets using apps and also customize the options using the Redbus ticket booking app. We can book Volvo, sleeper or any other type of bus using the app. It also facilitates bus coupons, festival offers, etc. Availability of buses, seats, type of bus and choice bus all are available in the app.
The three young entrepreneurs also developed a software product named BOSS for charter bus operators, which gives smooth access to the information of buses and seating allotments.
Conclusion
It is clear that Redbus success story enters the group of remarkable apps that successfully organize our everyday tasks rather than having excessive functions. Redbus has proven its dominance in the industry by turning each user into a devoted customer.