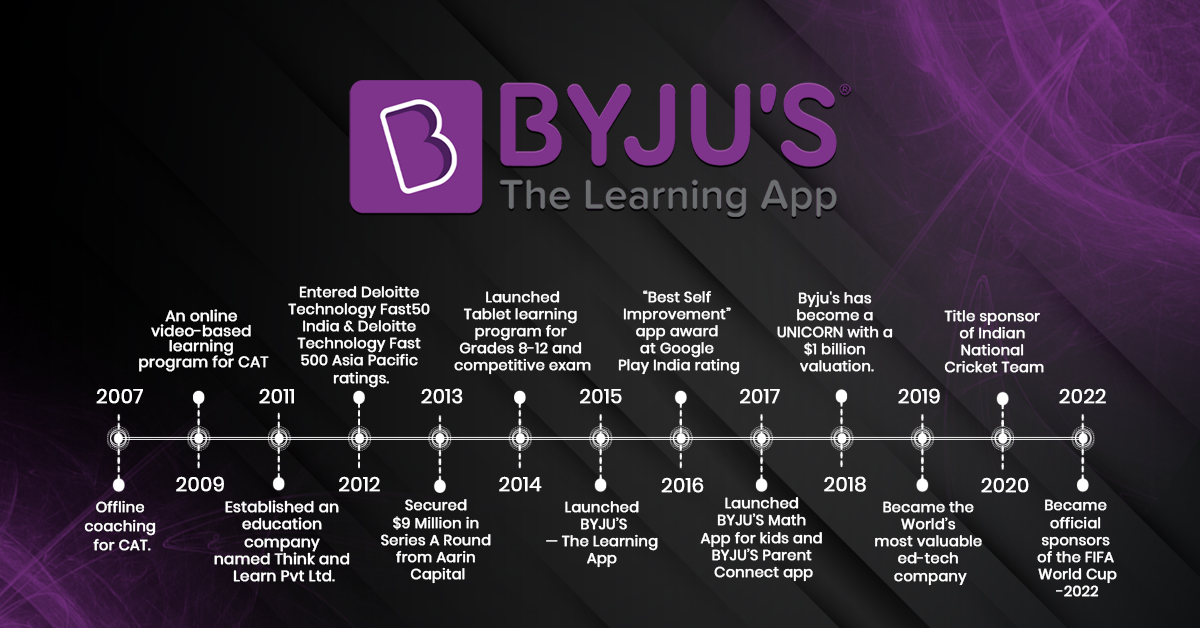 Published September 12,2022 by
Nandini
BYJU'S Success Story - The Journey of India's First Ed-tech Unicorn
"Education is the most powerful weapon we can use to change the world." - Nelson Mandela.
The aforementioned quote was really true. Investing in this education sector has brought laudable achievements across the world in a startup's life too.
That's Byjus!.
Byju's, India's first ed-tech unicorn, needs no introduction. Millions of millennia rely on this online tutoring application in the pursuit of their career success. It has been providing the skill set required for many students to be successful. Headquartered in Bangalore, it also has been offering courses for competitive test preparation and supplementary courses for students since 2011.
Amazingly, just before it turns ten, it has become a decacorn!.
Let's head start to unveil the secret behind its early success!.
Founders and Team: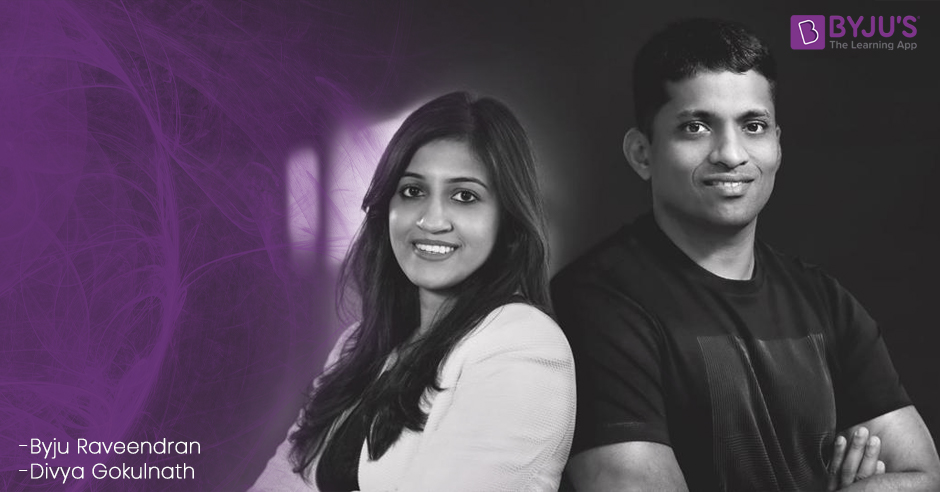 BYJU'S was successfully launched by visionary entrepreneurs Byju Raveendran and his wife Divya Gokulnath in 2011.
Byju Raveendran: A teacher turned entrepreneur!
Raveendran was a bright student since childhood, especially in Mathematics. After his graduation (B.Tech in Mechanical Engineering), he secured a high-paid job as a service engineer in a multinational shipping company. Before he starts his own brand BYJU'S, he used to teach maths to his friends. He cracked CAT exams two times with 100%. Then, he was assured of his capabilities and started an ed-tech company.
Besides, being a teacher and entrepreneur, he is a great sportsman and participated in six different sports. He was honoured with The Indian Express IT Awards (2017), Manorama News Newsmaker award (2019), Ernst & Young Finalist, Entrepreneur of the Year, India and Winner, Business Transformation Award for 2020, Fortune Magazine's '40 Under 40' list (2020), the 'Forbes India Leadership Award (FILA) Entrepreneur for the Year for 2021.
Divya Gokulnath: A teacher turned entrepreneur!
Divya was a student of Raveendran. He used to teach her GRE classes. After wedlock, she went hand in hand with her husband's mission and has been helping him in every way through content, PR, media, etc. In no time, she also became one of the most powerful women entrepreneurs in India.
She received many awards and was listed in LinkedIn Top Voices: India for 2019 and 2020, Most Powerful Women in Indian Business in Business Today, Femina Power List-2020, Forbes Asia's Power Businesswomen-2020, Fortune India Most Powerful Women-2020, Fortune 50 Most Powerful Women In Business-2021, Fortune India 40 under 40 for 2022, and The Indian Express' ExpressAWE-2022.
Funders and Investors
This ed-tech unicorn has gained funds from various globally-known investors such as Aarin Capital, Sequoia Capital India, Chan Zuckerberg Initiative (CZI), Tencent, Sofina, Lightspeed Venture Partners, Qatar Investment Authority (QIA), Verlinvest, International Finance Corporation (IFC), Naspers Ventures, CPP Investment Board (CPPIB), Bond, Silver Lake, Black Rock Inc., Sands Capital Management, Alkeon Capital Management, Tiger Global, Owl Ventures, Times Internet, and General Atlantic. Around $785 million fund was secured by BYJU'S from all the investors.
How was it Started?- The Beginning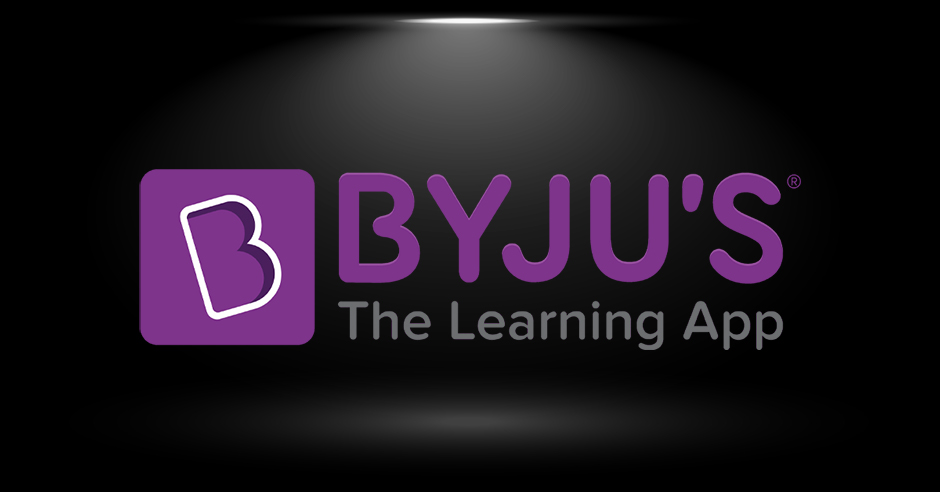 It all started at the terrace of Byju Raveendran's friend's home in 2007!.
This young entrepreneur realised his immense potential and capabilities of teaching when he secured 100% in the CAT exam. After his friends' suggestion, he resigned from his high-paid job and used to provide coaching to a few students on the terrace. And he used to provide coaching to all students free of cost for a week. Then, as the number of students increased, Raveendran started his educational technology company BYJU'S (Think and Learn Private Ltd.) with the tagline "fall in love with learning" in 2011. Think and Learn Private Ltd. is the parent company of BYJU'S.
Then he started to create outstanding educational content with the help of his students who had just graduated from IIMs. From 2007 to 2011, he used to provide coaching for MBA students alone. In 2009, he started an online video-based learning program for CAT. Then after the inception of Byju's, he started his online classes for other branches and state and central competitive exams.
How does BYJU'S work? - Business and Revenue model!
Byju's operates a PREMIUM business model where students required a paid subscription to get the most out of the content. Thus, BYJU's incurs most of its revenue from paid subscribers i.e. students. Besides, it earns revenue from API, offline coaching, career counselling, product sales (electronic tablets, Kits, Workbooks, etc.), and from its website.
What does BYJU'S offer -products and services?
The services offered by BYJU'S Freemium education tutoring software were myriad.
They include:
After enrollment with Byju's app, students can get free access to the information for 15 days
Great Learning strategies for Grade 4-12 (CBSE/ICSE/State) students.
An Early Learning Program for Grades 1-3 students.
It serves 12 state boards
Online and classroom programs for Indian exams such as CAT, IIT-JEE, NEET, and IAS.
Online and classroom programs for International examinations such as GMAT and GRE.
To explain academic courses and concepts, computer animation videos of 12-20-minute length are being used.
It also offers Byju's classes-comprehensive online tutoring, Live classes and a Tablet program for JEE/NEET, and provides books for all.
From April-2021, "BYJU'S Future School" is running which is led by Karan Bajaj, WhiteHat Jr Founder. It also launched in other parts of the country such as Australia, Brazil, Indonesia, the United States, and the United Kingdom.
As of now, Byju's has 40 Million users and 3 Million paid subscribers. Also, it has an 85% retention rate that indicates user satisfaction with BYJU'S products and services.
Challenges Encountered and How They Overcame Them?
Behind every success, there will be a fair share of challenges and obstacles will be encountered by every entrepreneur. Raveendran has also faced many challenges. These are to name a few:
Transforming free trial students to paid customers
Finding the right partners who can help to expand its services to other countries of the world.
Byju's has overcome all the challenges by providing quality content to its users.
Milestones - The Rise of BYJUS
Here is a quick glance at Byju's growth milestones since its inception.
2007: Offline coaching for CAT.
2009: An online video-based learning program for CAT
2011: Established an education company named Think and Learn Pvt Ltd.
2012: Entered Deloitte Technology Fast50 India & Deloitte Technology Fast 500 Asia Pacific ratings.
2013: Secured $9 Million in Series A Round from Aarin Capital
2014: Launched Tablet learning program for Grades 8-12 and competitive exam
2015: Launched BYJU'S — The Learning App
2016: "Best Self Improvement" app award at Google Play India rating; Secured $75 million in Series-C fund led by Sofina and Sequoia Capital India. Secured $50 million in Series-D round from Chan Zuckerberg Initiative (CZI).
2017: Generated revenue of $ 40 Million; Launched BYJU'S Math App for kids and BYJU'S Parent Connect app to help parents monitor their kid's learning courses, BYJU'S app has become a business case at Harvard Business School.
2018: Doubled the revenue to $80 Million from the previous financial year; Gained 15 million users and 9 lakh paid users; Byju's has become a UNICORN with a $1 billion valuation.
2019: Became the World's most valuable ed-tech company, Its mobile app has 40 million subscribers and more than 12 million downloads on Android's Play Store.
2020: Title sponsor of Indian National Cricket Team; Became a DECACORN after the investment of Bond at US$10.5 billion valuations, Title sponsor of the Indian Super League club Kerala Blasters FC, Raised US$200 million in a fresh funding round led by BlackRock and T. Rowe at $12 billion valuation.
2021: Secured $460 million in Series-F funding round; B Capital, Baron Funds, and XN invested $1 billion in Byju's. Secured $50 million in a Series-F round from Maitri Edtech and IIFL's private equity fund; $296 million in a Series-F round from Oxshott Venture Fund, Edelweiss Group, Verition Fund, XN Exponent Holdings, and MarketX Ventures.
2022: Raised $800 million from Byju Raveendran, Sumeru Ventures, Vitruvian Partners, and BlackRock; Became official sponsors of the FIFA World Cup-2022; In March 2022, Byju's raised $800 million, reaching a valuation of $22 billion.
Major Acquisitions By Byju's:
Through its online learning initiatives, BYJU'S aims to provide students with a high-quality education. Each acquisition mentioned below has brought BYJU'S added value to their content. The list of acquisitions includes Aakash Educational Services Limited, WhiteHat Jr., Osmo, Great Learning Pvt. Ltd, Epic, TutorVista, Edurite from Pearson, Tynker, Scholr, Toppr, Gradeup, HashLearn, Whodat, and GeoGebra.
In News:
Byju's was the first company in Asia to receive an investment from CZI (Chan-Zuckerberg Initiative), co-funded by Mark Zuckerberg, Facebook founder and his wife Priscilla Chan.
It was mentioned in Your Story, The Times of India, mint, Business Insider, The Economic Times, and On Manorama.
Accolades:
Parents' Picks Awards-2022: BYJU'S Learning App featuring Disney and BYJU'S Magic Workbooks featuring Disney were listed in the Parents'
Picks Awards' list of the best educational products in the world for the year 2022
EDTECH BREAKTHROUGH AWARD, 2022 under the e-learning category.
Academics' Choice Award, Spring 2022 under the Smart Media Category.
The National Parenting Center: Spring 2022 Seal of Approval for Educational Products
Tillywig Toy & Media Awards, 2022 in the Software & Electronics category.
Mom's Choice Awards, May 2022
The Parent and Teacher Choice Award, 2022 for personalized learning educational products.
National Parenting Product Awards (NAPPA), 2021.
TIME100 Most Influential Companies, 2021.
EY Entrepreneur of the year for business transformation, 2020.
Forbes India-entrepreneur of the year, 2020-2021.
The Bloomberg 50: the people who changed global business 2020
Wrapping Up:
It's the story of a successful Indian ed-tech company and Raveendran Byju, Founder and CEO of BYJU'S Learning App. It has gained huge success with simple yet effective success mantas- The right audience targeting (students), Provision of better quality content, One-to-one monitoring, Quick and easy learning using animations and videos, and Freedom to learn at one's own pace.
Despite the COVID-19 outbreak, BYJU'S has been growing by leaps and bounds. Now, it's time to go forth and conquer the world. This successful entrepreneur is devising strategies to expand BYJU'S services worldwide. Also, BYJU'S IPO (Initial Public Offering) will be conducted in near future. And he has planned to launch Byju's Tuition Center (BTC) by investing about $200 million as of February 2022. This has been running as a pilot project around in 23 cities and 80 centres. By the end of this year, it may stretch up to 500 centres across 200 cities.