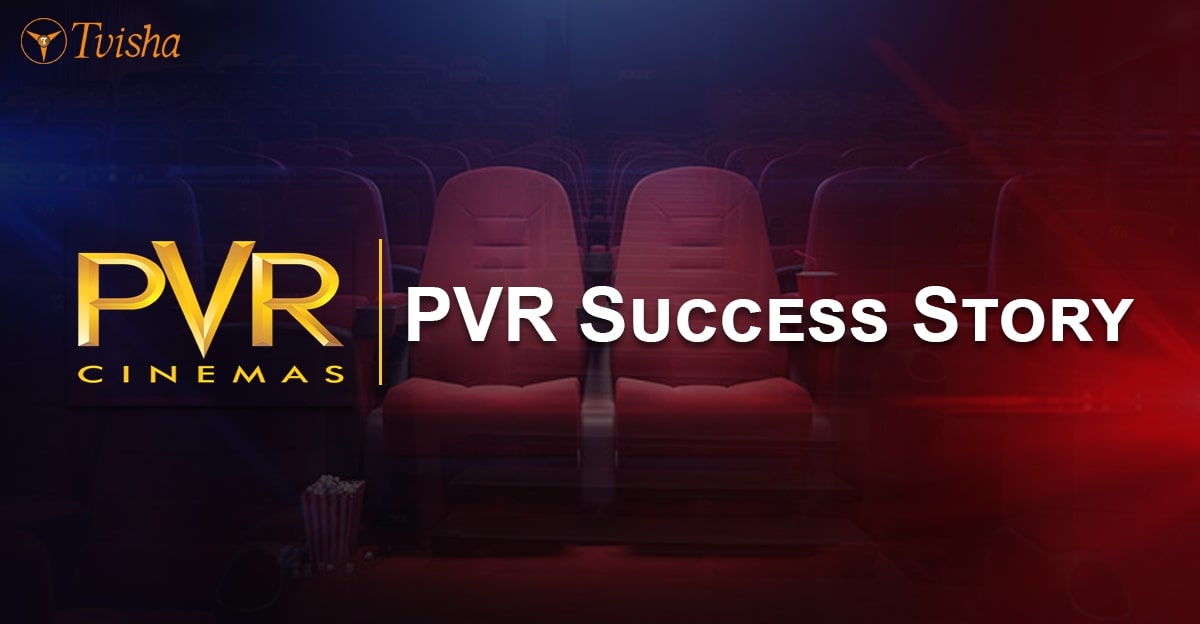 Published January 20,2023 by
SRIDHAR
PVR Success Story - A Saga of Multiplex Revolution in India
Before learning about the PVR success story, let me give you an overview of the circumstances before founding it.
India is the only nation worldwide producing more movies than any other film industry, including Hollywood. But initially, India could not provide Indian filmmakers with the appropriate screen to adequately represent their vision. Even though filmmakers at the time were using various technologies to make films, no Indian screen could give viewers a visual feast.
The first multiplex in the world, The Regal Twins, was constructed in 1936 in Manchester, England. Although many Indian theatre owners were aware of the multiplex concept and its quality, no one had initiated it until 61 years later, which enabled the first phase of PVR success story resulting in waving the flag to start the multiplex revolution in India by building the first multiplex cinema in Saket, New Delhi, India in 1997.
How Did it All Start?
Ajay Bijli, the founder of PVR, who, in a way, can be said to have contributed to the filmmakers' vision. The Ajay Bijli family was in the transportation industry and operated a Delhi theatre called Priya Cinema. Priya Cinema lost its reputation and couldn't keep up with competitors because it couldn't screen popular films for unknown reasons. Ajay Bijli took over the ownership of the Priya Cinema in 1988, and over time he discovered that it was no different from other theatres, which was one of the causes of its poor ticket sales.
To boost ticket sales, he tried screening Hollywood films, considering the demographic of the location. Still, when one of the Indian distributors of Hollywood films commented on the theater's hygiene and ambiance, Ajay Bijli decided to completely renovate the theatre with a 5-star hotel ambiance in 1990, whose success story of PVR Cinemas.

Origin of PVR Cinemas Success Story
On the recommendation of a Hollywood distributor who was one of his professional colleagues, Ajay approached Village Roadshow, an Australian company that manages theaters and distributes motion pictures; the company was reportedly planning to expand into India. In the process, Ajay and Village Roadshow's Asia MD John Crawford founded a joint venture called Priya Village Roadshow with a 60:40 partnership, which later evolved into PVR. In 1997, the company opened India's first multiplex with four screens after leasing Anupam Cinema in Saket, Delhi, under the moniker Priya Village Roadshow Anupam 4.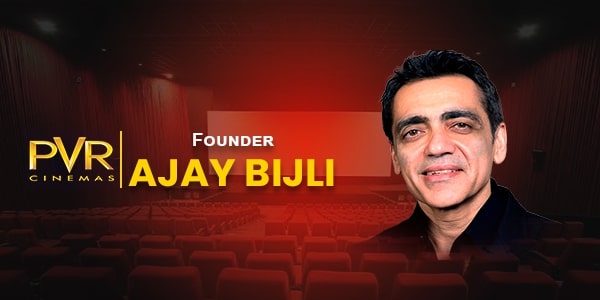 PVR Founders
Ajay Bijli, the PVR owner cum company's chairman and managing director, launched PVR LTD., as was already reported. Sanjeev Kumar Bijli, the brother of Ajay Bijli, is the Joint Managing Director of PVR LTD.
Ajay Bijli's Awards & Recognitions
CNBC TV 18 honored with Asia Innovator of the Year at India Business Leader awards, 2016

International Exhibitor of the Year award at Cine Asia 2017 in Hong Kong

Images retail recognized him as one of the 100 Retail ICONS of INDIA 2019.

E&Y Entrepreneurial Award for Business Transformation

Most Admired Multiplex Professional by CMO Asia's Multiplex Excellence Award

'Business Icon of the Year' at International Film Business Awards by Indywood Film Market and ALIIFF.
Business Model
In addition to the business of screening movies, PVR Ltd. is also engaged in selling food and drinks in addition to producing and distributing movies in India, which also plays a significant role in the success story of PVR.
A well-liked food from PVR offered in their movie theatres is gourmet popcorn, produced and sold by the company.
PVR Growth
Originating with a single theatre in Vasant Vihar named the Priya Cinema, PVR Cinemas has grown significantly over the past 20 years. This one screen was multiplied by 846 screens at 176 theatres in 71 locations around India and Sri Lanka for almost 1.82 lakh seats.
The box office revenue for PVR increased steadily between 2015 and 2020. In 5 years, it rose from 8.24 billion to 17.31 billion.
Over the years, PVR's Food and Beverage (F&B) division has consistently grown contributing fare share to PVR net worth. In FY 2020, they made 960 crores from selling food and beverage.
PVR Revenue Model
Since screening movies is the main business activity, ticket sales account for 46% of total revenue. Food and beverage sales account for 29% of the business's revenue. The remaining 15% of the income is generated by advertising, the distribution of movies, and others.
PVR Cinemas Awards & Recognitions
Fortune India's Next 500 Big and Mid-size companies' award, 2016

CNBC's Emerging India Award

Retailer of the Year—Images Retail Forum 2013, 2014, 2015, 2016 & 2017

India's Most Trusted Cinema Display Brand, 2014 & 2015

Top Multiplex Chain of the year, 2016, 2017, 2018 & 2019 – Big Cine Expo
Acquisitions
A subsidiary of PVR Cinemas, Cine Hospitality Private Ltd, paid 395 crores (US$49 million) in 2012 to acquire the CineMAX theatre chain, owned by the Kanakia group.

PVR Cinemas acquired the DLF group-owned DT Cinemas in May 2016 for 500 crores (US$63 million).

PVR Cinemas announced the purchase of Chennai-based SPI Cinemas for 850 crores in August 2018.

PVR announced on March 27, 2022, that it would combine with INOX Leisure.
Other Brands
In virtue of the PVR company's history, it makes no effort to spare in reinventing the movie-going experience for its patrons. The brands listed below helped the company keep its customer base loyal and became a part of success story of PVR spread through 50+ cities like Hyderabad, Chennai, Bengaluru, Mumbai, New Delhi, and others . Other brands that share their distinctive traits and improve the cinematic experience have been introduced.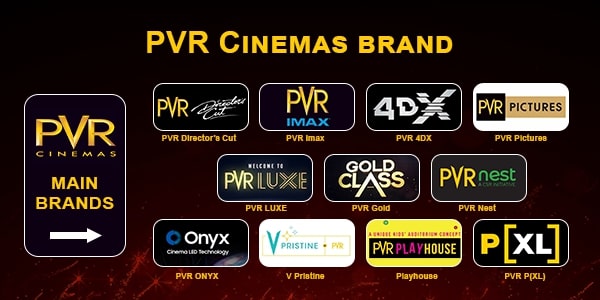 PVR Director's Cut

PVR IMAX

PVR 4DX

PVR Pictures

PVR LUXE

PVR Gold

PVR Nest

PVR ONYX

V Pristine

Playhouse

PVR P(XL)
PVR Challenges
The pandemic, which undoubtedly affected many businesses globally, including movie theatres, which were unable to be exempted in any way, was the biggest challenge PVR has ever faced. Despite the fact that PVR's share price and Ajay Bijli's net worth were both impacted, along with all other companies, he remained optimistic that moviegoers would soon return. In one interview, he stated that one must remain optimistic, particularly as the organization's leader. He also thanked his team members and investors for supporting him financially during the crisis.
As part of the promotion for the movie RRR, PVR founder Mr. Ajay Bijli announced their partnership with the director SS Rajamouli and the movie.
PVR 25th Anniversary
PVR Cinemas has completed 25 years, representing a magnificent milestone. The brand has changed along with the times as technology has enhanced the movie going experience. Ajay Bijli and Gautam Dutta, CEO of PVR, both expressed gratitude to their coworkers, business partners, and moviegoers.
PVR Competitors
The biggest rival initially was Inox, the second-largest cinema chain in India; however, as previously mentioned, PVR Ltd. announced its acquisition of Inox; with or without Inox, PVR would continue to be the biggest movie chain in India.
PVR Cinemas' main competitors are Cinepolis, Big Cinemas, SRS Cinemas, Mukta A2 Cinemas, and others.
Few filmmakers and distributors have remarked how OTT platforms would kill the movie theatre business. Cinemas will continue to amuse us as long as cinemas like PVR Ltd. are dedicated to giving their customers the best movie experience. OTT platforms, however, are merely another type of home entertainment, according to Ajay Bijli.
Ajay Bijli undoubtedly fits the description of living the life of dreams . He made an attempt and gave all of his efforts to make his vision come true, enhancing others' vision, rather than just stopping himself by dream or vision.
Have an Innovative app Idea
Get a Free Quote to Build & Manage your App..!
Popular Posts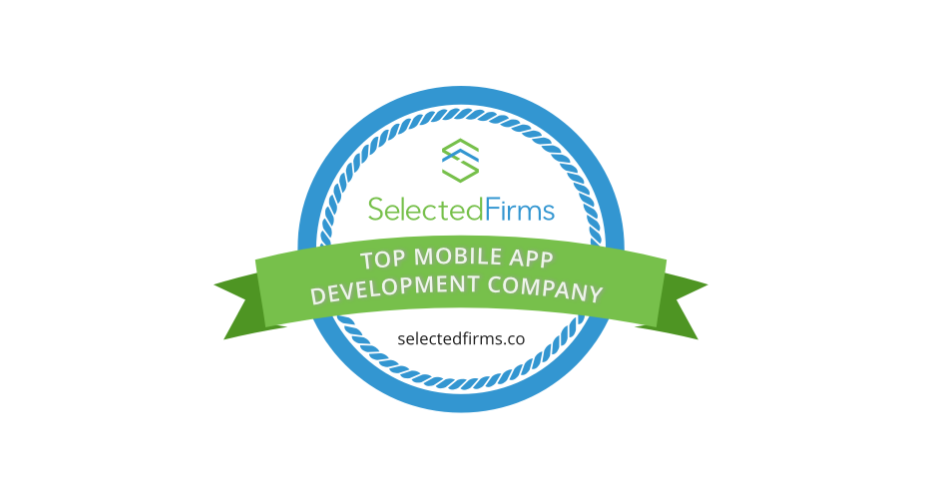 Published September 29,2020 by
Tvisha Technologies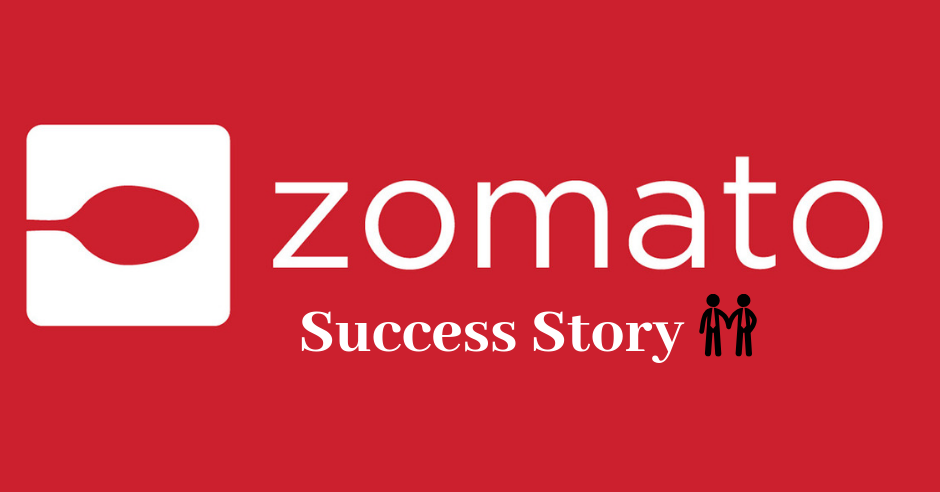 Published March 20,2019 by
Tvisha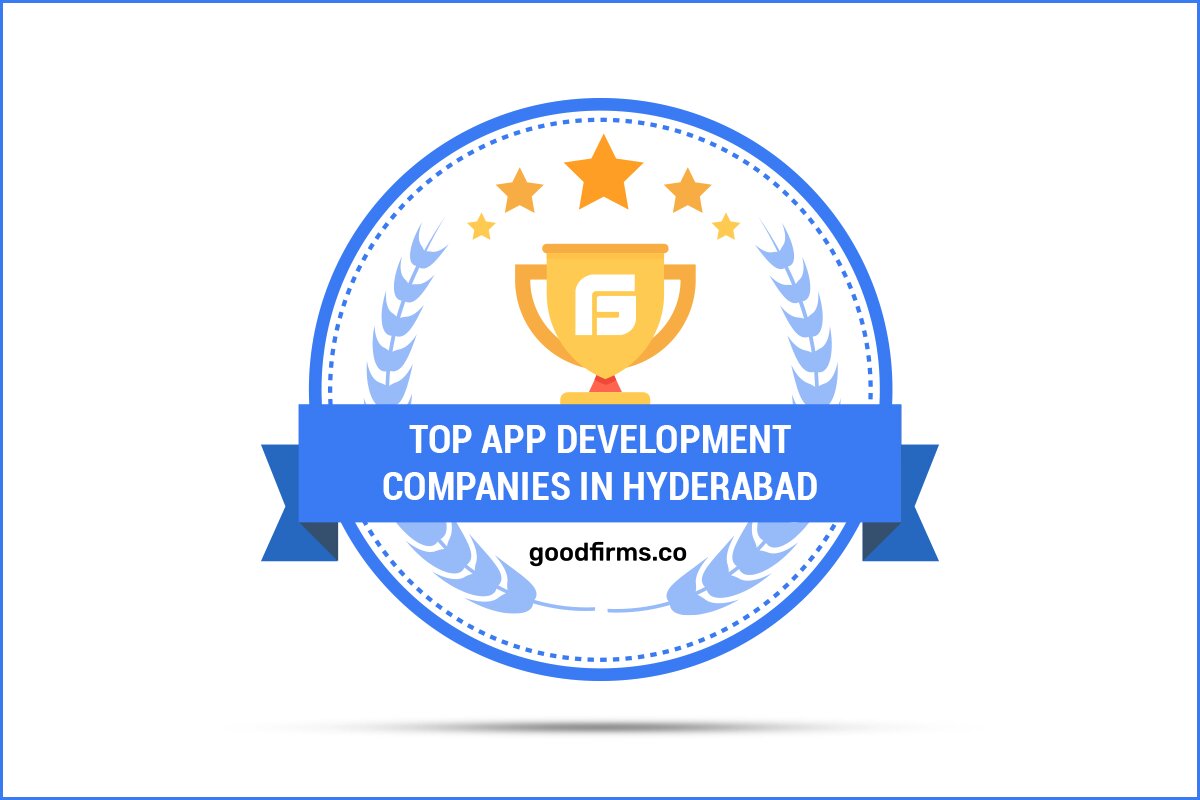 Published March 12,2019 by
Davu-Siva