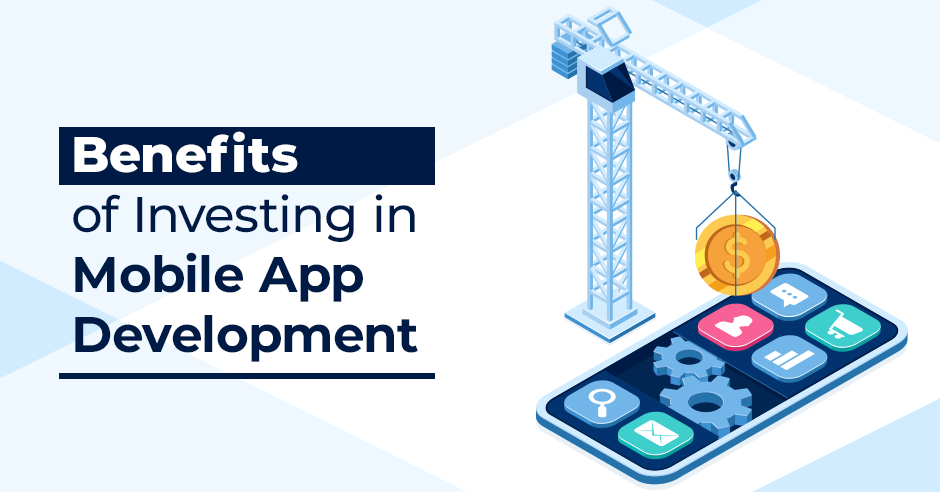 Published August 27,2020 by
Vamsi Bandi
Benefits of Investing in Mobile App Development
In the light of COVID-19 development, and the age of smartphones, with a large number of people staying indoors, the need for app development aimed at various types of customers have seen a meteoric rise. Let mobile apps help you during this outbreak. One should however discern that people are spending increasing time on using various mobile applications. Thus owning an app can help corporates in reaching out to a large number of customers to give a fillip to their business like never before.
Also, the increasing reach of social media platforms has enabled significant changes in which businesses are carried out. The integration of android app developers and iOS app developers has further increased the advantages offered by social platforms providing various solutions aimed at today's tech-savvy customers.

Businesses the world over are offering a plethora of products that have started to migrate to the mobile arena from the physical world of yesteryears. This is truly the need of the hour. If one wants his/her business to brace itself for the future, investing in developing a mobile app is mandatory.
The need to invest in app development
In order to reach out to the needs of the customers globally, there is an increasing need for companies to develop various kinds of apps.
Some of the Reasons Comprise of
1. Communication with the Customer
Going digital has numerous advantages. It enables one to have a better communication link with the customer. It provides two-way interactions improving overall customer satisfaction. Complaints can be registered while queries can be attended to improving the overall quality of service.
Android app developers as well as iOS app developers help in creating a bridge between customers and mobile app development companies enabling effective communication. With the mobile app in place, various notifications can be pushed to customers. Equipped with vital information these notifications will help build brand loyalty with customers increasingly opting for your brand.
2. Creation of Value
It is found that a large number of business entities in the US have at least one business application aimed at their customers. This creation of apps not only attracts customers but also provides the business with a sense of being original and authentic.
3. Building Brand Awareness
A mobile app is an effective tool for building brand awareness and recognition. With the right type of branding, a mobile application can help create a great reputation. In these times of smartphones and mobile applications, reviews given out for various products greatly influence buyer behavior. Thus good services by the company coupled with decent reviews help in creating a great brand value for the product impacting the overall sales performance.
It is vital for businesses to make your customers aware of various products and services on offer. This offered through mobile apps will enhance the brand loyalty of the customers.
4. Customized Services
The various mobile applications can help easily collect a vast amount of data from the customers and using artificial intelligence and machine learning algorithms to construct customer focussed solutions. Though accurate analysis of customer behavior various trends can be studied making the buying experience truly customer-centric.
5. Continuous Visibility
Mobile phones help companies in tracking customers and fulfilling their needs continuously irrespective of enable time and location. Businesses can have the right kind of user-friendly applications catering to different types of customer requirements.
6. Analytics
With the increasing use of smartphones and mobile applications from mobile app development company is for business houses have started to aim at catering to increasing customer requirements. As more and more users download the company's apps, more and more amount of data is gathered enabling the company to offer tailor-made solutions. This provides a competitive advantage to the company under consideration. These developments can also help the company in transforming visitors to valuable customers.
7. mCommerce
There is increasing use of various mobile-based applications developed by android app developers and iOS app developers suitable for various business needs. The majority of tasks can now be carried out using mobile apps. Various products can be brought online even while payments can also be made by the click of a button using smartphones. Online payment portals and various banking applications are increasingly showing their presence. Thus e-commerce or mobile commerce (mCommerce) enabled through smartphones continues to rise.
8. Stand Out from the Competition
Having mobile apps for your business is still in its nascent stage. If incorporated in your business strategy, this can make a lot of difference providing you a big leap. Offering mobile apps in the business helps one stand out from the crowd. This will not only help the customers but will also enable the company to delight them with this forward-looking approach.
Some of the other benefits of investing in mobile apps include
Increasing profits
Addressing the needs of younger demographics
Inform users of new products and offers
Conclusion
mobile application development cost in 2020 is a minuscule of various advantages it offers. Thus in order to leverage various resources and other capabilities and add more to the bottom line, including mobile price to your business strategy becomes mandatory. This helps companies to stay ahead of the competition by addressing the needs of the consumer