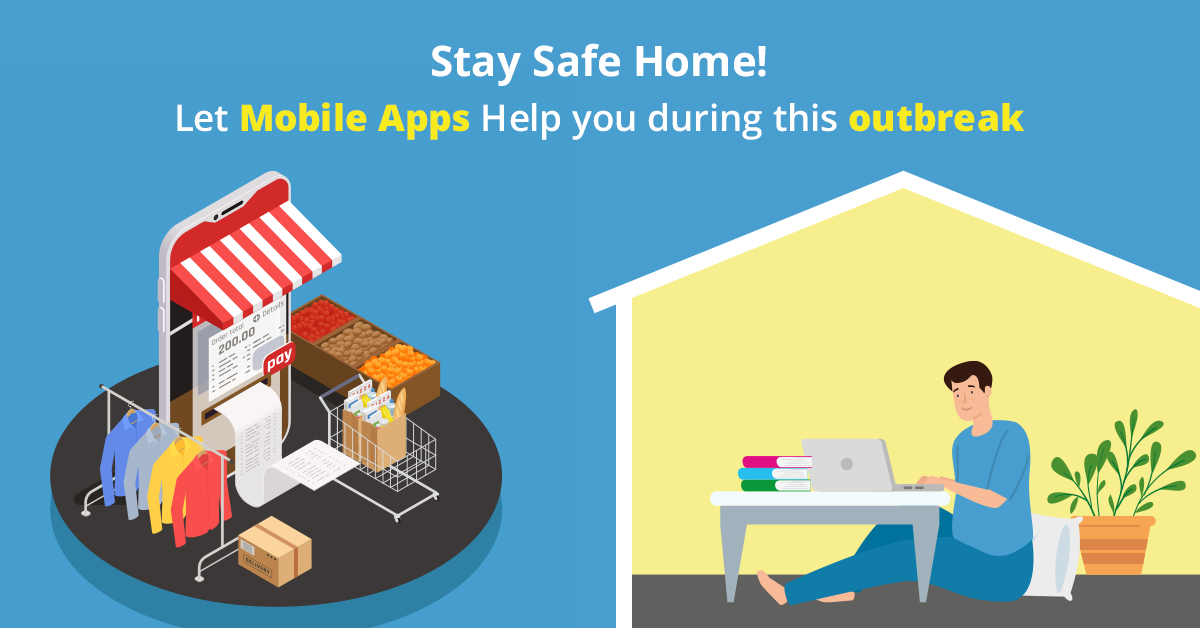 Published June 04,2020 by
Davu Siva
Stay Safe Home! Let Mobile Apps Help you During this Outbreak
You must have noticed that for the last 3 months, the Coronavirus has been spreading over major progressing countries and caused a great loss to human beings, business, education, and all social activities. From the latest survey, it's found that millions of people worldwide have been infected & no proper vaccine could be produced yet for this virus. A mobile app development company can help people truly a lot in this Pandemic situation.
During this Pandemic situation, most of the IT companies have allowed their employees to work from home and every individual in the world had been asked to restrict his/her staying time outdoors.
Where Does This Affect?
The impact of the COVID-19 is such that each area of the on-demand industry has been affected, like a restaurant, taxi, healthcare, education, retail, parcel apps, e-commerce, and many more service sectors. In the meantime, when the "Lockdown" is going on, only internet & mobile apps are readily available with you to fulfill your every wish such as attending the important lecture, ordering food online, or looking for some important medicines.
Mobile Apps Lower Some of the Anxieties of the Following Areas
1. Mobile App for On-Demand Industry
Many know that the significant blockade with the on-demand (Food, Grocery, retail, e-commerce) industry is that the buyers don't prefer to be held in whatever is being ordered & this real thing is applicable to all kinds of on-demand services. In this Pandemic, while everything is being locked, then Mobile Apps for these on-demand industries fight for fulfillment. The food delivery app development has been beneficial for the hotel & restaurant industry in this situation.
2. Mobile app for the Education Industry
At Education centers, especially schools, colleges, institutes, and coaching centers, chances of spreading Coronavirus is more as kids and young persons have more touching activities and lesser social distancing possibilities. Hence, shutting down of these educational organizations across the globe is compulsory to protect the students & teachers from this pandemic. The significant damage caused to the education system worldwide could be minimized through education mobile solutions i.e. education websites and mobile apps.
From virtual classrooms to video lectures, to test papers, to course content, everything is accessible via online learning through school management software development solutions. Some popular mobile apps are ByJu's, e-Gurukul, and new light, etc.
3. Mobile app for the Healthcare Industry
To fight with the Coronavirus outbreak, it's necessary to buy Medicines, PPE packs, and sanitizers with other medical relevant services. In containment areas, people are completely prohibited to go outside to buy such stuff. Hence, hospital management software and Healthcare mobile app is developed for allowing people to buy out emergency medicines, and sanitizers, etc., in such a critical time.
The telemedicine supply industry could be more effective in fighting this corona outbreak. This mobile app enables users to remotely handle & care patients. Also, the doctor can prescribe the emergency services for Coronavirus patients throughout the telemedicine.
4. Mobile app for Gym & Fitness Industry
Since everyone is scared of attending the Gym regularly and not even moving out of their room for the same. Well, in this situation Fitness apps offer live demonstrations and tips from the coach featuring all basic exercises & yoga flow by experienced fitness instructors.
5. Mobile App for Virtual Offices
Leading IT and other companies starting from bigger to smaller startups were asked by Govt. to shut down their offices or premises because of the Coronavirus outbreak. For instance, TCS will allow 25% of employees to office and the remaining 85% of employees will work from home (WFH), FaceBook also allows work from home. On the other hand, this policy cannot be avoided that organizations & economies are going down as client level payment is decreasing.
So, Technology & app solutions are serving to resolve this issue strategically. Most Companies have initiated working remotely and began coordinating, making out, and sharing plans & arranging virtual meetings or online networks.
As usual, Employees have begun using Skype, troop messenger other mobile apps to correspond with each other for lowering the suffering from this World Pandemic situation.
6. Banking & Finance Apps
Since, presently banks & ATMs withdrawal or any other transactions have become risky, using mobile apps for any transactions could be more valuable and secured in comparison to physically visit the banks. Especially, in this Pandemic moment, banks are instructed to shut down for a few days and later open. But, visiting banks or finance companies could be vulnerable because of infection chances. Hence, it's recommended to use Mobile apps for most of the possible transactions except cash withdrawal. The rest of the online payment and transfer could be accomplished through mobile apps. For example, Paytm, Google Pay, Phonepe, BHIM UPI, etc.
7. Mobile app for E-Commerce Industry
Everyone must aware of the news update that most of the shopping malls and clothing stores are shutting down because of the coronavirus outbreak. Many of the national and international brands are suffering from huge losses due to the impact of this COVID-19 outbreak. A best mobile app development company provides the best ecommerce app development services to minimize the expenses of development in comparison to the genuine market price.
E-commerce apps help both the seller & buyer sell or buy the goods through the online stores placed in mobile apps. Likewise, online buyers can purchase the products from their residents & risk of infection is nil in this case. M-commerce (Mobile app e-commerce) is enabling people to live easily by conducting online shopping simplified.
Hope, the readers must have sufficient knowledge about the significance of mobile apps after going through the above content. But, the quality and success depend upon the experience of android app developers and ios app developers.