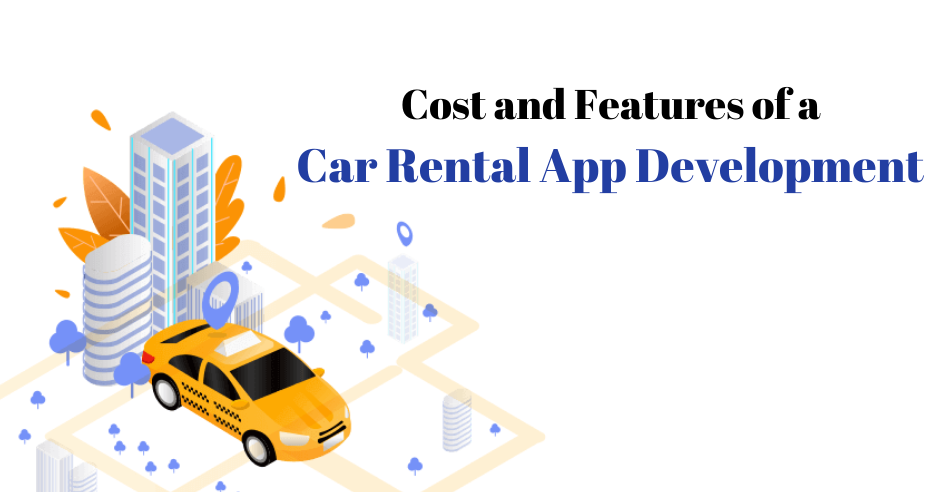 Published October 23,2019 by
Vamsi Bandi
Cost and Features of a Car Rental App Development
Ridesharing through taxis and cabs is gaining popularity ever than before. Managing the fleet of taxis or cabs or cars is a tough job for the owners. Besides, people prefer more personalized services and opt for instant service providers and options. Presently, all the services are at their fingertips through mobile phones. App development comes in the way to cope up with the challenges faced by the car owners. Accelerate and manage your business with car rental app development.
Hurry up to own an app now. Procrastination is the killer of time. And in business terms, time is money. The early you build an app, the early you will get ROI.
Before going for an app, firstly,
Why you Need a Mobile App for your Car Rental Business?
1. It Provides Real-time Data
Gone are the days when people used to call and ask for the availability of cars for rental and booking. With the advent of mobile app development, people can easily view the real-time data of availability of taxis or cars on their smartphones and book them as per their preferred time. The automation in the process fills the gap between everything. It simplifies all the mundane tasks of car owners too.
2. It Gives the Brand Credibility
Since everyone uses mobile phones, having an app for your business will increase your brand value. People trust businesses that have mobile apps and they help in reaching more customers.
3. It is a Marketing Strategy
Having a mobile for a business is the new marketing trend and strategy these days. It acts as a promoter for your business.
4. A Single Platform for your Fleet of Taxis/Cars/Cabs
All your cars are managed on a single interface hassle-free. No need for a tedious process of managing the huge stock of registers for maintaining drivers, cabs, filling the empty booking slots, etc. You can streamline your business process with a single tap on the mobile application.
5. It Paves a Way to all-around Transport Services and Gains High ROI
Mobile apps help in providing 24*7 transport connectivity by making the journeys of people happy and hassle-free. If your business runs all day long, then your business runs crossing the profit margin.
What are the features to be included for an outstanding car rental app?
Associate with a taxi app development company that design an app with 3-panel (admin, driver, and customer) for your large business.
Admin Panel:
Dashboard: It displays an overview of all the business details on a single screen.
Manage: Admin can manage cars, location-based fares, and charges, categories, customers, drivers, notifications, payments, ratings and reviews.
Reports and Analytics: Mobile app help in generating reports on a daily/monthly/yearly basis and providing all analytics for your car rental business.
User Panel:
Registration/Login: Users can be registered into the application so that whenever they want car rental, they can simply log in and easily book the service.
View: Users can see the list and the availability of cars and their types and drivers.
Booking: It allows the users to book the car on their preferred time.
Manage: Users can manage their bookings by scheduling timings as per their convenience.
Assign drivers: This feature is essential when people rent a car for long drives. It enables them to assign their trusted drivers.
Rate and Review: This feature allows users to rate and review the availed car rental services and the driver's service.
Offers and deals: Providing offers and discounts to the regular customers help in retaining them forever with your business.
Driver Panel:
Registration/Login: Drivers can be registered into the application so that they can be appointed for providing a ride to customers.
Manage: Drivers can manage and update their details such as they are available or not on that particular day/week/month.
Integrations:
Make sure that the vehicle market place app development you have hired must adept at integrating these features in your app to stand tall among the crowd.
Secured Payment Gateways: Integrating third-party payment gateways help in hassle-free transactions that make all the users opt for your services.
GPS Tracking: Geotagging help in tracking cars. Both user and admin can track the live location of the car so that it helps in estimating the arrival time of cabs or cars.
Cloud storage: All the data of users, drivers, cars will be stored securely in the cloud.
Social media integrations: It enables users to share their ride details through social media for security.
Live chat: It enables the users to chat live with the owners to confirm everything was alright.
Push Notifications: It alerts the users on various actions such as successful/unsuccessful payments, updates, booking confirmation, etc.
How much does it cost to develop a car rental app?
It is the first question that arises in the mind of every car rental owners when they plan to own an app. The cost to develop car rental app depends on various parameters such as the company you hire, the developers you opt for, the number of features that are needed to be included in your app, the number of business locations you have, the technology stack and API used in designing the app, etc. The average cost will be $12000.
Summary
Every business needs a mobile app to streamline business operations. Car rental app development is a boon to the car owners since these apps have gained popularity after the introduction of Ola and Uber services.
Hire a mobile app development company that is capable of design and develop a high-performance car rental app and continuous support in the technical maintenance for your business.
Also Know: https://www.tvisha.com/blog/car-parking-app-development