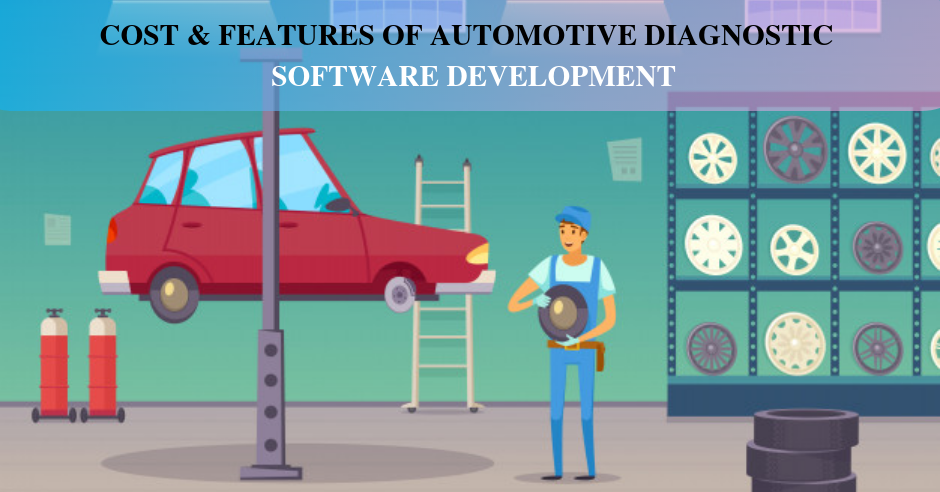 Published July 17,2019 by
Tvisha-Technologies
Cost & Features of Automotive Diagnostic Software Development
The engine is the prime mover of any vehicle. If it does not work well, we can't maintain it for a long time. It is annoying when there is trouble while starting when the engine won't run, overheating, noise/smoke/steam comes from it, replacing the damaged parts, issues with the cooling system, and non-availability of repair shops at the required time. Buying a new one is better than frequent repairs and spending hefty sums on it.
Prevention is better than cure. Knowing whether the car is safe to drive or not is an urgent need of the hour. As automation has become a part of our daily lives, it is being used in a wide variety of applications including vehicle engine diagnosis. The health check-up for four-wheelers can be done with an automatic diagnosis system integration. A remedy to deter the failures of the engine is automatic diagnosis software which is integrated into the vehicle as well as for PCs by which one can monitor everything. Keep your business mileage for the long run through engine diagnosis software development which will be a great help in early recognition of faults.
Let's Understand Self-Diagnostic Software in a Nutshell
By virtue of advanced Mechatronic systems, there is a significant rise in the demand for the modern automobiles which are equipped with Onboard diagnostic (OBD) systems which consist of sensors and actuators which help in monitoring and detecting engine faults. If we installed the OBD software in the PC, laptop, tablet, mobile phones and connect the PC to the OBD port of the car which is located below the steering through a cable/ Wi-Fi/Bluetooth/ serial port, then it allows detecting malfunctions and access to ABS, airbag, chassis controllers, and engine for monitoring.
Functions of Engine Diagnosis Software Development:
The main function of it is diagnosing the exact problem of engine failures before it escalates. This is a sophisticated and powerful tool for vehicle health which incorporating with the module OBD2.
Features of Engine Diagnosis Software:
The noteworthy features of a car diagnostic software development are:
A Full scan of a vehicle: It reveals a number of issues by scanning all the engine control units for faults including engine and oil lights, speed, system tests, test for emissions, smog/steam check, charging system testing, ABS repairs, I/M readiness checks, misfire counts, exhaust system, oil tank, gas tank, ignition timing problems, condition of ignition coils, crankshaft, camshaft position/ situation, throttle opening, level of combustion build up in the engine, engine RPM levels, whether the ignition coils are firing or not, transmission, and air and coolant temperature.
READ/CLEAR data: This feature in the software allows you to read or clear all the data related to engine tests, online data, trouble codes, error codes, engine light code, light diagnosis etcetera.
Resets: This feature allows resetting the data related to the lights (both engine and oil), battery, and error codes of Antilock Braking System (ABS) or Supplemental Restraint System (SRS).
Live test: This is the advanced feature of this software which allows a live test of the car including actuation tests, sensor readings. You can also analyze the real-time data on vehicle speed, engine RPM, and torque.
Reports: It gives all the report of car diagnosis along with graphs and charts. There is also a facility for taking print of all the data, error codes, reports, and graphs. you can save and export them.
Updating: It allows you to update the vehicle's firmware to the latest versions.
Multi manufacturing service: It can diagnose different countries range of cars irrespective of the brand.
Record: You can save the data, sensor outputs by recording it to playback them in the future.
Customization: You can select a frame of data by freezing with this feature. You can customize all the data based on preferences.
Gives guidance: In order to avoid any failure, it assists safety measures about the speed, RPM levels, engine failures etcetera.
Anti-lock braking System repairs: The purpose of the anti-locking system is to avoid skidding and sudden brakes. This safety system will help in control over the car on slippery roads. It detects the failures such as if the brake pedal is not responding, frequently locks of brakes, and blinking of system lights.
Engine operation monitoring: This feature helps in diagnosing the operations such as pressure on RPM, engine belt, fluid leakages, and head gasket leakages.
Besides, it has features such as battery management system, EPB (Electric Park Brakes) and SAS (Steering and suspension) calibration, DPF (Diesel Particulate Filter) regeneration, Fuel efficiency, Fuel economy, horsepower, Vehicle parts tampering diagnosis, Dashboard customization, and Tampering alerts.
Benefits of Engine Diagnosis
The automotive diagnostic software provides a wide range of benefits such as
Automatic identification of faults
Regular vehicle health check-up
Dashboard warning lights
Pinpoint specific problems
Early detection of faults
Increases engine life
Helps in reducing emissions
Provides instant feedback
Reduces time on repairs
Cost-saver
Highly reliable
Compatible with phone
Easy-to-use
Conclusion
The automobile industry facilitates advanced features for the vehicles in order to deter malfunctions beforehand through engine diagnosis software. This innovative application helps the owner hassle-free solutions for engine problems in no time.
Car diagnostic software development is an aid for all ABS repairs, Engine RPM levels, conditions of the crankshaft, camshaft, and all engine-related issues.
Improve the life cycle of your vehicle by this automotive diagnostic software which enables you to enjoy your driving without any troubles.