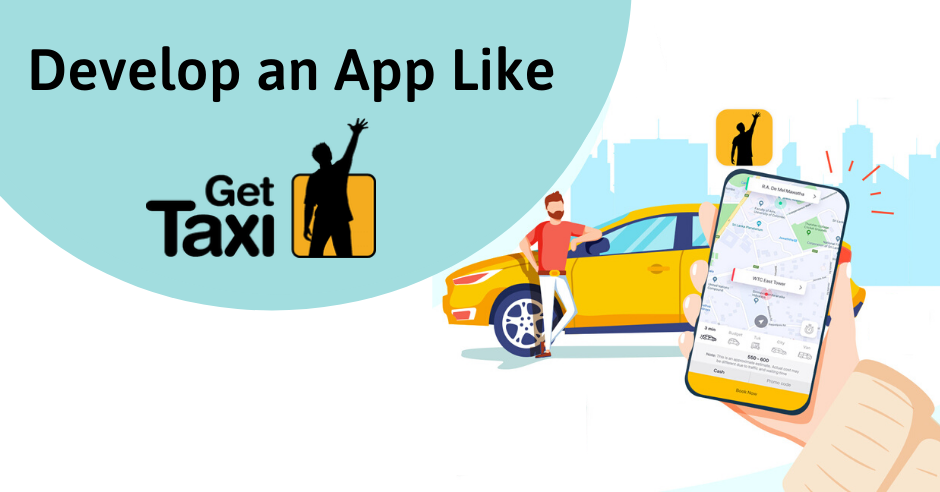 Published March 02,2020 by
Bushra Rahmani
How Much Does An App Like Gett Cost?
The growth of car rental or taxi-hailing services makes it evident that a vast majority of people have started using these services for the daily commute. These ride-sharing companies are expanding their base and penetrating different global markets.
One such application that has made its mark in the Taxi booking and Car rental industry is Gett App. Formerly known as GettTaxi, this company has now established its reputation as a world-class car rental service provider. Gett app has won several awards and accolades and enjoys a vast customer base.
In this blog we have discusses the development process, cost, and features of developing an app like Gett.
If you want to walk into the world of cab booking and taxi rentals industry, we've got you covered with all the information. This blog has all the information for aspiring entrepreneurs who wish to know the cost of developing an app like Gett.
Working for Taxi Booking App like Gett and Uber?
The taxi booking application mainly leverages the power of the Global Positioning System that identifies a user's location (who is searching for a taxi) and then alerts the driver who is nearest to the user.
Once the user creates a request for a taxi booking or car rentals, the operation sends an alert to the taxi driver who is nearest to him. After the approval, the user is told about the location of the taxi, and also, it's estimated time arrival.
The user, in this way, is connected directly with the driver. The passenger then has the option to choose from the driver's ratings, counter fare deal, vehicle type, estimated arrival time, and other preferences.
Important Features: Develop a Taxi booking app like Gett
Admin's Panel:
Login
Manage Requests
Manage Sub Admin
Manage Users
Manage Vehicle
Manage Drivers
Manage Rides
Manage Earnings
Driver's Panel:
Login
Registration
Status
Push Notification
SMS notification
Track Location
Status
Start & Complete the ride
Order Alert
Accept or Reject order
Google Map
Navigation
Estimation
Rate User
Help
Reports
Customer's Panel:
Registration
Home Screen
Payment
Taxi booking
Rating for Driver
Request a ride
Push notifications
Calculation of Fare
Ride History
My Account
Wallet
Airport Ride Booking
Driver`s review and rating
How to Develop an App Like Gett?
Find your Unique Value proposition: Apart from USP find a niche that has lower competition and better opportunities in the taxi booking app market.
Research & Audit: Plan and technically gather all the necessities for Gett like mobile app development.
Create App Documentation: Collect requisite documents that comprise of design of the app, features of the service, and the tech stack to use.
Develop Gett-Like App: It's better to hire a Car Parking finder App Development Company or a professional developer. If you've technical Knowledge, you can proceed by dividing the project components into different tasks, executing tasks on the basis of priorities, and then testing it thoroughly to detect the logical errors.
App Deployment: As per the requirement, you can either deploy it in the live environment to make sure it functions on all the types of devices properly.
Total Cost of Taxi Booking App Development Services
1. The Complexity of Features
Apps of medium complexity: These apps and their development process require medium complexity. Compared to the simple interface, more features are included in the app. On average, they take about 6 to 9 months of development time. They are built on one to two platform
Large apps: Complex app with features of different functional dimension take 9 to 12 months development and hence, the development cost, and are developed on 2+ platform
App with a simple interface: Such apps with a couple of main features require about 3 to 5 months of development time; hence, they have a lesser development cost than complex applications. One platform
2. The Platform you Choose
Android: Different devices from sellers are tested to ensure the app is running
iOS app: less complex since only a few devices are tested after the development of the app
3. Design Complexity
Complex App Design: Animations, Custom elements, and Expensive Design elements
Simple App Design: Standard UI and UX, Lesser Cost, and Platform-specific elements
4. Other Factors
Application Developers and Developer's Expertise, Location, Skill level, and company's popularity.
Features like payment gateway, the wallet also affect the total cost of development.
5. Advance Features that affect the Cost of Taki Booking App Development
Social Login & Signups
Push Notification
In-App Payment
In-App Calling
In-App Chat
Real-Time Tracking
Loyalty Programs
Heat Map Generation
Real-Time Analytics
Number Masking
Automated Dispatch
As a leading Mobile application and Website Developer in India, we have proven our expertise by delivering quality-driven development services across the world. To get a reasonable, cost-effective, and instant quote to Develop App Like Gett, please reach Tvisha Technologies
Average Cost Estimation for Gett Like App
On the basis of features:
Cost to Develop Car Rental App Development with Simple application design = $15.5k
Cost to Develop Gett like app with Moderate design = $10k
Cost to Develop Gett like app of Complex application design = $25k
On the basis of Geographical Area:
Eastern Europe Developers = $70-$150 every hour
Southern American Developers – $20 to $100 per hour
Northern American Developers = $100-$250/hour
Australian Developers – $50 to $200 per hour
Indian Developers = $10-$30 every hour
Should you plan to develop an app like Droom.in?
How much Tvisha Technologies Charges to Develop App Like Gett?
As a leading Mobile App Development Company and Website Design and Development Company in India, we have proven our expertise by delivering quality-driven development services across the world. To get a reasonable, cost-effective, and instant quote to Develop App Like Gett, please reach Tvisha Technologies.
Now the cost of developing Gett like Taxi booking app development Company at Tvisha will depend on the developmental hours or time spent on the processes explained above.
If you still need to ask more questions about how to develop a cab booking app or taxi rental developmental cost in India, just fill out the contact form, and our representatives will consult you for a free Taxi booking app development consultation.
Also Know: How to develop an On Demand taxi app like uber and its cost