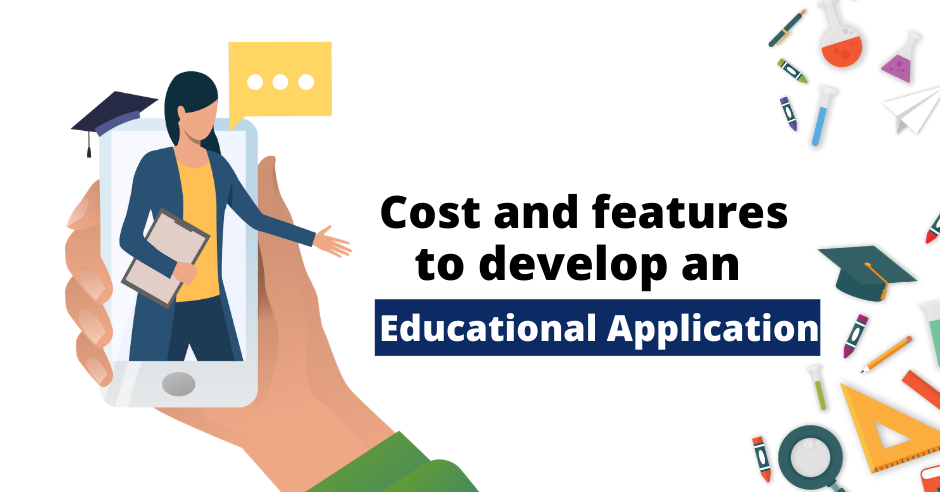 Published January 28,2020 by
Vamsi Bandi
Educational App Development: Cost to Make an Educational App
Educational apps are a gift from heaven for many parents/carers, teachers and children. While they just "play a game", children learn everything, they are immediately corrected for a wrong answer and they can continue to practice at their own level. The popularity of the apps means that more and more companies are developing these so-called Edu apps. They are often free. But, as we learned earlier, the sun rises for nothing. And so free is never really free. Commercial educational apps, in particular, are full of temptations and barriers that make you want or have to spend money while playing. Some apps also fish for personal information.
Several schools and publishers see the benefits of an app. Do you want to develop an educational app for your institution to interact between teaching methods and the students? Choose the best mobile app development company. They will assist you in the development of an educational application. You can have an educational app developed on different platforms - iOS (iPad & iPhone), Android, and Hybrid.
Cost to Develop an Educational Application:
The hourly rate of an application developer in India varies between $25 to $50 per hour. A quotation can be made based on the estimate of the number of hours a developer needs. Furthermore, every platform means a new development process. If an app developer is working 50 hours for Android App Development, then you can take into account that another 50 hours of development time is added if you want the same app for iOS or a different platform.
Native Apps
If an app is made for a specific platform (mobile operating system), we are talking about a native app. This is an app that can use the device and platform-specific features such as the music library, camera, GPS, compass, contact list, etc. A native app is often faster to use because a lot of data is also available offline.
Web Apps
If you want to develop an app that does not have to use the functionalities of your phone, you can choose to have a web app (mobile website) made. A web app has the advantage that it is not tied to a platform. One version of the app is sufficient for all types of tablets, phones, and PCs. Web apps are increasingly being developed for apps that are simple in design. This also allows the costs for the app to be kept lower.
Hybrid Apps
A hybrid app, also called a cross-platform app, is an application that consists partly of a web app (mobile website) in HTML5 and partly of a native app so that the benefits of a web app and a native app are combined. In principle, a hybrid app works on any modern platform, without having to redevelop each device. This saves time and money.
There has been a tremendous response to this trend lately. Until recently, hybrid apps were not enough to create very powerful applications, but with the new development environments, the difference between native apps and web apps has become increasingly smaller.
Features Of Education App Development
1. Login Profile Dashboard
While creating and developing the mobile application, ascertain that your features must be simple to log in so that the performance shouldn't decrease. This essentially implies that students can make their profile with just a couple of steps without hassles. You ought to give a dashboard where the student can spare their own preferences and pick the point for learning.
2. Creating a Search Option
It would be difficult to find the required topic in the spectrum without the index paper or page numbers. When it comes to the online application with the Online Examination System, the search option will help the students and coaches to look through a specific course or subject with only one tap of the finger. This will avoid confusion and save a lot of time, also improve the user experience as well.
3. Strong Database
You might have a tough time believing this but a supportive database that is architecturally advanced has the potential to reach the top of the charts. You will likewise need to remember that you don't meander excessively far away from the theme; your substance ought to be engaged. Furthermore, throughout the years, you will be required to continue adding progressively something to your database; your database must be refreshed consistently with study materials audios, videos, and infographic images.
4. Content is a King
On digital media, we can reach the customers only through the content, so its a king here. Make sure your content is highly engaging, attractive, and easy to understand if you want your application to get downloaded several times. Let's discuss some vital factors based on the content to grab many eyeballs at a single glance:
Content should be comprehensive and worthy of reading.
Use simple and low-level language to understand very easily for all kinds of users.
Your content should be based on targeted audiences.
Being content is not enough when the mobile view is not good. So you have to maintain the user and mobile-friendly UI/UX.
It could be an advantage to use mute and pause option for readers.
5. Video Sessions with Experienced Faculty
When we want to win the race in the digital field, we have to choose a unique way from our competitors. Because having the school management software development application is not enough to attract the students. And most of the existing educational mobile applications are not providing the video sessions feature - with this live tutorial feature, most of the students will get a chance to have live interaction with their mentor to get clarity on their doubts.
You can also ask the learners to give their valuable feedback on whether they have benefited from the interactive session. Based on the response, you can decide on what needs to be improved in the app.
6. Offline Mode
The accessibility of a steady Internet connection can now and again be a worry, particularly in some countries that are somewhat behind on the Internet range. So the education application must be fit for offering an offline mode to the students where they can download the lessons. This can keep their interest alive in your application, and they'll visit the application at whatever point required, to look for data offline too.
7. Offer Mock and Regular Test
Tests are an important piece of learning, and your instructive mobile application must execute the equivalent. Because most of the students want to actually test how much are they prepared to face the examinations. So ensure that your education app must offer a section where mock tests and quizzes are added based on various topics and subjects. They would know from the outcomes which are the subjects and points that need more clarity of mind. Moreover, you can include recordings of instructors offering significant hints before the tests.
Conclusion
The world has changed and come up with new technologies, and the way of studying is also changing rapidly. The learning procedure currently is altogether different from what it resembled 10 years back and, in numerous regards, this is because of headways in innovation. Training is on-pattern. Right now, a wide range of educational applications have the top hits in the App Store and are well-known with a huge number of students. In this way, on the off chance that you have ever considered making your own mobile application, at that point now is the ideal opportunity.
Also Know: How Much Does It Cost To Develop An E-Learning App Like ByJu's?