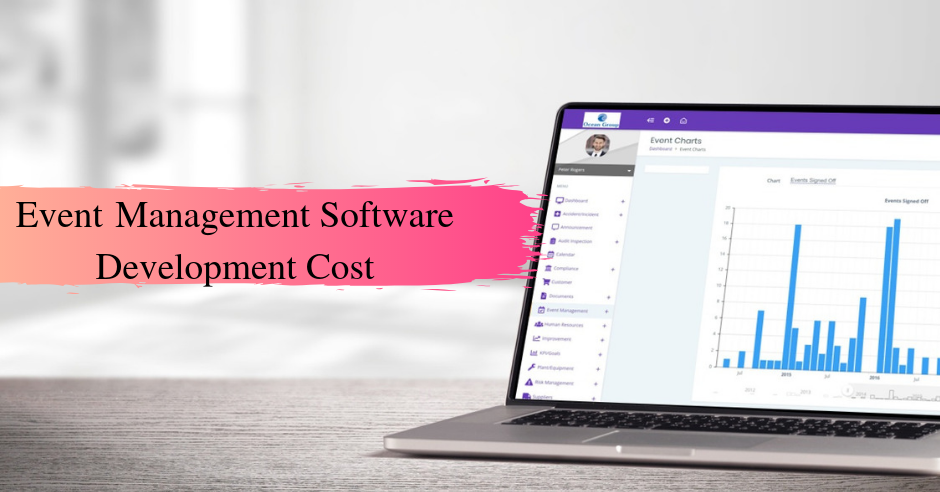 Published April 20,2019 by
Davu-Siva
How Much Does Event Management Software Development Cost?
A secret ingredient to a successful event is robust management. The event organizer has to handle a lot of things to make sure the process is smooth, and there is no chaos in the arrangement. Until the inception of event management software, event organizers had to incorporate calendar Management Software and lots of different tools to organize everything-emails, website builders, spreadsheets, and a lot of papers. But with the EMS, the event planning got streamlined into an organized business. That's why event management companies are adopting this software and raising concerns about the event management software development cost.
There's a lot of work and tiring procedures, repeated steps of actions, and arrangements behind an event, no matter whether it is a birthday party of a business conference. The event management software assures a fantastic event is organized with all the elements that meet the client's expectations. Follow this article to know more about event management software, their benefits for a successful event management business, and the developmental cost.
What is Event Management Software?
Event Management Software is a set of business solutions which covers the various aspects associated with event planning, organization, and management. Software dedicated to event management offers solutions help the organization plan everything from the pre-event to the post-event stages. These solutions with an end-to-end system provide tools and features that support the entire event life cycle.
These applications can address several concerns of an event and assure greater success rate with proper planning and management. The key benefits of using management software are centralizing all the information related to guests and host.
Who Needs an Event Management Software?
Any event management company that wishes to facilitate event planning streamline the process and make the successful event needs an event management software. Not only does the EMS helps the organizers to avoid a lot of manual labor and nerve-racking organization tasks, but it also brings a lot of data and information together (seating arrangement, guest lists, sponsors list. Here's a summary of who needs an event management software:
Companies willing to own convenient data management: Event management software helps the organizers conveniently store and access all the data at one place. It holds all event-related files and information at one place and makes it accessible for the event planners. With a swipe of fingers, the manager can upload and download files, import and export data, share documents, and so on.
Event planners wishing to go digital: Who wants to carry a bunch of records and papers when everything can be stored in their mobile phones? The Event Management Software allows planners to avoid documents at all. All tools and documents are cloud-based and stored securely in the specialized data centers.
Organizers who want real-time analytics and tracking: Professional event planners prefer real-time analytics and tracking to make sure every task is being done promptly. Real-time analytics helps them improve their work and make their business more profitable. Event Management Software provides the event managers with plenty of statistics like registration activities, payouts, incoming leads, invoices, and other valuable information for further analysis.
Event management companies who prefer streamlined communication:Think of organizing a conference with thousands of attendees and hundreds of schedules, bookings, and registration to follow up. With Event Management Software, organizers can easily communicate among the team members and streamline the process by making sure what they have to do, where, how, and when they have to do a specific task.
Types of Events That Event Management Software Helps Organize
Every event has specific requirements, and they all need a special set of tools. Planning a birthday party is way different than planning an international science seminar, which means that the organizers require an Event Management Software with different functionality. To understand what tools or features to include in your EMS, take a look at the main types of events that That Event Management Software Helps Organize:
Business Conferences: Event Management Software Helps Organize conferences when it allows multi-user access because several managers will be working for the event. This type of Event Management Software has scheduling tools which assure that a strict schedule is followed. There are check-in-tools that make the workflow hassle-free and useful since it allows the guests and attendees to check in by themselves.
Weddings and Birthday Parties: Software for weddings and birthday parties have tools that take care of food, drink, and catering requirements. The tools also help manage the seating chart, provide RSVPs, and other customized elements made by the client.
Charity and Cultural Events: Since this type of event is organized to raise funds, the tools are dedicated to supporting user registration, ticketing, seating arrangements, and payment collection.
Charity and Cultural Events: Since this type of event is organized to raise funds, the tools are dedicated to supporting user registration, ticketing, seating arrangements, and payment collection.
Exhibitions and trade show: This type of Event Management Software Development has tools dedicated to streamlining communication between the team members, sending updates on the exhibition progress, checklists, and online payments.
Cost of Event Management Software Development
An event management software should provide the advantage mentioned above. It should be a toolset that helps with all aspects of the organization and planning of a successful event. Though the businesses today can add unique features to their EMS, the cost of event software development is primarily dependent on the following factors:
UX design and UI design: Better the design more will be the development cost since an advanced design assures easy-to-use interface and user-friendly development.
Front-end and Back-end development: The cost varies depending on the type of event software development you choose.
Manual and automated testing: This might add extra dollars to the total developmental costs, but initial automation and testing is the best way of fixing bugs that can later interfere with the application's performance and user experience.
Conclusion
Customized event management software can do a lot more than reducing human resources. When developed by an experienced developer, it can drive your event management business upscale, and make your company stand ahead of the competitors. So, reach the best event software developer to estimate event management software development cost, and leverage your event management business.