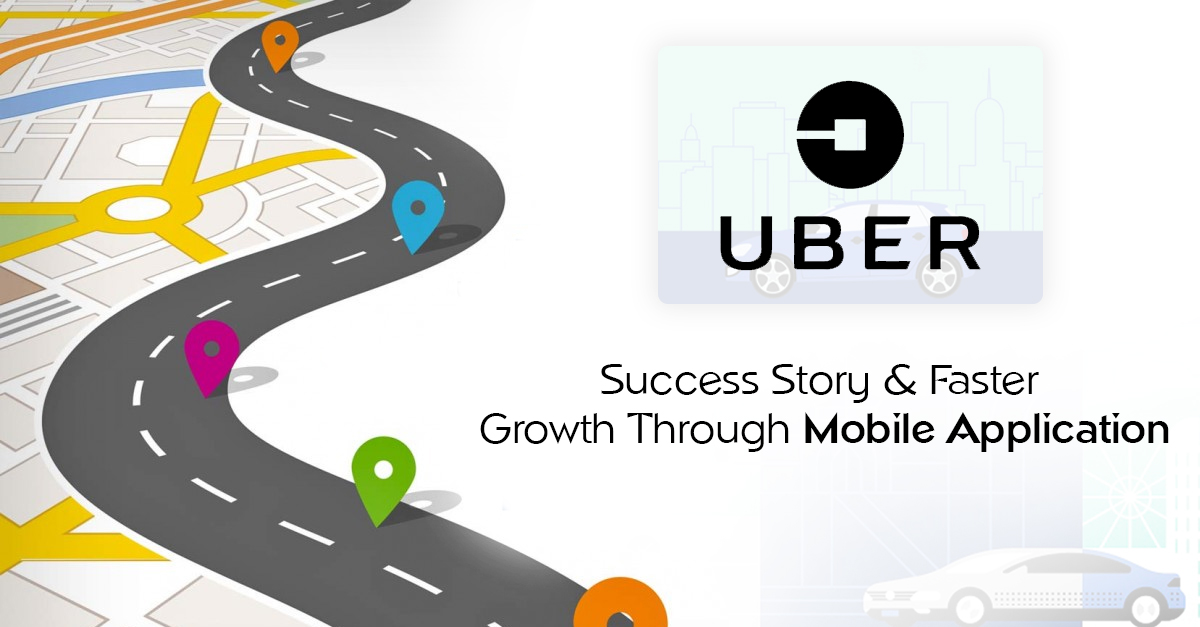 Published June 21,2018 by
Tvisha
Uber Success Story and Faster Growth Through Mobile Application
Mobile technology has evolved, from petty things to pretty big things and now bigger brands are indulging in having one to multiply their profits. And why not, to have a successful business having a mobile app is a must thing today. Conglomerates and established brands have tasted flourishing success and one of them we know widely is "UBER". It is no exaggeration to say that hardly any literate is ignorant of the Uber app.
The Uber Success Story
Taxi hiring via online booking wasn't working especially through your cell phone. Booking a cab, calling it and furthermore tracing down the driver was a huge hurdle.
It was then the CEO of Uber Travis Kalanick decided to give a try to a mobile based taxi app which is simple, user-friendly and convenient to book a cab. Using a smartphone merging it with geo-based technology was how UBER was introduced.
Uber had reached to newer heights of business by having developed an exclusive mobile app that gives a peace of mind ride yet with economic pricing.
Uber Now
What started with a simple cab service idea- Uber had just begun with a handy app- and today, the company is basking in the success, which is now worth of $60 million dollars and offering seamless cab service in more than 58 countries. When it started, the taxi app developers had very little know of the likely emerging issues and what could be the solutions. What makes Uber still "Hot Favorite", is its constant evolution by adapting latest mobile app technologies and implementing the same for improved customer service.
Since its inception, Uber has never looked back. The company is on pleasing spree with its users across the globe. However; if you have noticed, it hasn't restricted its cab service, it is constantly evolving with new ideas and making the entire cab booking process convenient and easy.
Not just locally, Uber provides cab service to the longer distances, as well as round trips to the users. To have a taxi app like Uber is extremely challenging – from year 2008 Uber has come a long way and has left several competing entities behind by a mile.
Businesses Are Evolving Using Mobile App Technology
Learning how Uber – starting from a small company which rose to a big shot by having smart mobile app, did the wonders we have seen and heard how implementing pool of smart mobile apps can changes the business scenarios.
With two biggest problems – Parking problems and busy roads/traffic, there's always a need to introduce a taxi app to curb citizens day to day travelling hassles.
If you are looking to venture in an Uber like taxi app development, it will be a great idea. Not just cab services, but private hire car service is in full swing and as long as you are offering unmatched customer services to your customer you are less likely to go out of the business.
Developing a mobile app like Uber, you need to have an expert and knowledgeable taxi app development company to understand your business requirements and put to practice.
However, it is always advisable to answer few questions before you launch your cab booking services:
Who are your competitors?
What is the scope of developing this cab booking app?
How well can you compete with your competitors?
Do you think, you'd get enough users to download your app?
When you bring in something which is equipped with rich features provides enormous success that your business can experience.
What Kinds Of Features Should Your Mobile App Have?
When you are launching your taxi booking business which majorly depends on mobile app it is important to keep in mind that your mobile app must have:
Your app should be capable of handling multiple user requests hence ensure that it is built on latest GPS enabled technology
Secondly it is integrated with multiple payment channels like credit/debit card, PAYTM etc.
User-friendly booking and cancellation facility
Easy to send and receive notification of the driver (tracing the cab on the map location)
Wrapping Up
It will be no surprise to find Uber kind of apps entering into restaurant, shipping or any such similar industry in the near future. Mobile apps have made it possible that running a business you don't need office. Ponder over this thought, maybe you could be the next big UBER Competitor if you hire custom software development companies like Codeinspiration.